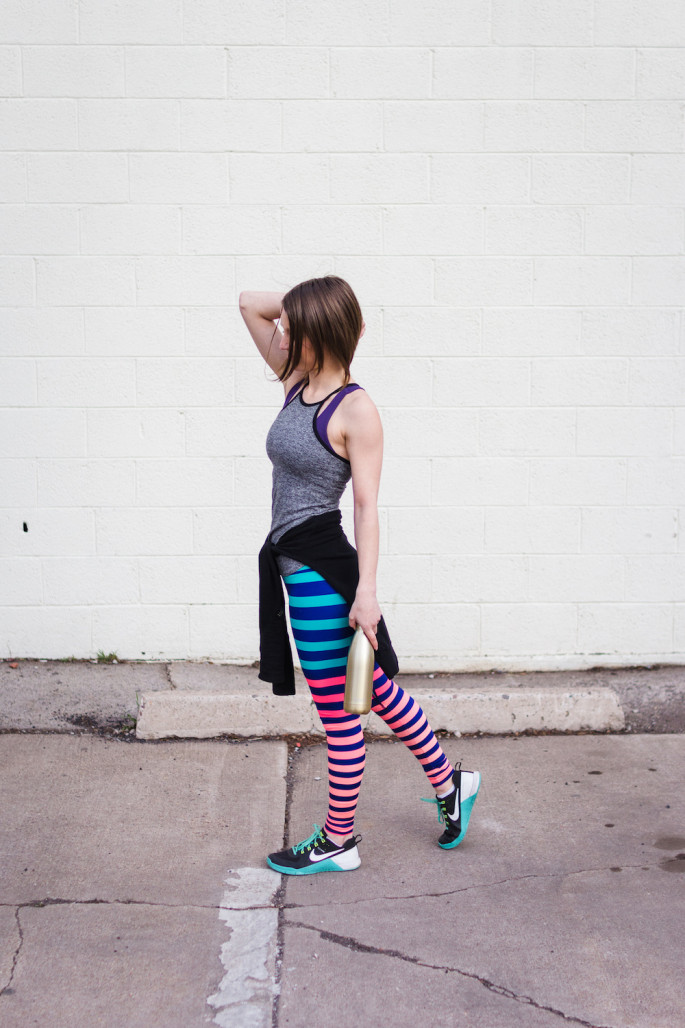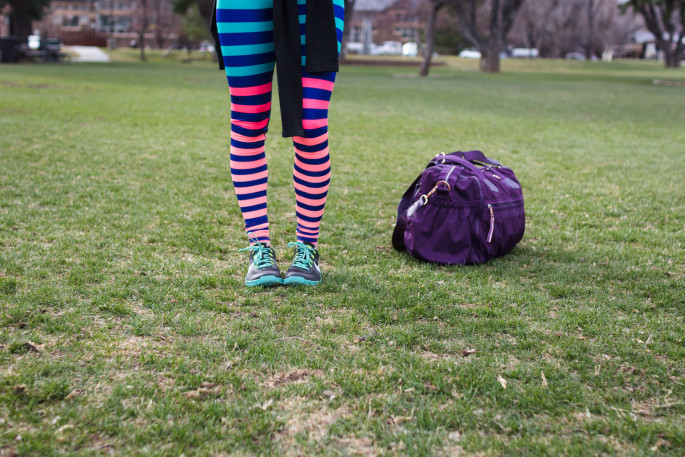 Outfit details
K-Deer Trina stripe leggings
Heroine Sport performance tank in heather grey
Splits59 vail cut-out pullover (old, current pullovers here)
Nike metcon 1 in black/hyper jade
Lululemon weekend warrior bag in deep zinfandel (old)

Plus:
Nesh NYC cashmere neshneck sweater
Franco Sarto Linden booties (similar here)
Photos: Kylie Pond Photography
Although I'm not above wearing my gym clothes for errands, sometimes I want to tone down the whole "I literally just walked out of my workout" look.  Even though a lot of my workout clothes are pretty stylish, sometimes I want to trick people into thinking I'm not really wearing workout clothes.  If that's more your speed, transitioning an outfit from your workout to something more casual (or vice versa) doesn't have to complicated.  You don't need to stuff a huge bag full of a head-to-toe outfit change.  Often, all you need is a different top and a change of shoes.
This outfit has 3 of my recent favorites: K-Deer stripes, an ultra-soft tank from Heroine, and a cozy cashmere sweater from Nesh.  The Trina stripe leggings are the base of this outfit.  I like to keep the rest pretty neutral so the bold stripes can take the spotlight.
Ankle boots are my preferred option because they're so much easier to pack away in a bag than tall boots.  I also like ankle boots over ballet flats because there's no "blank space" between the hem of the leggings and the shoe.  Depending on what you're wearing on top, that can look a little funny.  I also like that the ankle boots have a little bit of a stacked heel for a longer, leggier appearance.  I'm short, so I'll take anything I can get!  The ones I'm wearing are from last season, but these booties from Tom's have a lot of the same elements.
On top, I like to balance the skin-tight fit of the leggings with a looser top.  I've been wearing this Nesh sweater constantly since I first posted my review of it.  I pulled it on right over my tank top.  Something a bit longer is nice when you want to cover your bum–Alala's weekender dress is another one of my favorites to wear over workout leggings (and it's on sale right now!).
This outfit change is so simple you can literally do it in a parking lot. ;)