I went down to the "big city" this weekend and managed to sneak into the lulu for a few minutes and do some try-ons.  Given that it was the weekend, a lot of things had been picked over (especially in my size) and the store was mobbed, so I couldn't try on as much as I hoped.  Nonetheless, here's what I scrounged up:
The sweater life fit review: bordeaux drama, size 2
I really wanted to like this sweater.  In my tts size 2, I had a TON of extra room–not like a cute "relaxed fit", just plain huge.  There's no size down for me to try, but even if there was, the arms are already fitted and would probably be uncomfortable in a smaller size.  I don't think the proportions were cut quite right in this one.  Some people tried a size up, but I'm certain that wouldn't have looked any better.  The back is very long: I'm wearing run times shorts underneath, and it went just past them.  The knit was typical boolux: soft and very comfortable, medium weight.
The most annoying thing was the way it fell at the bust:
The extra fabric gathered right underneath the fullest part of my bust, which I thought made things look saggy and sloppy (it doesn't look as bad in this pic but my eye kept getting drawn to it when I wasn't busy taking a pic).  Between the ho-hum fit through the torso and the $108 price tag, this one didn't tempt me.  My chai times from last winter suit me better.
Pleat to street skirt fit review: black, size 2
I actually kind of liked this skirt, it's cute and fun.  That said, it is kind of short and, if worn as street wear, could look a little too much like a sexy schoolgirl halloween costume.  Also, sometimes the pleats would wrinkle funny (see far right pic), especially over the butt, instead of sitting flush.  Small gripe.  Functionally, if used for tennis/running, I could see it flipping up a lot and flashing the under-shorts, because the skirt does have a lot more volume than a pace setter.  But again, it's a cute skirt.  I personally don't have much use for it so it stayed at the store.
Run times shorts note: bumble berry, size 4
This isn't really a fit review because a 4 is not my usual size, especially in 4-way stretch.  I put them on anyway and noted that at the front right underneath the waistband, there's some awkward bunching/wrinkling going on.  I thought I had seen this going on in some store pics, but this try-on confirmed it.  I think it's a little funny-looking.
Free fall crops fit review: heathered medium grey, size 4
Omg, these are a hot mess.  Size 4 was the smallest size they make in these, so this was the best I could do.  I am 5'3″ and wear a 28.5″ inseam, and these fell only an inch or two above my ankles.  Since they are so low, there's a lot of extra room around the hem of the pants.  The drop crotch is totally insane-looking on these and the butt area is generally not that flattering.
Even if you got your tts, I wouldn't recommend these to petite ladies.  They were slightly better when I rolled the waistband over: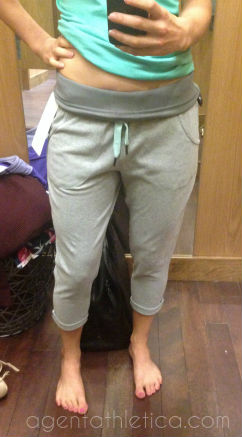 But still not great, and the waistband didn't seem particularly cooperative when I did this.  No way would I pay $88 for this hot mess.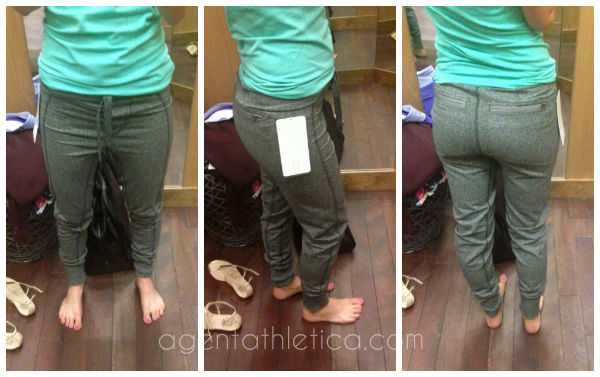 Happy yin year sweatpants fit review: heathered speckled black, size 2
Speaking of hot messes… These were arguably even worse than the free fall crops.  I'm wearing my tts, and don't think sizing down would be helpful or advisable.  These gave me MAJOR pancake bum and a bit of mom-jean longbutt too.  The inseam resulted in lots of bunching and wrinkling–these are generally not workable for ladies with petite inseams at all.  And lastly, the dropcrotch gave me a bit of a package:
…Yup, I'll stick with my calm and cozy pants from last year.