This lovely dark blue Adidas by Stella McCartney jacket made it onto my pre-fall favorites list and I ordered it shortly after.  At $200, it's pricier than most jackets (lululemon's similar jackets are $118), but I liked it enough to give it a try.  I bought mine from Net-A-Porter, which offers free 3-day shipping, free returns, and really nice packaging to boot.
I bought this in a size XS.  It's meant to be form-fitting, which it is on me.  It fits noticeably smaller than most of my other jackets in XS.  That said, the material is very stretchy so it's not constricting at all.  If you're between sizes, you might be more comfortable in a size up.  The length hits a bit higher on the hip, which is nice for running, but may be a little short if you're tall.  The overall effect, though, is quite a sleek and flattering look.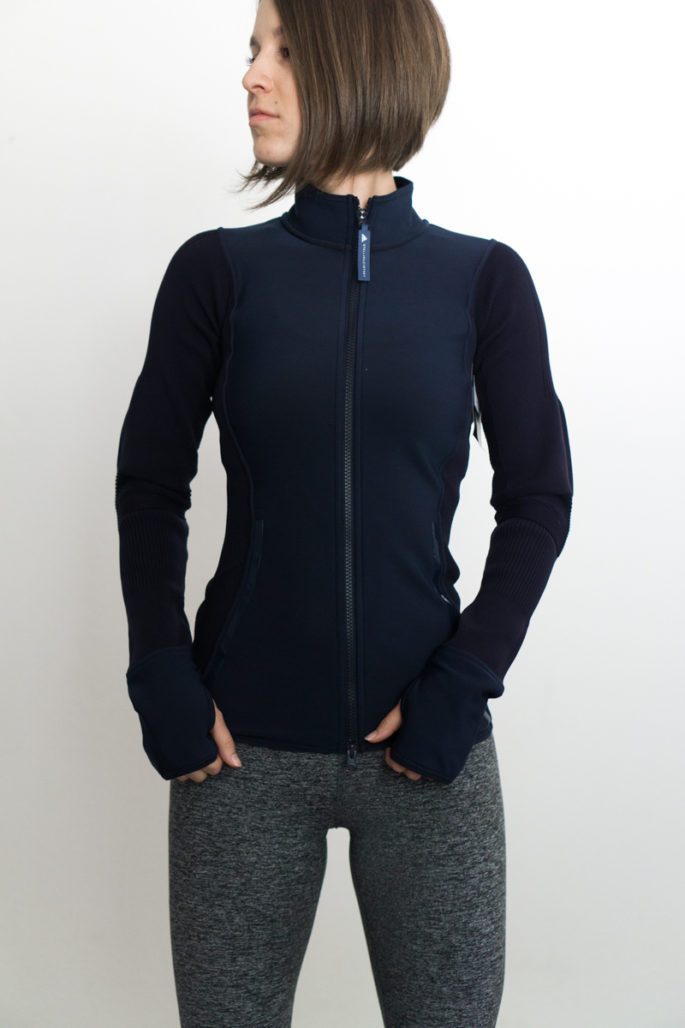 The sides and sleeves are made of a thick ribbed knit.  It's soft, not scratchy, and thick enough to provide decent warmth.  The knit pattern varies all the way down the sleeve for added visual interest.  The cuff is made of the same jersey material as the body and has thumbholes.
One problem with the knit sleeves: because of the way the knit changes direction, it creates a wing effect on the outer upper arm.  Although it might seem subtle in these photos, it was quite obvious as soon as I put it on.  As you can see, the upper part of the shoulder fits just fine, it's just above the elbow where the extra fabric puckers out.
The inside of the body is lined with a light fleece material.  It has a wonderfully cozy, soft feel without being too thick.  Overall, the weight of this jacket is definitely a true fall weight.  It's not light enough for summer but also not thick enough for winter unless your winters are mild.
The front has taping details that feel like silicone.  If you rub your hand over it, it actually squeaks a bit, so it's quite rubbery.  Despite what the taping might lead you to believe, there are actually no front pockets on this jacket.  The only pocket is the back zip pocket.  Fortunately, that pocket is quite large and fits my phone with plenty of room to spare.  Still, I prefer front pockets for when I'm wearing the jacket casually or to-and-from.
Another thing missing from this design is that there is no zipper protector (sometimes called a "zipper garage") at the top of the zip under your chin.  The zip is more of a mock neck, so it's not high enough to rub up against the bottom of your chin.  Still, since this feature is pretty standard for higher-end activewear, I was surprised to see it missing.
Overall, while this is definitely a nice, stylish jacket, it has a couple shortcomings for me.  Namely, the lack of zipper protector, arm "wings", and lack of front pockets were not what I was hoping for.  At this price point, these aren't details I'm willing to overlook, so this one will be going back.
If you want to give it a try, you can find this jacket at Net-A-Porter (where I got mine) or Revolve.