The holidays have put me a bit behind in my reviews, but I finally finished this review of my Black Friday haul from Alala.  I bought the black sophisticate jacket, map print take sides knee tight, and heathered grey weekender dress.  Here's a quick rundown of my thoughts:
Ever since I first saw it, I'd been dying to try the sophisticate jacket.  I'm a sucker for all things sleek and drapey, so this was totally calling my name.  I'm normally a size 2 in lululemon and an XS/XXS in everything else, and I got this one in an XS.
When I received it, I was instantly impressed by the fabric.  It's neoprene, which is smooth, thick, and soft.  It gives off a sophisticated sheen that you just don't get with cotton but is still soft and stretchy.  In my opinion, it's about as warm as a lulu scuba hoodie (minus the hood, of course) and definitely thicker and warmer than a luon jacket like a forme.
The insides of the sleeves are lined with fleece, which feels magically wonderful on the arms.  The sleeves are slim-fitting, which I like.  There are also thumbholes and pockets for warmth.
I find some pockets to be a little skimpy on jackets, but these are nice and deep.  They'll comfortably hold a larger phone.
The jacket closes with 2 snaps.  These pictures show the jacket fully closed.
You can also wear it with just the bottom snap done up.
The fabric is thick enough that you can even kind of "pop the collar" for extra warmth around the neck.
The one drawback to this jacket was that the fit through the body was a little looser than I needed.  You can see in this pic that there's quite a bit of extra space (obviously pulling on it here exaggerates it a bit).  While I wasn't expecting it to be skin-tight, it was still looser through the body than I expected.  That said, because I often do need an XXS, that may be the real problem here.
I went back and forth a lot, but ultimately I opted to return this one because I just felt like the cut through the body was a bit too much for my frame.  I wish there was an option for a size down, but alas, such is my lot in life. (Update: I ended up re-buying this on sale and have gotten a ton of use out of it!)
Nonetheless, this is a beautifully designed jacket overall that's both practical and stylish.  I would wear this to-and-from yoga as well as out and about in place of a cardigan or jacket.
You can find the sophisticate jacket on Alala's website.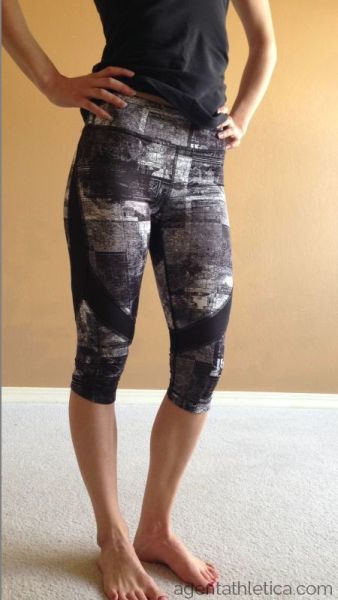 The take sides knee tight is a shorter crop–my inseam measures 16″.  They're made out of a slick fabric that feels a lot like lulu's luxtreme.
I was a little bit surprised when I pulled these out of the package, because all the pictures make the map print look like a black/white pattern.  Turns out, it's actually a subtle dark purple.  This was really hard to capture, but in this comparison pic with black, you can see they're not the same.  I believe this is their fall purple shade, eclipse.
Take note that the lighter parts of this pattern are a little more prone to showing color, so you just have to be mindful not to wear, like, bright orange undies under these, and you'll be fine.
Of course, the major appeal of these crops is the swooping mesh details.  They're flattering, provide a little airflow, not to mention are just plain cool.
From top to bottom, this stack compares lulu size 2 wunder unders, Alala's take sides knee tight in XS, and Alala's captain crops in XS.  The take sides knee tight fit about half a size smaller than the captain crops and overall feel closer to a lulu size 2 than a 4.  If you have your eye on these, you may want to think about sizing up, especially if you're between sizes.
The crops have two pockets, both lined with mesh: a zip pocket in the back, and a front key pocket. (P.S. I love that everything from Alala is made in Canada or the USA.)
You can find the take sides knee tights on Alala's website here.
Lastly, I also scooped up the heathered grey weekender dress.  I already had the dress in black but loved it enough to get the second color.  If you want to know more, I did a full review of this dress when I got the black one.  I've gotten a ton of wear out of my black one already so I'm glad to have the grey one in the rotation now, too.
Overall, another good run from Alala, even though I reluctantly had to return the jacket.  I'm definitely looking forward to their spring collection, which should start to trickle out in the next couple of months.