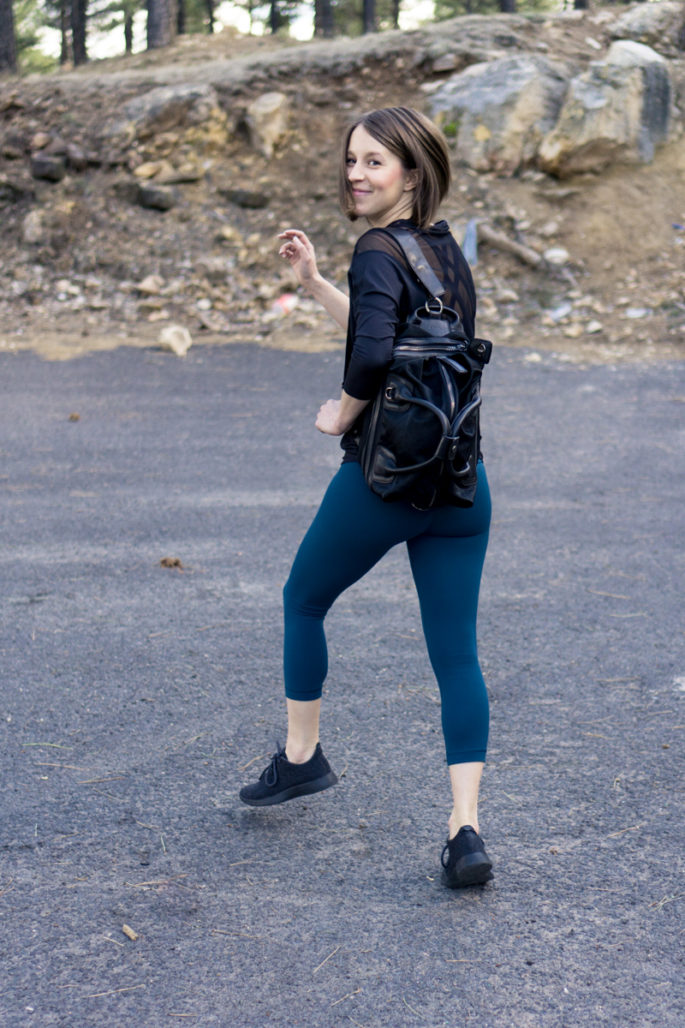 As a lady with approximately 29,483 pairs of leggings, I'm always looking for new ways to style them.  Shoes are the quickest, easiest way to transform an outfit from "just walked out of the gym" to "just chillin."  I found a new brand of shoes, Allbirds, that makes merino wool sneakers.  You've heard the benefits of merino: temperature regulating, lightweight, and soft.  I have merino socks, but I'd never seen merino shoes before.  I was intrigued.
Before buying these, I had zero sneakers that bridged the style gap between athletic sneakers and flats.  These were just what I needed: just slightly sporty, but much more casual and easygoing than gym shoes.  Allbirds' design is very minimalistic; I've gotten quite a few compliments from men and women alike thanks to their unisex design.
I bought these shoes about 4 months ago, so I've been testing them for a while now.  Here's how they've held up.
Fit and feel
Allbirds only makes whole sizes, but I'm a dead-on size 6.5.  The Allbirds site suggested I go up to a size 7, which ended up being perfect.  They hold onto my heel with no slipping and aren't even slightly cramped in the forefoot.
Because of the soft, unstructured wool upper, there's no break-in period.  The sole is slightly firm right out of the box, but conformed to my foot after only a couple of wears.  I have high arches and these provide pretty good arch support.  The sole is slightly springy, but not so cushy you feel like you're wearing moon boots.  It's a very nice balance between firm and cushioning.  Also, Allbirds has a very generous return policy: you can return these shoes anytime within 30 days, even if you've worn them.  Although I didn't need to use it, it's a great safety net.
The comfort factor is what makes these shoes special.  The upper is completely flexible and insanely soft.  And true to Allbirds' claims, I've worn these sockless many times and I don't get that gross, clammy feel like I do wearing other shoes barefoot.  They don't rub, either.
Normally, I'm sensitive to wool when it comes sweaters and things.  That said, for some reason I've found I can wear most merino socks without irritation.  Likewise, these shoes don't irritate my skin either.  So, if you're comfortable in merino socks, you'll be comfortable in these shoes, too.
[ezcol_1half]
[/ezcol_1half] [ezcol_1half_end]
[/ezcol_1half_end]
The one area that isn't quite perfect is the tongue.  The tongue has a rounded edge that can curl under and dig slightly into the top of the foot.  It's not terrible or anything, you just have to be sure it lays flat as you're putting it on.  I hope future iterations of the design include a smooth, edgeless tongue that sits flush on the foot.  The digging is definitely lessened if you're wearing socks–it's only most noticeable when I go sans sock.
Another thing to note is that things can stick to the fuzzy wool fabric.  I usually find a few stray dog hairs stuck to them.  I admit these are the only shoes I've ever lint rolled!
Since the upper is fabric, I was a bit worried I would wear a hole in them.  I've worn these about once a week on average since I bought them several months back, and as you can see in the photos, they still look great.  That bodes well for longevity!  Update: I've now been wearing these for well over a year and they're still going strong.  There are no signs of thinning or tearing.
Also, this is kind of a funny thing to point out, but these shoes make zero noise.  Since there's almost no rubber, there's no squeaking or creaking like some sneakers.  You could seriously sneak up on somebody in these shoes.
Where to wear Allbirds
As for function, Allbirds labels these as "runners" but that's more a comment on the look rather than the purpose.  I would personally never run in them, as they don't provide adequate support or stability.  Generally speaking, they wouldn't perform well in rigorous workouts.
That said, there are lots of things they are good for.  Since they're so comfortable, they're great for a day with a lot of walking.  I like to wear them when I need something I can quickly slip on and off, like running out to the grocery store or going to class at the aerial studio.  Since you don't need to wear socks, they're quick to take on and off for class.  I also wear them with skinny jeans and a casual top to work or around town.
At $95, they're not a bargain buy, but the price was fine with me considering the material, style, and comfort.  If you're looking for a casual shoe with an athleisure look, these are well worth considering.  I love mine!
If you're interested in picking up a pair, you can choose between a whole bunch of different colors of Allbirds here.
Outfit details
Allbirds wool runners – natural black
Alala tranquility tunic – black
Lululemon align crops – alberta lake
Caraa Sport studio bag