Glyder just released their flower child capsule collection a couple of weeks ago, which plays up pinks and florals, as the name implies.  Part of the collection includes their newest space dye, pink champagne–Glyder's awesome space dye bottoms are their biggest claim to fame in the fitness fashion world.  I bought 2 bottoms from the new collection and 1 tank.  Glyder's prices are fantastic, so my 3-piece purchase was actually pretty easy on the wallet, especially considering the whole order cost me about as much as 1 pair of tights would've from many other brands.
Mantra crops – pink champagne space dye
The mantra crops in my size are a bit shorter than lulu's wunder under crops.  Laying flat, they're about 2.5″ or 3″ shorter than the original WUC, so the difference would be even more dramatic with the WUC ii (I don't have any pairs to compare).  The actual inseam measures 17.5″ on my XXS, but on Glyder's website, they say their S mantra crops have a 19.5″ inseam, so the length seems to get longer as you go up in size.  I'd rather they be a bit longer, maybe an inch, but they're still calf-length on me and stretch a bit vertically once you put them on.  They are totally opaque.
In the pic above, which shows lululemon size 2 WUC compared to Glyder's XXS mantras, notice that the waist and hips are a bit bigger on the mantras versus the WUC, but the leg openings are virtually identical.  Glyder generally recommends sizing down, but I've heard a mixture of sizing choices, e.g., some lulu size 6's going with Glyder XS and some with S, some lulu 4's taking an XS and some XXS, and so on.  If you're particularly small through the hips, waist, and butt, then I would definitely go with the smaller of the 2 possible sizes.
Pink champagne space dye has two shades of pink and two shades of a lighter and darker green-ish color.  The result is a bright, bubblegum pink look.  Besides neutrals, I think pink champagne will look best with shades of green, teal, and blue.
Hot in here shorts – pink champagne space dye
The hot in here shorts are a new release from Glyder.  They are a hot short style with a cinch/tie option on the side of the leg.  I don't actually own any tight shorts like this currently, but these were too cute for me to pass up.
The shorts are just long enough in the back to cover the bum, but not much extra.  Like the mantra crops, no sheerness issues here.
The waist and hips align exactly with the mantra crops, but the leg opening is considerably larger, by about an inch.  The thigh on these is looser than most other hot short styles I've tried.  It doesn't sit perfectly flush or tight against my thighs (especially when un-cinched), although it's close.  I don't have very large thighs for my size, so your mileage may vary.
The good thing about the leg opening is that it won't create the uncomfortable feel and appearance of a sausage'd leg, and it's not loose enough to show anything.  If you have a problem with tight-fitting shorts pinching your thighs, these will probably be good for you.
Performa tank – petal pink
I bought the performa tank kind of on a whim.  In the photos online, it looked so great paired with the pink champagne bottoms, so I wanted to recreate that look.  The performa tank is similar to lululemon's cool racerback in styling.  I usually wear a size 2 in CRBs, but XS is the smallest Glyder makes in the performa tank so I decided to take my chances.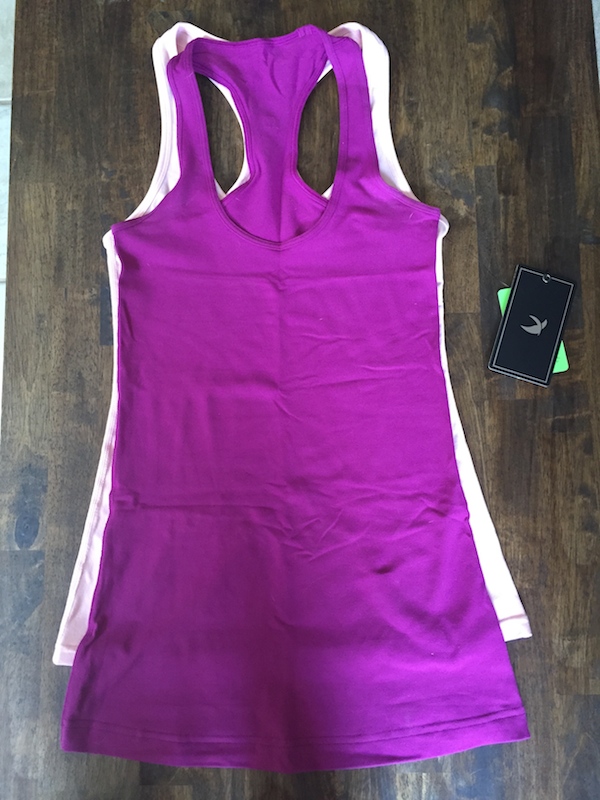 The size XS performa tank is a little bit bigger than my size 2 CRB.  It's a tad large on me, but not too terrible.  You'll notice in this comparison pic that the performa tank is quite a bit shorter.  The straps are a bit longer on the performa tank.  The neckline and racerback are very similar.
Petal pink looks somewhat similar in color to lulu's strawberry milkshake CRB that is currently out, but judging from online pictures (I don't have that CRB), Glyder's petal pink is a bit more of a light baby pink instead of a creamy pink.
The fabric on this tank is a nylon/spandex blend.  I immediately noticed that it's really soft–quite a bit softer than my solid CRBs.  But, it's also noticeably thinner.  Darker colors or patterned bras will show through underneath this particular tank, but I'm not sure how much that has to do with it just being light in color.
Overall, I'm leaning toward keeping both bottoms but returning the tank.  I've bought a lot lately, and the fit of the tank isn't quite what I hoped, plus the color is a bit outside my usual MO.  But, I'm still making up my mind.
In this post
Mantra crops – pink champagne space dye
Hot in here shorts – pink champagne space dye
More from the flower child collection
Plus, AA readers get 15% off with code AgentAthletica15! :)