Lululemon's sports bras are my current favorites to wear on my runs.  I'm always curious to try their new run styles in hopes of finding a new favorite.  The pace perfect bra caught my eye thanks to its handy back pocket for phone stashing.  For short runs where I don't need to bring much, the phone pocket is a nice alternative to my waistbelt or the phone-in-waistband trick.  So, I decided to give it a try.
I got my pace perfect bra in midnight navy.  The color is similar to other lululemon dark blues, but just a hair less deeply saturated compared to other similar shades.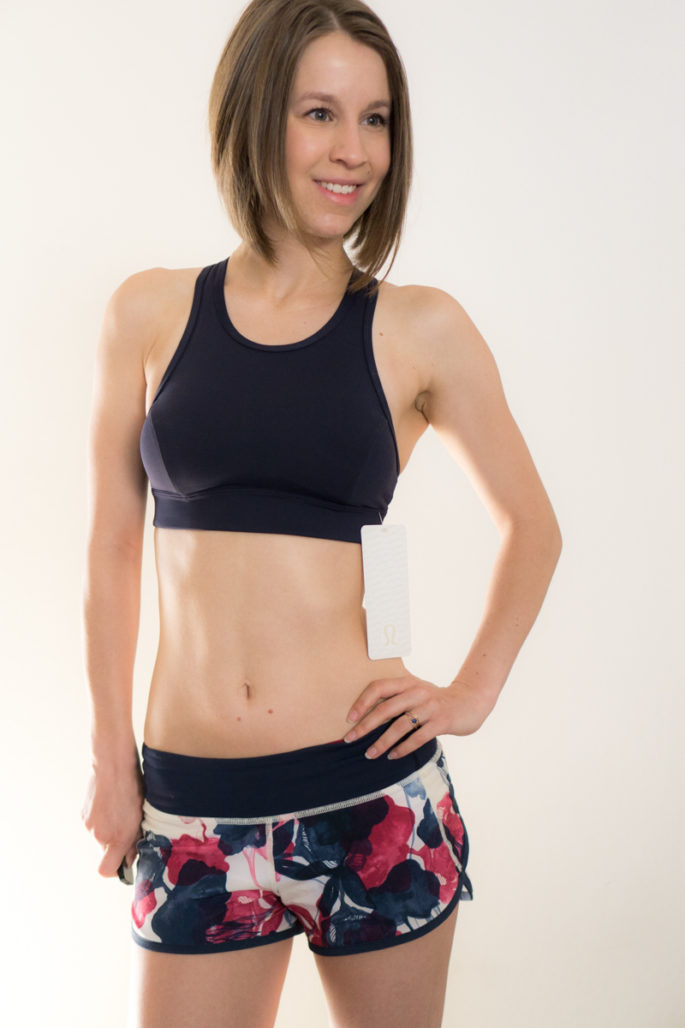 I got my usual size 2, the same size I wear in other lulu bras.  The pace perfect runs true to size in my opinion.  Note that the cut around the front armhole has a bit less coverage than similar bra styles.  It still covers everything, but watch out for this if you are busty and/or wide-set in that area.
For support, I would rate it as medium or medium-light.  I was surprised to note that it feels just a little bit less supportive and secure compared to my energy bras and stuff your bras, which are my go-to lulu running bras.  Although I was hoping for slightly more of a locked-in feeling, it still has enough support that I could get away with running in it.  With that in mind, I would not recommend this style for larger cup sizes as a running/high impact bra.
The bra is impeccably comfortable and does not cut in anywhere.  The back phone pocket is easy to reach and fits my iPhone 7 easily–it's in the pocket in the above photos and you can see that it's not a tight squeeze.  There's also an extra fold of fabric that goes over the top of your phone so that if yours is larger than mine, you can secure the top of the phone underneath an extra layer of fabric.
I have pretty narrow shoulders, but having the phone in the pocket does not bother me.  I actually prefer this storage option over the stuff your bra pocket style, since my phone isn't comfortable in the RSYB's front pocket.  The pace perfect phone pocket is double-lined with mesh and luxtreme to help keep it dry.
One small note: the slits for removable bra cups are quite a bit smaller than my other lululemon bra styles, which makes the cups a little tricky to get in and out.
From a design perspective, I had issues with the seaming in front.  In the photos on lulu's site, the bra looks smooth and clean from the front.  In reality, I found it a tad bit lumpy.  The side princess seams look a bit bulky rather than flattering.  There's also two center seams at the inside of the cups that are visible on me, as you can see in the photo above.  The seams looks really out of place and disrupt the smooth look at the front.  There's also a seam across the top of the cups that creates a subtle shelf effect, though admittedly it's not obvious.
The verdict?  Ultimately, I decided to return this one.  The design of the pace perfect bra is very appealing in theory, but in practice, the execution didn't quite work out for me.  For the time being, I still prefer my other lululemon bras.
If you'd like to try the pace perfect bra for yourself, you can find it here.
Also wearing: lululemon speed shorts in inky floral (old print, no longer in production)
P.S. If you like the phone pocket, Senita Athletic's Sarah sports bra has one, too.  The designs have some subtle differences, but Senita's is notably less than half the price.