These thoughts have probably run through my head about a million times when I'm shopping online:
"That's so cute, but I wish it was on sale."
"I love that, but UGH, the size I need is sold out."
And I know it's not just me.  Fortunately, there's a solution to both of these problems.  I recently started using ShopTagr, a powerful little app that notifies you about both restocks and price drops.
I've talked before on the blog about how much I love price drop tools.  I use them all the time, because they're perfect for people like me who want to set it and forget it.  Let's be real, I'm never going to remember to check back a zillion times for a price change, and I don't have time for that anyway.  But ShopTagr not only has all the perks of a price drop tool, it goes a few steps further, too.  It's my favorite tool I've found so far.  Here are some of the ways I'm using it to simplify my shopping.
Thanks to ShopTagr for sponsoring this post.  As always, all opinions are my own, and I hope you like this service as much as I do.
How it works
Have you ever waited too long to buy something, only to discover it sold out ONLY in your size?  One thing I love about using ShopTagr is that it can send you restock notifications in your specific size and color.  That means if your size is restocked, you'll be the first to know about it.
Before saving an item, you create an account and install an extension or bookmark in your browser.  It only takes a minute for both of those.  To save an item and set an alert, you browse a site as normal, and hit the ShopTagr button to save an item.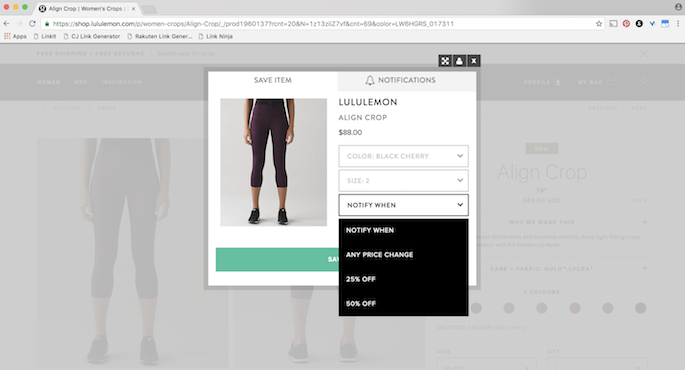 You select your color and size, the type of notification you want, and save.  That's it, then you just go about your business shopping.
If the item is in stock, like the crops above, you'll set a notification for a price change.  If it's not in stock, the option for a notification for a restock will appear.  You can also save items to specific lists you create to keep everything organized.
Another perk you can see in the screencap above is setting a threshold for sales.  Once I used a price notification tool for something on Amazon, and because the prices on Amazon frequently fluctuate by a few cents, I got notifications constantly, even though it never really went on sale.  It got kind of annoying.  To fix that, ShopTagr gives you the option to notify you of any price drop, or only notify you if the sale is at least 25% off or 50% off.  That way, you don't have to get your hopes up about a markdown, only to discover the "sale" is only $2 off.
You can go to your ShopTagr dashboard to see everything you've saved, including any color and size info.  If something drops to a price you like, you can go straight to the product page from your dashboard to order.  You can view and reorganize your lists through your dashboard, too.
If you prefer to shop from your phone or tablet, ShopTagr has an app you can download so you can save items and browse your lists easily.  I typically shop from my desktop, so I installed the Chrome extension and have been using it from there.  No matter where you use it, the service is totally free.
Plan for Black Friday now
With Black Friday and Cyber Week right around the corner, now is the time to get a list in order.  I know I've got a long list of fall styles that I might want to buy, but I've been holding out for a sale.
Tip #1: Before a major sale week like this one, I like to make a list of everything I'm thinking of buying.  I decide in advance how much I'm willing to spend, then when the deals come up, I can quickly go through my list.  This method also means I avoid overspending since I already have a plan.  ShopTagr arranges your dashboard and lists in a really clean format, so all you have to do is sort by what's on sale.  ShopTagr allows you to create multiple lists, like Pinterest boards, so you can easily organize everything you've saved and delete what you're not interested in anymore.
Tip #2: if there's something you want that's stocked on multiple retailers, set up an alert for all of them.  Then, when Cyber Week comes around, just snag the one with the best price.  You can sort your lists by what's on sale, so you can quickly see which sites have the best deals.
ShopTagr integrates with over 700 stores, so chances are you'll be able to get your whole list done in one spot.  Some smaller retailers might not be connected yet, but they're always adding new stores.
Organize your holiday lists
In case you somehow missed it, Christmas is right around the corner.  As shown above, I created a list for organizing my gift ideas.  One of the ideas I found for my sister was out of stock, so I set up a restock notification and added it to my Gift Ideas list.  Plus, getting my ideas in there early will be helpful in case they go on sale for Black Friday.
On the flipside, you can also use ShopTagr for receiving gifts.  Just create a separate list with your wants and share it with whoever you like.  Since you can specify the exact size and color you want and even add a shipping address, dropping hints is pretty simple.
If you're using ShopTagr for both giving and receiving, you can choose to keep certain lists private.  So you can send your mom your wishlist without worrying about her accidentally seeing the list with your gift ideas for her.
I've already found ShopTagr really helpful, especially around this time of year.  If you want to try ShopTagr out, get tagging by creating an account here!