Well, I lost my resolve.  I mentioned in my post a couple weeks ago that I was itching to visit Yosemite National Park, and I wasn't kidding.  I'd been stalking rates and weather for a few weeks, finally found some inexpensive airfare and pounced.  After 8 months of working long hours pretty much non-stop, I was more than ready for a little break.
Our visit was during the first weekend in March (Thu-Sat), which ended up working out quite well since every other weekend in March overlapped with spring break crowds, and after that things get more expensive since things are getting closer to the high season.
My biggest concern with visiting in the off season was chain controls.  This means that during winter in the state of California, the Department of Transportation can require you to use tire chains.  If chain controls are in effect, you can be fined hundreds or even thousands of dollars if you don't have chains on your car.  You can even be fined if you're not carrying chains in your car, ready to be used should the need arise.  Scary.  I didn't want to be caught in the middle of the park in a snowy situation, so I gathered all the information I could.
Fortunately, in the weeks leading up to our visit, the weather in the park had been beautiful: lots of sun and weather reaching into the 50s or 60s.  However, the days we were visiting, there was the possibility of a lot of rain in the forecast.  Ugh.  Although I could see the forecast for Yosemite Valley, I didn't know much about the elevation of the roads leading into the park itself.  Both roads are fairly remote, so there aren't many weather stations along them.  I was worried that rain in the park could mean snow on the roads.
We were driving to the park from the Bay Area.  From there, you have two main routes to get to the park: route 120 or route 140.  120 is the more northern route and covers higher elevation (reaching over 6000 ft).  Although 120 sounds like it's quite beautiful, I opted for 140.  Since it doesn't cover higher elevation, that meant less chance of snow.
To further hedge my bets, I found a shop right off 140 that would rent us tire chains.  We stopped at the Stage Stop Mini Mart in Mariposa and the whole rental took us less than 10 minutes and only cost us about $25 (plus a $25ish deposit that was returned to us).  Although we didn't end up needing them, it gave me peace of mind.  For the last hour or so of the drive, the road snaked right alongside the Merced River, so it was beautiful in its own right.  Next time I go, I'd love to see what Route 120 has to offer.
In retrospect, the chains were definitely excessive and arguably a bit paranoid of me.  But since I had never been, I had absolutely no idea what to expect in terms of driving conditions and how seriously chain controls are taken.  You know the saying: better safe than sorry.  I never want to be one of those foolish tourists in need of a bailout.
After several hours of driving, we finally arrived at the park mid-day on Thursday and drove around the Valley to check out some of the quick, accessible viewpoints.  A huge hike wasn't really in the cards given the time that we had.
The most famous part of the park is Yosemite Valley.  Bounded by towering granite shooting up thousands of feet around it, the Valley houses many beautiful and iconic sights.  It also houses Yosemite Village, a hub for the park where they've built a couple hotels, staff housing areas, and stores and restaurants nestled underneath the trees.  There are many other equally gorgeous and lesser known areas of the park, however the roads to access them are closed during the winter.  My strategy was to visit the most popular places during the off-season to avoid crowds, and then plan to visit the more far-flung locations during a visit one day in the summer or fall.  Since we only had a couple days, being restricted to the Valley still left us with plenty to do to fill our time.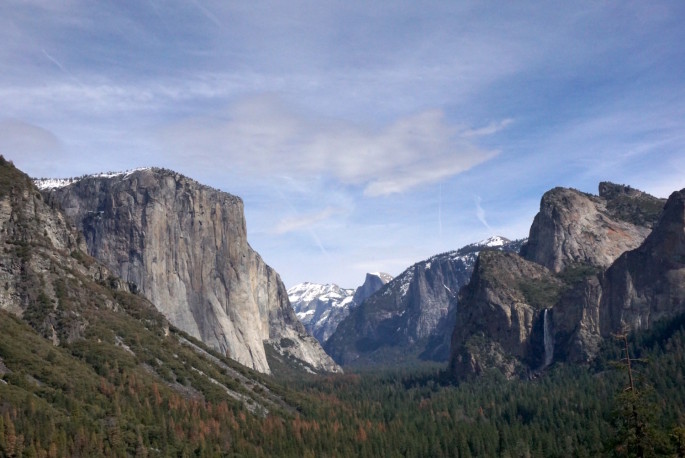 First up: Tunnel View.  This isn't actually a hike, it's just a parking lot with an overlook.  You're standing toward the western end of the valley and looking east.  This vista is well known for its perfectly framed view of El Capitan to the left, Bridalveil Fall to the right, and a snowy Half Dome in the distance.  The photos make it look like it isn't even real.  It looked equally fake in real life.
Two days later, rain descended on the park.  We went back to Tunnel View right before we left, and this is what we saw.  Quite the transformation!!
Next up, just a couple minutes down the hill from Tunnel View, we parked at the trailhead to Bridalveil Fall.  One of the things I learned right away about Yosemite: there are so many waterfalls!!!  Seriously, they're everywhere.  Bridalveil has a wispy, delicate look to it (hence the name), but is actually still pretty powerful.  The hike up to it isn't exactly a hike–it's more of a short stroll up a paved walkway.  We didn't linger too long, because there was a lot of (cold!) spray and I didn't want to get completely soaked.  You can see I also had a hard time keeping my camera lens dry–hah.
After we left the falls, we drove through the Valley and stopped a few places.  There are lots of random parking lots, some connected to trails, others not.  Beauty sprung up in every direction.  I loved driving through the Valley and admiring the color palette, which was so different from what I'm used to.
We were treated to views of Half Dome (this taken was RIGHT by the road)…
…Yosemite Falls…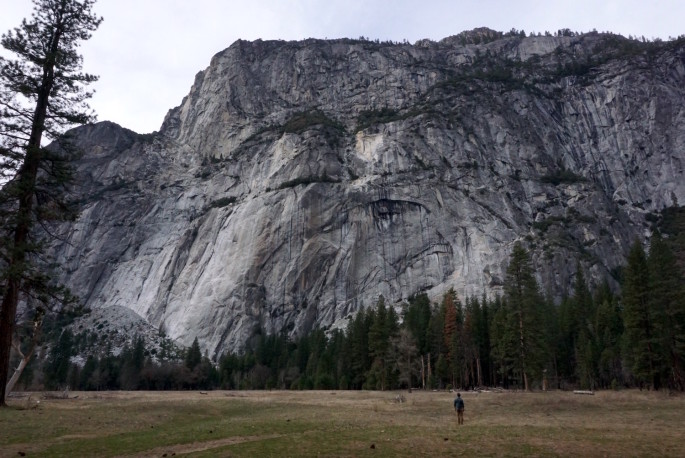 …And a lot of seriously gigantic granite.  It's hard to convey the majestically awesome sense of scale through photos, but this might give you a little hint.
Near Cook's Meadow, we stopped at the Lower Yosemite Falls Trail.  This is a relatively short, flat loop that takes you right to the base of Lower Yosemite Falls.  Remember what I said about lots of waterfalls?  Yosemite Falls is the largest and most famous in the park.
Of course I had to cheese it up.  I had to basically wait in line to get this picture, because everyone and their dog is taking pictures.
On the way out, I caught this most perfectly, beautifully framed photo of Upper and Lower Yosemite Falls.  Together, they cover over 2,400 ft!
Lastly, we drove to the Mirror Lake Trail, a lake that's only present during certain times of the year thanks to snowmelt.  This was another short, flat trail.  We started off on a paved trail, but then it split to a paved trail and a normal trail, so we opted for the unpaved trail.  Unfortunately, I think we missed some of the more striking views by being on the wrong side of the lake.  Ah well.  We still got to enjoy a scenic walk along Tenaya Creek.
At that point, it was getting to be late afternoon and we were ready to get settled into our hotel.  For this visit, we decided to stay at the Ahwahnee, a historic hotel smack in the middle of the park (the Great Room is pictured above).  Unfortunately, right now it's operating under the (kinda cheesy) name The Majestic Yosemite Hotel, due to a pretty outrageous lawsuit.  We arrived a mere 2 days after the name change.  There were even plaques in the hotel where the "Ahwahnee" name had been taped over.
Although the Ahwahnee is very expensive, we were only going to be there for two nights, so I decided the cost was worth it.  Since we booked on fairly short notice, there weren't any other hotels available inside the park.  My logic was that the main thing I was paying for was location.  By being smack in the middle of Yosemite Valley, we would save tons of time driving and therefore get the most out of our very short visit. (The photo is the view from the window of our room.)
That night, we went on an unsuccessful wild goose chase for some pizza, and eventually settled for ordering hamburgers via room service.  The internet was slow and very unreliable while we were there, but by some miracle we managed to hold onto a connection long enough to watch the CrossFit Open 16.2 workout announcement over burgers.  It was a nice way to wind down after a long day.
The next morning, we packed up for a more serious undertaking: Upper Yosemite Falls!  More on that soon.