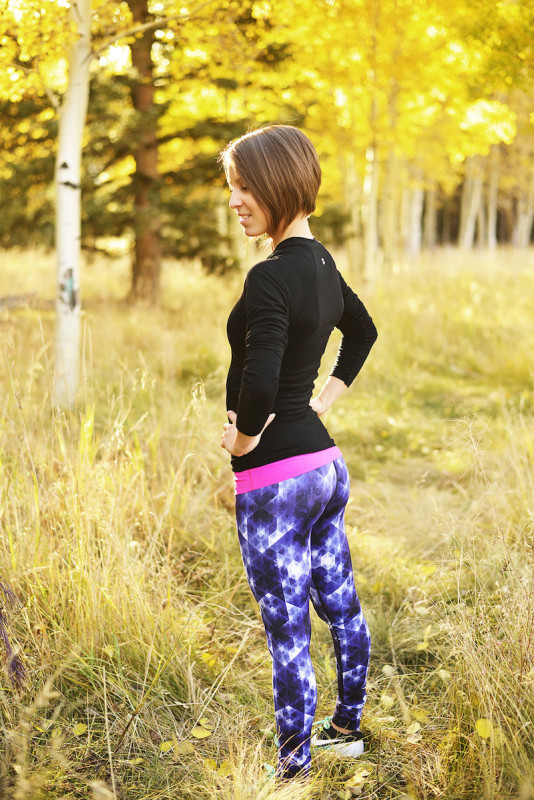 Photos by Julia Romano Photography
Sweaty Betty glisten L/S top – black (Black Friday sale: 30% off with code BLACK30)
Lululemon cool racerback – heathered jeweled magenta
Vie Active rockell tights – blue satellite orchid (On sale: 30% off)
Nike metcon 1 – black/hyper jade
Hey guys, how's your week?  Things have been nuts over here.  With Thanksgiving suddenly upon us, holiday season is in full swing, and things probably won't slow down for many of us for several weeks.  I just got back from an extended weekend in Denver with my sister, and less than 24 hours after getting home I now have family in town for Thanksgiving for the next few days.  Whew.
Btw, Black Friday sales are already starting!  It just so happens that most of this outfit is on sale. :) If you want a review of the Vie tights, I have one here.  These have actually been on sale at Carbon38 for a few weeks, so there's a chance they'll drop in price if you hold out for later in the week!  I'll have a roundup of Black Friday deals in a post Friday morning.  In the meantime, Sweaty Betty, Splits59, Glyder, Six:02, Lorna Jane, Bandier, Alo (code: VIP30), Werkshop (code: HOLIDAZE20), Alala sales are already underway!
On a different note: workouts!  Last week we did Diane at the gym.  Diane is one of my favorite CrossFit benchmark workouts, and it goes like this: 21 reps of deadlifts (prescribed weight is 155# for women), 21 reps of handstand push-ups, then 15 of each, then 9.  I did Diane a few months ago with the deadlifts scaled to 100#.  I was really in the zone that day and was so proud of my time of 4:22.  This time, I begrudgingly increased the weight to 105#.  Even a small increase in deadlift weight can be tough for me since it's arguably my worst lift, so my hope was to keep my time under 5 minutes.
My deadlift strategy went like this: 11-10, 5-5-5, and 5-4.  After one of those sets within the set, I take a couple steps back from the bar and take 3 deep, controlled breaths, then I immediately step back to the bar and lift.  If you're doing a fast-paced workout like this (see also: Fran), I think this is a really helpful strategy for managing rest as well as stopping yourself from burning out too early.  For the HSPU, I didn't really have a strategy since I can basically do them unbroken (hence why I love Diane).  I actually rest on my head (thanks, yoga) and don't come off the wall during a set.  I ended up taking a brief, 1-2 breath rest on my head in the sets of 21 and 15.
My time: 4:16!  I haven't had a lot of PRs lately, so getting a PR in terms of both weight and time was pretty exciting!  After several hit-or-miss months of working out, maybe I am getting some of my mojo back. :)