Lululemon's speed shorts sizing has been a thorn in my side (and in the side of basically all other speeds lovers) for basically a full year now.  Last spring, sizing and fit suddenly became inconsistent, with lengths creeping longer, and dramatic hip and leg opening variation even between different pairs of the same size and color.  Lulu HQ stated that this was the result of increased pattern tolerance–in other words, they were allowing speed shorts of the same size to have greater variation, probably as a way to produce them faster to keep up with demand. (Of course, this kind of bit them in the butt since no one seemed to want to buy ill-fitting speeds.)
Although we were promised speeds would be back to their old fit by Fall '14, the problem has only halfway gone away.  Although the variation doesn't seem to be as dramatic as it was, it's still not as consistent as it used to be.  Lulu seems to have done the bare minimum of correction to keep speeds from being a total disaster, but they certainly don't seem to have gone back to their old pattern tolerances.  4-way stretch speeds seem to be more forgiving of pattern variation versus speeds in 2-way stretch, so I can't help but wonder if this explains the recent trend toward almost exclusive production of 4-way stretch speeds.  In recent months, the overall hip/waist tightness as well as length seem to be the main variables.  Some colorways seem to have more dramatic sizing variability than others, but even the most "consistent" pairs do still seem to have at least a little pair-to-pair variation.
So far this year, I've ordered harbor blue, menthol, and star crushed black cherry speed shorts.  Below are my fit pics and thoughts for these.  Of course, given what I wrote above, your mileage may vary.  All of these are size 2, which is my normal speeds size.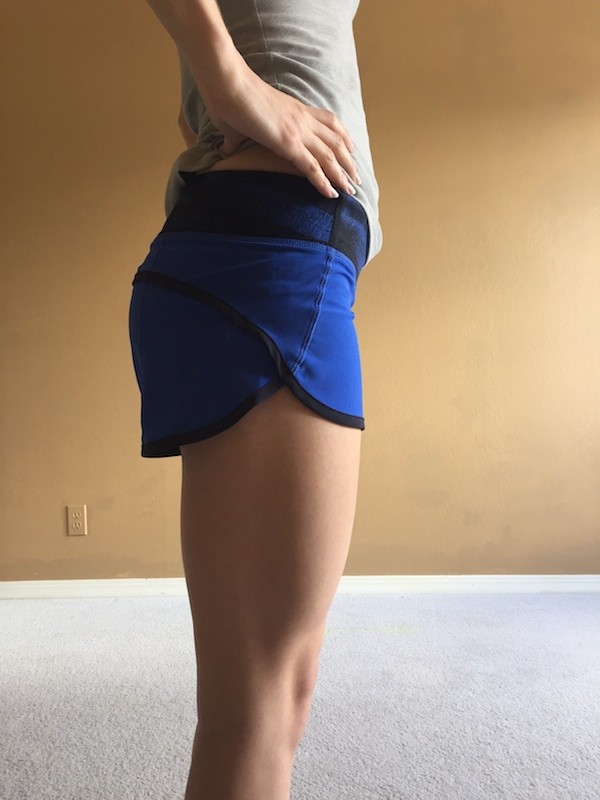 Harbor blue fits me a little bit smaller through the hips.  When I held them up to several of my other pairs, they seem cut just a little bit closer in at the hips (maybe 1/4″ laying flat) but the same in the waist and leg opening.  The slightly tightness in the hip makes them flare slightly in the back thigh area, but not enough for me to return and definitely not enough to size up.  Besides some reports of the same hip tightness, I haven't heard about any other fit issues with these.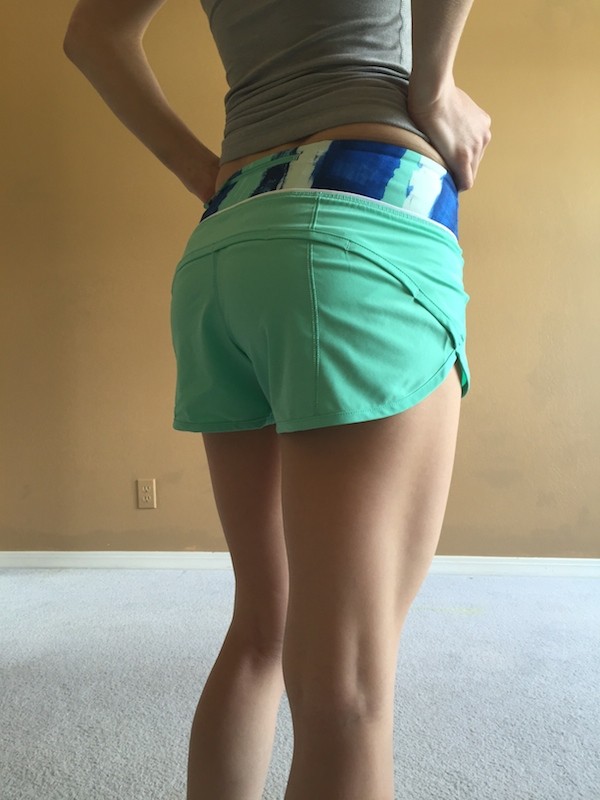 Menthol fits me exactly true to size.  Some have said their menthols fit the same as harbor (tight in the hips), but mine did not.  Holding them up to each other proved that the menthol were cut like my other pairs.  My menthol pair seems to be just a a hair longer, but that doesn't bother me.  As with harbor, I haven't heard of any other sizing inconsistencies with menthol, just the possibility for length and hip tightness variation.
Star crushed black cherry also fit me true to size.  They didn't seem to be noticeably long or tight anywhere.  On the flipside, I've heard numerous reports of black cherry fitting very tight, much like the reports I've heard about raspberry glo and vintage pink (I didn't purchase either and can't speak for those).  These seem to run the gamut from "perfectly TTS" to "holy crap so tight they're basically underwear".
All told, I'm definitely keeping harbor and menthol, but I'm on the fence with black cherry.  The fit is great and the color is unique, I'm just not sure if I love them enough to be parted with my $58, particularly given that these are the 15th pair in my drawer right now, ahem.
(All 3 of these speeds are currently still available in all sizes on the lulu website.)