My devon singlette tank in twilight was one of my first ever Splits59 purchases back in 2012, and it's one of the few pieces in my closet that has had the staying power to remain a favorite for years.
The 3 biggest reasons I love devon tanks:
1. The fabric feels silky and luxurious against the skin while still breathing well.
2. The open back and looser fit keeps me cooler than your typical tight-fitting tank (and is a nice change of pace!).
3. The aforementioned open back looks super hawt, obviously.
The devon first came out in 2012, and has stayed on as a staple of S59's line since.  I immediately liked the look of the redesigned devon ii, which Splits59 debuted for 2015.  Also, I'm a sucker for saturated blues, so the new tidal shade was pretty much a must-have.
I have a very small-framed upper body, so normally I need a lululemon 2 or an XXS on top, but since this is a looser style, Splits59's XS works for me.  If you are between sizes, I would choose your larger size unless you specifically want a tighter fit.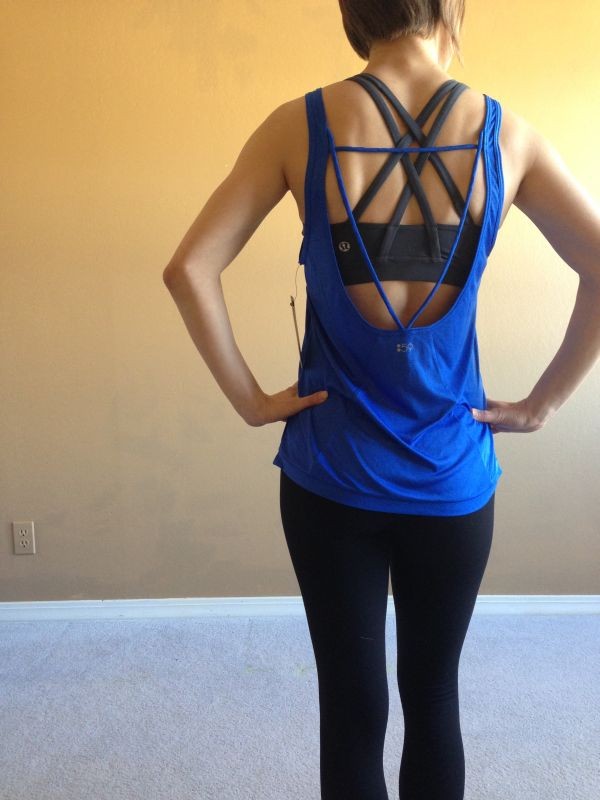 The fabric drapes very well, so the loose fit is still flattering.  I live in a dry climate, so I noticed a bit of static electricity when I tried it on, but a little bit of perspiration would eliminate that.  Also: I wouldn't rule out wearing this with a pair of sleek skinnies and heels for a summer dinner out.
I just received my lululemon harbor blue speed shorts in the mail today, and I was curious how tidal and harbor blue would compare.  As I suspected, they're nearly identical!  Tidal is just a hair brighter, although that isn't particularly obvious in this picture (which just goes to show how similar they are!).  So, if you like to mix and match your lulu and S59 (like I do), tidal will integrate perfectly with lulu's spring palette.
As far as a comparison of the new and old devons go, there's not much to note.  The straps are pretty much the only thing that's changed between the original devon and the devon ii–all the dimensions seem to be the same.  I really love the new strap design, though.  It doesn't affect functionality, but I think it's a more modern look that fits in a little bit better with Splits59's direction and overall brand aesthetic.
Overall, I LOVE this tank for all the same reasons I love the original devon.  Tidal is a gorgeous color, too, and it will fit in really nicely with my color palette.  This one's a definite keeper, no question.
Currently, the devon ii is available in all sizes (XS-L) in black, but only M and L in tidal.  I expect there will be a restock at some point, so keep your eyes peeled if your size is out of stock!