Splits59 has beat most other brands to the bunch by rolling out the first chunk of their Fall collection today.  The themes are a couple shades of blue (called aspen and calypso, plus a little navy), and bright pink (hype).  There's lots of geometric motifs, which is typical of S59.  Here's a selection of what's new, but there's lots more that I didn't post.  You can check out the whole line here.
The sawyer tank is an interesting take on the muscle tee with its cutout details.  It's made of tencel.  This is aspen*, it also comes in white.
*There are a lot of aspens where I live and I assure you they never turn this color.  That said, this is a very pretty shade.
The astrid saturn pullover has cutouts in the back–you can imagine the panel going across the ring as a ring of saturn, which I imagine is where it got its name.  This is the other main shade of blue, calypso.  This pullover is made of supima and also comes in hype and black.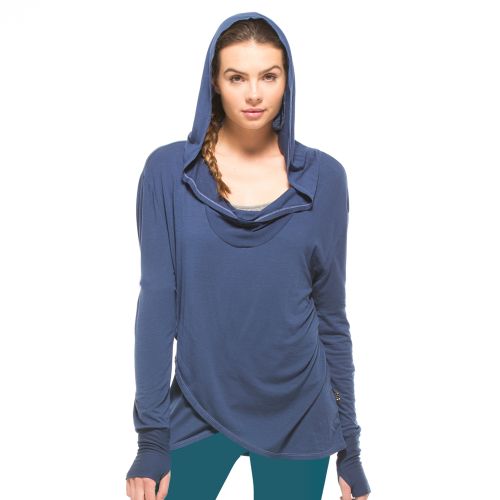 The gia hoodie (pictured in navy) is a drapey tencel layer that also comes in aspen.
This is hype.  LOVE this shade.  This is the devon tank which I am mildly obsessed with.
(Side bar: this tank would look awesome with the nova spectrum capris that I'm currently lusting over…)
They rolled out a new print called mimicry that reminds me a bit of a leopard print somehow even though it's clearly not.  These are the ginger 3/4 tights, but they also put this print on a few other items.  I'm not feeling this one.
A variation of their nova capri tights, these are the supernova warrior tights.  They also made a warrior variation of their classic raquel tight.
I NEED THIS.
Nova trailblazer capris in hype with aspen accents on the back (which you can't see).  There's also a new navy/calypso combo.  I have these in another color and love the styling.  I wonder if hype would be sufficiently opaque…
The kym noir tights are a special edition of their full length legging.  I love the mesh insets and rose gold details.  Gorgeous!