2012 versus 2015: nada jacket / fast and free crops / if you're lucky tank / swiftly long sleeve
Although quality and design of products generally form the bedrock of most people's purchasing decisions, the experience we have as customers and how the brand makes us feel is crucial in determining our loyalty to a brand (and how many "sins" we will forgive them for).  I first started shopping at lululemon in 2012, but since then, how the brand makes me feel has changed a lot.  I was curious to pinpoint exactly what underlies that change, so I dug through archives of lulu's imagery over the years and found some really interesting answers.
Besides the impact on me as a customer, how lululemon presents their products and how that changes over time offers a lot of insight into how they see themselves as a brand.  This branding indicates who they're marketing toward, how they see themselves fitting into the competitive landscape, and their overall brand direction.  In this post, I'll survey how lululemon's images have evolved from 2012 through the current spring 2015 season.
(Side note: I know I'm skipping over the earlier history of the brand before 2012, but in order to keep this post from turning into a dissertation, I'm sticking to this shorter, more recent time frame.)
Winter 2012: apres run anorak / yin me pullover, endless circle scarf, and wunder under pants / tea lounge pullover
Spring 2012: pack and go pullover / define jacket and bliss bag / cool racerback
Summer 2012: optimal tank / swiftly v-neck and sun sprinter shorts / hot but not tank
Looking at these photos, they seem happy to me: the clothes and the scenery are full of vibrant colors, and the designs are fun, feminine, and stylish.  The models often are smiling and laughing.  As humans, we are influenced quite strongly by facial expressions, so this is a particularly important point.
Taken as a whole, this kind of imagery tells me that the women in the photos live active, healthy lives that are full of fun and beauty.  The mood is carefree, buoyant, and youthful.  Instead of just showing a woman doing something active, lululemon does an excellent job of contextualizing fitness into a lifestyle that goes beyond their clothes.  At the time, this strategy was pretty unique, and lululemon certainly led the pack in terms of execution.
Fall 2012: team spirit long sleeve / serenity sweater and hot spell tank / 105F bra
Winter 2013: don't hurry be happy pullover / what the fluff vest / bold in the cold pants
Spring 2013: in the flow shorts / layer me long sleeve / swiftly long sleeve and pace crops
Summer 2013: scoop me up tank / stuff your bra / track attack skirt
Although there's variation for the seasons, this look stays pretty consistent through fall/winter 2012 as well as spring/summer 2013.  At the time, this was very aspirational to me: I wanted my life to feel more like what it looked like in those pictures.  It had a visceral pull for me, the same kind of feeling you might get when you look through the Instagram of someone you really admire, for example.  I got that feeling when I shopped in stores or online, and hints of it would come back when I wore my lulu out.  Basically, my encounters with the brand both pre- and post-purchase made me feel not only more stylish and more legitimized as an aspiring fit person, but also more inspired to live a healthy, active life.
Fall 2013: ebb to street bra and wunder under pants / scuba hoodie / bend and flow tank
Winter 2014: fluff off jacket / track tee / 105F singlet and wunder under pants
Toward the end of 2013 and the beginning of 2014, the photos started to appear darker and more stark.  Since this was winter, it makes some sense that the mood would lean toward something a little more subdued for the colder, darker months.
Spring 2014: flow and go tank / flow y bra and rolldown wunder under crops / swiftly racerback
Summer 2014: cool racerback / 50 rep bra / ta ta topper and hotty hot skirt
But then when we moved into the spring and summer 2014 seasons, things didn't brighten back up again like you might expect.  Despite it being a happier season with happier colors, the photos are still somewhat dark and/or muted.  Put another way, the saturation and highlights are very much toned down, the brightness is lower, and the shadows are darker.  Models' expressions appear more serious, and smiles and laughter are somewhere between rare and non-existent.  Most of the outdoor photos were taken in beachy areas filled with rocks, sand, and less-than-vibrant brush.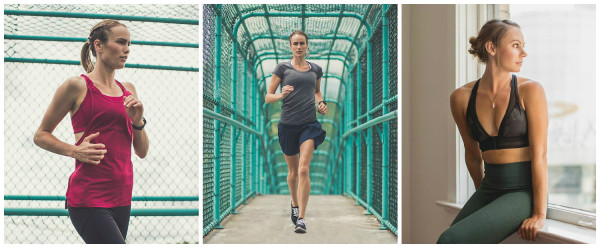 Fall 2014: stash it tank / pleat to street skirt / seek the heat bra
Winter 2015: fluffed up jacket / speed tights / exquisite onesie
This trend continued into the fall and winter of 2014-2015.  If I had to choose just one word to describe the vibe in these photos, it would be "moody".  The backdrops in the photos emphasize more concrete and industrial scenes or dark woods instead of brightly lit parks and trails.  While the photos from earlier eras look warm and friendly, you could go so far as to say the mood in these is nearing something aloof and unapproachable.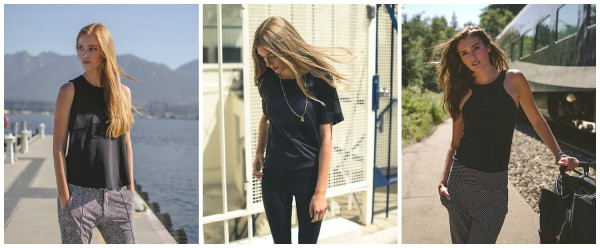 Fall 2014: here to there tank / meesh tee / front racer tank
Even these photos, which appear to be taken in the sunshine, don't have a particularly sunny look about them.
Spring 2015: ebb to street tank and in the flow crops / seva sweater / trail bound long sleeve and tracker shorts
As we now move into the warmer months, spring 2015 is staying true to the shadowy, sober ambience that now seems to mark the lululemon brand.  Much like last spring, there's little saturation and spring vibrance to be seen.
2013 versus 2014: flow and go tank / speed shorts / elevate tank / water bound shorts
Overall, the way these photos have evolved is representative of the other trends we've been seeing in the lululemon brand lately.  A lot of the thoughtful, feminine details like ruching and ruffles have been phased out in favor of more streamlined designs.  We've also seen a huge emphasis placed on transitional pieces and technical streetwear such as the infamous &go collections.
To me, all of this highlights lululemon's desire to be taken a bit more seriously.  The athleisure and fitness wear markets have blown up in the last couple of years, and lululemon has been scrambling to hang onto their market share as competition becomes increasingly fierce.  But instead of updating their original aesthetic to be progressively more modern, they've pivoted to something quite different.  Perhaps they feel a lighthearted and vibrant aesthetic cheapens their brand, and that this more moody look is more reflective of the luxury aspect they wish to cultivate.  Their new focus seems to underline the brand's desire to be seen more as a fashion brand that makes both activewear and streetwear rather than a cheerful fitness brand emphasizing health and happiness.
In my opinion, this strategy actually sacrifices some of their differentiating factors; it makes lululemon blend in more with competing brands instead of help set them apart.  I imagine I'm not the only one for whom a vivid, upbeat mood ties in well with fitness, so I look back on years past fondly.  Sadly, this new aesthetic does not resonate with me in the same way that their branding used to, but it appears this new look is here to stay.