The harrier tank is one of Tracksmith's signature running tops.  I have the previous generation of the harrier tank (worn here and here), but recently picked one up in the updated, currently available model.
Compared to the past version, this one is quite a bit lighter.  It's made of merino and just a little bit of elastane for stretch.  Although it's fairly light, the merino fabric does not feel cheap or flimsy to me, it's quite nice.  You'll notice it's thick enough to cover up vibrant colors underneath, so even though it's light, it's still substantial rather than tissue paper thin.  The teal color is absolutely gorgeous–it's even prettier in real life!
Every merino sweater I've tried makes me itch, but for whatever reason, this tank is incredibly comfortable.  It's not even slightly irritating on my skin.  It feels as nice as my comfiest tee, but without the heavy, wet feel of cotton.
I bought the harrier in XS–I'm normally XS or XXS depending on what's available.  It's meant to fit slightly relaxed but isn't baggy.  If you're between sizes, either would work, just go up or down depending on whether you'd like the fit to be more or less relaxed.  The previous generation and current generation are comparable in terms of fit, it's just the fabric that's changed.  You'll also notice that the hem is cut relatively short.  I'm 5'3″ and it's not ultra-long on me.  If you're on the tall side, don't expect extra length.  I like the shorter length since it means no extra fabric bunched around my hips.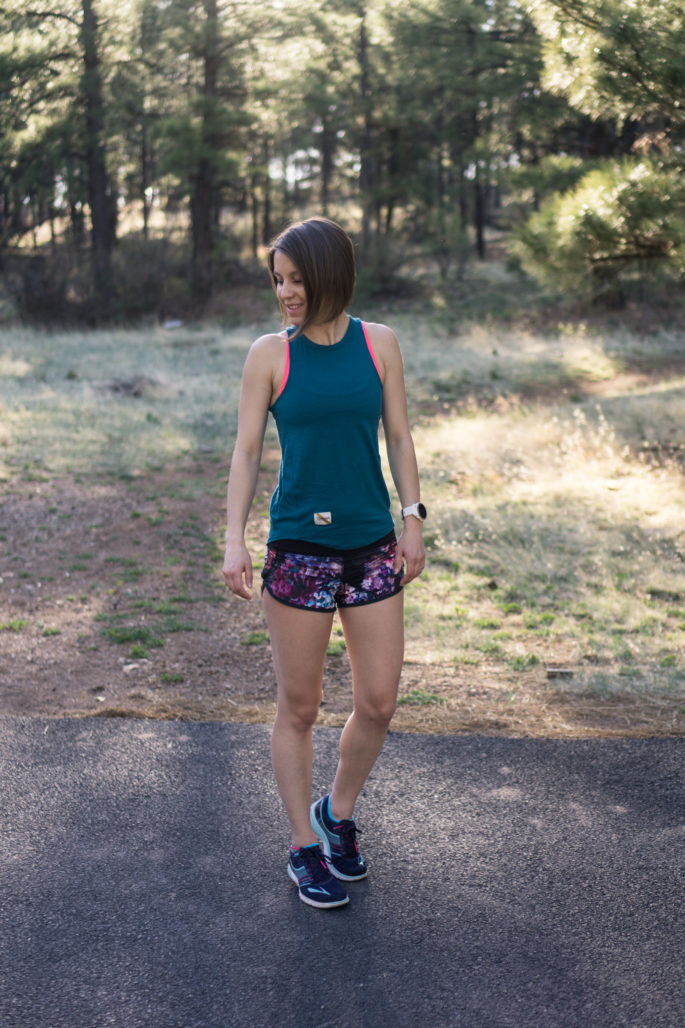 I've taken this top out on several runs and it's one of my favorites.  It's so light and breezy, meaning it works nicely even when the weather is quite warm.  I wore my pack on one run with this tank, but I have not noticed any pilling on the tank as a result, which is a great sign.
I also own Tracksmith's brighton tank, which also contains merino, but the two are completely different in terms of both feel and fit.  The brighton stretches more and is a bit thinner due to their differences in fabric content.  Overall, it drapes quite a bit differently as well.  The brighton feels closer to a lululemon swiftly tank (though they're not quite the same!) while the harrier feels more like a casual tank (that happens to have high performance characteristics).  I love them both, though for different reasons.
Overall, I love this tank and would absolutely recommend it!  It's currently available in 5 colors on Tracksmith's website.
Outfit details
Tracksmith harrier tank – teal
Lululemon speed shorts – spring has sprung (old)
Garmin Fenix 5s
Brooks PureCadence 6 – evening blue