Apparently, nothing can stop my love for Tracksmith running tops. I have been wearing and loving Tracksmith's harrier tank for summer running for years (previously reviewed here). When they dreamed up a long sleeve harrier, I knew I had to try it. I now have this shirt in three colors, so you can probably see where this review is going.
The harrier previously made a cameo appearance in my Vuori jogger post. Take a look at that post as well if you'd like to see more photos of the harrier in a different color.
Fit and fabric
The harrier has a high merino content: all three of mine are 89% merino, 11% nylon. The weave is tighter and the top looks and feels very similar to a basic cotton tee. When it comes to sweaters, I absolutely hate wool, even merino. It itches like crazy. But for performance merino like this, my skin is much more tolerant. I can wear my harriers all day with no itchiness at all. It feels just like cotton, except unlike cotton, it has strong performance characteristics.
I'm wearing size XS in the harrier, my usual size in Tracksmith. I wear a size 2 in lululemon and XXS/XS in other brands. As you can see, the top has a slightly tailored fit, but is not tight. This slightly loose (but not baggy!) fit through the lower half of the top is ideal for running, so I'm very happy with this size.
In general, Tracksmith tops tend to run slightly small, so if you're between sizes, I recommend going up. Keep in mind that the harrier has some stretch, but it's not as ultra-stretchy as a lot of my workout tops. If you need extra room through the shoulders and/or chest, you may need to size up.
The length hits at the mid-to-high hip on my 5'3″ frame. You can also see in the photos that the sleeves aren't too long, either. Overall, this top (at least in this size) is pretty petite-friendly. Especially tall runners may want to proceed with caution.
I previously reviewed Tracksmith's brighton long sleeve here. Both the brighton and harrier are merino running tops, but they are very different tops. The brighton has a lower merino content at 52% alongside a blend of nylon and polyester. The knit is also very different. The brighton is a lightweight, mesh-style knit (also more delicate) compared to the tighter weave of the harrier. Compared to the brighton tee, the harrier is warmer, thicker, and less stretchy.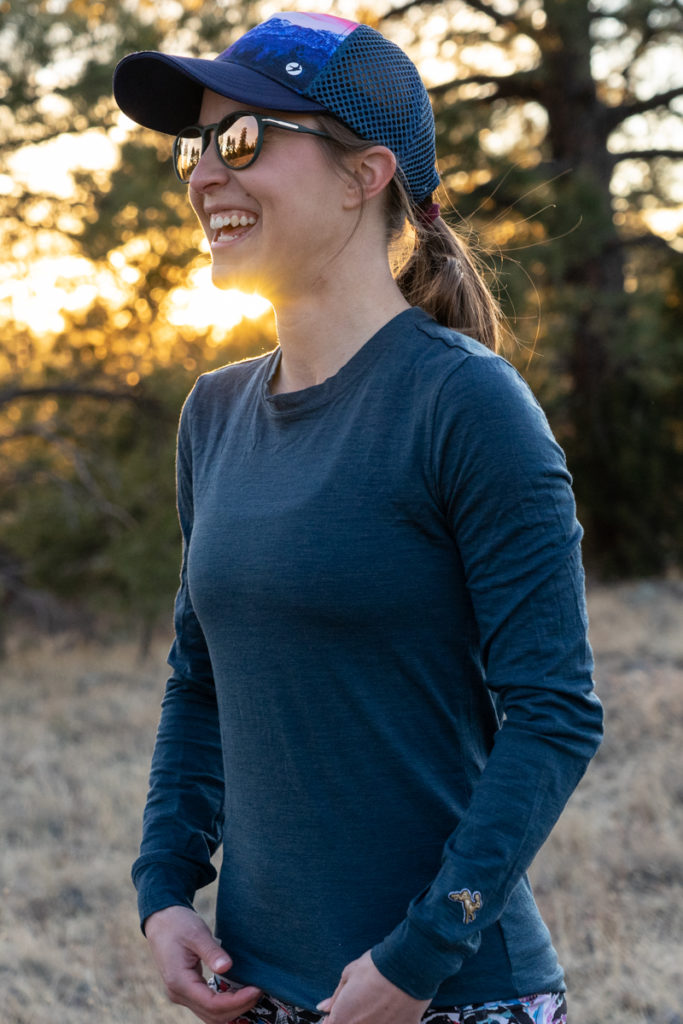 Performance and usage
In terms of performance, harriers are ideal for spring/fall weather. It shines in mild to chilly conditions and is one of the first tops I reach for when the weather permits. It feels great to wear, never rides up, and breathes extremely well. I also like to wear it when I'm going up to alpine elevations, even in summer, because while it doesn't have a formal UPF rating, the long sleeves and crew neck absolutely help protect my skin from the ultra-powerful UV rays of the mountain skies.
The only complaint I have about the harrier is that it does not have thumbholes. Since I often wear this top on chilly days, I like to have thumbholes for that extra bit of warmth when I'm starting out, but when it's not cold enough to warrant gloves.
Besides being excellent for running, the harrier also shines as a hiking, camping, and backpacking top. Since merino naturally resists bacterial buildup, you can wear it more than once before it needs to be washed. The ability to wear this top multiple times is ideal for reducing the stink factor on multi-day outdoor adventures. Over the summer, I wore my harriers almost non-stop on my camping and hiking trips, and I even slept in them multiple times. I love the simple, non-technical appearance and feel, which means it easily passes as a casual tee, too.
I've worn my normal running hydration vest with my harriers on many runs, and it has not caused any pilling. On the other hand, when I wore my daypack for an all-day hike in a harrier, that did cause just a little bit of pilling on the lower back of one of harriers. So while they don't pill easily, they are not invincible, either. Other than the slight pilling from my daypack, I have worn and washed these shirts many times and their durability has been excellent.
Overall, this long sleeve is the primary workhorse of my running wardrobe for the spring and fall seasons. I've logged hundreds of miles in my harriers at this point, from quick neighborhood jaunts to 12+ mile long runs. They've proven their worth in everything I've thrown at them. I would absolutely recommend this top for runners, hikers, and backpackers. At $82, they're definitely pricey, but in a similar price range as other long sleeve running tops from premium brands. Tracksmith almost never offers sales or discounts, which means I've paid full price for all of mine, but I have zero regrets.
Tracksmith just released quite a few new spring colors of the harrier long sleeve, as well as the harrier short sleeve and tank this week, so there's a good supply of sizes and colors available as of this writing.
Outfit details
Tracksmith harrier long sleeve tee – midnight
Lululemon speed up shorts 2.5″ – culture clash multi
Machines for Freedom x Roka Oslo sunglasses in palmera
Oiselle runner trucker hat – Yosemite sunrise
Hoka One One Torrent