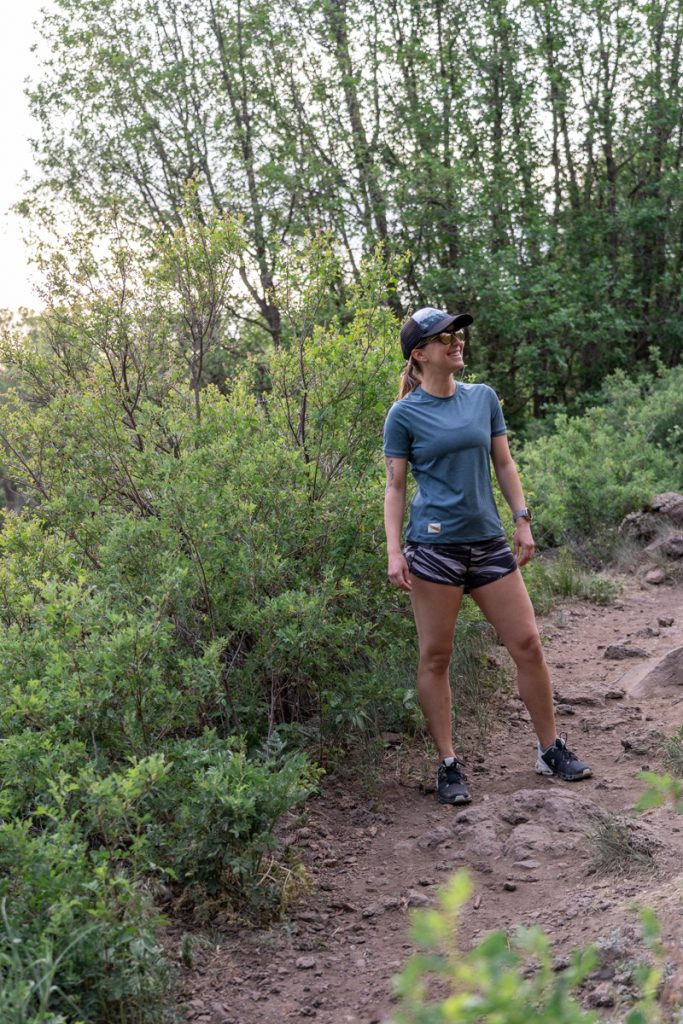 The years of being a mountain athlete have stacked up, and my shoulders can use all the help they can get in sheltering against the powerful high altitude sun. Enter: short sleeve tees, an underrated performance staple.
My current favorite short sleeve performance tees are all from Tracksmith. Other brands tend to offer very few tees that are suitable for running. Plus, Tracksmith tends to fit and perform well for me. When they dropped the new short sleeve session tee, I got my paws on one right away.
I've tested the session tee out on quite a few runs of varying distance over the last few weeks, including both mild and hot conditions. Here's how it's worked out for me.
Session Tee fabric and performance notes
The material is a lightweight, fully synthetic, mesh knit. It has plenty of spandex to stretch to your body and movement. It's just slightly heavier than the twilight tank/tee material but lighter than the harrier tanks/tees. The session also has a slightly softer feel and appears more matte compared to other synthetics like their twilight line. Another key feature is that the session tee includes an anti-microbial, anti-stink treatment, unlike the twilight tee.
In hot conditions, the session tee held up well and did not feel any hotter to wear than my tanks. Airflow is comfortable and sweat wicking performance is as expected. I haven't had issues with pilling through multiple rounds of washing yet, so the fabric's durability seems up to par as well.
Session Tee sizing
I bought my tee in a size XS. It fits relaxed through the body but is tailored nicely at the shoulders. I am 5'3″ and it lands at the high hip on me. In general, Tracksmith tops run quite small. I recommend always erring on the side of larger in this brand. I am usually an XXS in most brands but typically wear an XS in most Tracksmith tops. If you are between sizes, for sure size up.
While I'm definitely in the right size, the fit and look are not quite a slam dunk for me. It does not drape well and the fabric tends to cling. In my dry southwestern climate, I am always battling static electricity with this fabric, too. For comparison, take a look at this photo of my Tracksmith strata tee, which is my all-time favorite running tee. The strata just fits and looks better. (Dear Tracksmith: PLEASE bring back the strata with sleeves, not only the tank, I am begging!!)
Another minor fit issue I had with this tee is the neck opening feels quite small. I found it often rides up a bit high toward my throat, which is uncomfortable. I've been tempted to take a brute force approach and lightly pull on it to stretch the neck out, but haven't tried this yet.
Overall, I liked this tee enough to keep it, but I probably won't buy more. Instead, I more highly recommend the short sleeve harrier tee as a short sleeve running solution, even though it is slightly heavier. If you'd like to try the session tee for yourself, it's currently priced at $72 on Tracksmith's website and is available in several colors as of this writing. Note that sales and deals on Tracksmith are hard to come by, so I don't recommend holding out for a sale if you're interested in giving this style a try.
Outfit details
Tracksmith session tee – denim
Lululemon speed shorts – marbled mix (old style, current version linked)
Oiselle runner trucker hat
Roka x Machines for Freedom Oslo sunglasses
Garmin Fenix 6S
On Cloudflyer