As promised, here's the second half of my store try-ons at lululemon. (Here's part 1.) In this half, I'll go over some recent pants releases.
Reviewed in this post:
Align pants – black
Tight stuff tights – wine berry
All meshed up tights – bordeaux drama
Wunder under pants *stripes – bordeaux drama
Wunder under pants – space dye twist regal plum
For reference, I am 5'3″ and typically wear a lululemon size 2 in both tops and bottoms.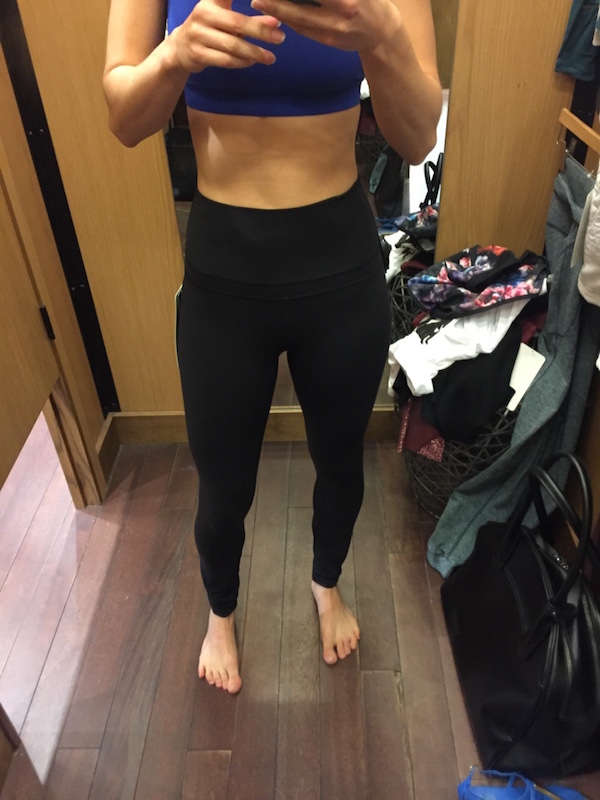 After all the hype over the new nulu fabric, I was expecting to be blown away by the greatness of these pants.  So, I went in with high expectations.  I pulled them on, waiting for the angels to sing…
And OMG, instantly hated these pants!!!!  Not what I was expecting my reaction to be at all.  One of the biggest issues is that the rise is WAY too high for me.  For whatever reason, I've never been able to deal with high rise anything (even when I was a kid), but I can live with something a bit below my belly button if the fit is right.  These are aggressively high rise.  I could not stand the look or the feel of the waistband.  Something about the overall look came off as 80s/90s to me.
The fabric also felt different than I expected.  It has a soft yet somewhat slick handfeel.  It'd be a little bit like if rulu and luxtreme had a baby, minus any semblance of compression.  I also found the fabric to be a bit revealing.  They were totally opaque on me, so that's a plus, but it hugged all the contours of my bum in a way that I didn't really care for.  They aren't kidding when they say naked sensation.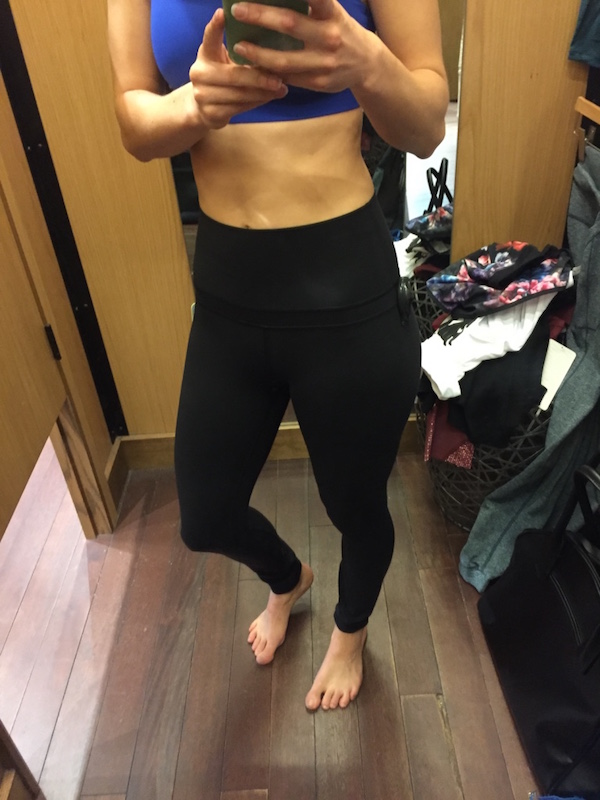 Overall, I felt like I was wearing pantyhose (or something?) that happened to be opaque.  I had been waiting for a non-black color to come out to try these out, but now I know I can take these off of my list.  I'm sure my reaction wouldn't have been so strong if I had no expectations going in, but all the hype totally did these in for me.  Of course, these aren't necessarily bad pants, and I'm of course not hating on those who love them, but they were super wrong for me!  That leaves more for you guys. ;)
Now for another try at another one of lulu's new "engineered sensations".  My first impression was that these pants were, well, tight.  I had to shimmy my way into them a bit (which inspired part of the last lulu problems), and even the hem was hard to get around my heel.  Once I got them on, I didn't really like the feel of these.  It didn't feel like compression in a good way; the feeling seemed closer to being constricted than being "locked and loaded" (though granted, I could still move around just fine, and didn't feel like I was going to rip the pants if I squat).  I like pants with compression to still feel like they're molding to my body, and these didn't deliver there.  Lulu's site says that these are best in your true size, so I don't think sizing up would've been helpful.  On the plus side, they weren't sheer, and the cut is pretty flattering, so it may just be personal preference that I didn't like these.  But overall, very underwhelming for me, especially with a $148 price tag.
These were actually surprisingly nice.  They fit very well in my true size (aside from the usual slightly baggy ankles), and the luxtreme offers a moderate amount of compression that feels quite nice.  They weren't sheer on me.  I like the details like the diagonal zip waistband pocket, seaming, and flash light accents.  The mesh isn't as overdone as some of the other mesh bottoms lately.  I actually like these significantly better than the tight stuff tights above, and they're a solid $50 cheaper to boot.  I don't really have a need for them, but I think these are a decently good buy for those interested.
The seams are fun and frame the booty nicely, but stay out of the way of important areas like the knee.  They're cotton so they're quite comfy, though between the stripes and the fabric, there was something about these that still looked very, very casual, almost pajama-like.  I was pleased to find that they were opaque, though (I had great luck with opacity this round!).  The fit was also quite comfortable, not too tight in my normal size.
Rounding out the accidental burgundy theme, space dye twist!  The weave of this fabric felt tighter than my other WUPs.  It's not nearly enough to size up, just a subtle difference I noticed.  I'm not sure if this is true of all space dye twists, since this is the only pair I've tried.  These were the first pair of WUP iii's I have tried on, but other than the overall tighter fit (which I assume is due to the specific pattern), I didn't notice any real difference from previous WUP's.  They were opaque, though you can see the pattern does not line up on my pair.  I couldn't quite decide how much this bothered me, though obviously lining up would be preferable.  The colors in this pattern are quite pretty, though I do wonder if the reddish tones would make this a bit difficult to match in practice.
In this post