It's time for another burst of posts in which I try on half of the lululemon store!  This is the first of 3 review posts to come.  Sadly, this was one of the most dull try-on sprees in recent memory.  Most things that have come out lately just haven't thrilled me.  Nonetheless, here are my fit thoughts.
Reviewed in this post:
Wild tank – black cherry/electric coral
Cool racerback – deep navy
Cool racerback – clear mint
Sea-me run singlet – clear mint
Trail bound tights – star crushed coal black
For reference, I am 5'3″, and I typically wear a size 2 in lululemon tops and bottoms.  Unless otherwise noted, that's the size I'm wearing in these pics.
The wild tanks just recently started being made in my size (2), so I was glad to finally get to try them out.  I like that the bra in this tank has considerably more coverage than the FTBW, which is unwearable for me, and yet still has the same cute strappy styling.  The bra fit true to size to me, and maybe just a hair less coverage than an energy bra, especially because of how it dips down in the center.  The support band is slightly narrower than the energy, but thicker than the FTBW.  The main problem with this tank is that while it drapes so nicely in the back, the front is shapeless and basically demolished any sign of a feminine figure in its wake.  It's almost like the tank is 1-2 sizes larger than the bra.  Although it's hard to see, you can also notice that at the bust, there's actually quite a bit of fabric off to the sides.  Considering my bust measures an inch or two larger than lulu's suggested size chart measurement for my size, this is pretty telling of how much extra room there is in this tank.  If I cinch the back like so, it's still a somewhat relaxed fit, but more flattering:
So overall, if the shape of the tank was narrower, I would be much more inclined to buy.  Before trying on, I had heard quite a few reports that the front of this tank was not the best, and I have to agree.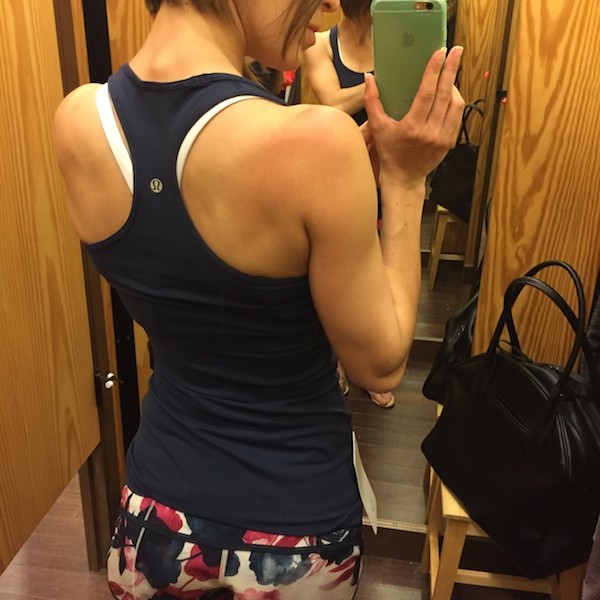 Out of all my try-ons, this is the one item I almost bought.  Lulu very rarely comes out with a navy CRB, which is of course a pretty versatile wardrobe staple.  It looked great with the inky floral speeds I was wearing that day (though they are technically inkwell, not deep navy), but if you look closely, you can see that the colors are actually a bit off:
Granted, there's always some differences between the colors in luxtreme fabric vs luon, but you can still appreciate that deep navy =/= inkwell.  The color was strike one for me: deep navy looks a little undersaturated to me, like it's been washed quite a few times already.  Strike two was the fabric: it felt slightly thinner and less soft than my other CRBs (I was wearing bumble berry that day, so I could compare side-by-side).  Ultimately, I felt like I would be better off buying an inkwell CRB off the secondary market.
CRB #2 of the day was clear mint.  This one was also a bit on the thin side–I've heard whispers that lulu is purposefully leaning toward thinner fabric for the CRB, which if true, is unfortunate.  In the rear pic, you can more or less see that the straps of my energy bra show through, although I wasn't able to capture this very well with my camera.  Since my bra is white and still shows through, this would of course be much worse with bright or dark colors.  Clear mint, at least in the CRB, is pretty green as far as neons go.  In real life, it was a little more neon and maybe a little more yellow than it appears in these pics, but overall not quite as obnoxious or blinding as I expected.  It also looked cute with inky floral. :) Overall, I prefer pinks, blues, purples, and teals for my colored tanks, so this color didn't tempt me much.
First off, it's interesting to see this top right after the clear mint CRB, since they are the same color but appear very different on the two fabrics.  This was the only piece from the sea-me run capsule that was available in my size.  The fabric was nicely lightweight for hot days, and the strappy back is fun.  Unfortunately, the downward curved seam across the bust makes it look like my boobs are sad.  I'm not sure why that seam needs to be there, and it's not really a direction that should ever be on boobs.  Also, the high neck was a bit too high.  The neckline was all up in my business and was uncomfortable for me, I kept wanting to pull it down/away.  But despite the high neck and close straps, the straps are very stretchy, so it was a breeze to get on and off.  Also, like the wild tank, I felt it lacked shape through the middle and was a bit flarey and "blah", though if it was much tighter it would be very revealing, especially in this lighter color.
The sizing on these was very strange for me.  I grabbed my normal size but could not get them past my hips at all!  I traded them out for a size up, which felt like how 4s normally fit on me, so I'm not sure what the deal was there.  It might've been caused by the panels inserted in the waistband not stretching as much.  It was the only pair in my size, so I couldn't try another one to compare.  Although they're designed to be  7/8 tights, they're of course full length on me.  Because they hit lower on me than on a taller person, the 2-3″ around the ankles were baggy, which is a pet peeve of mine.  The claim to fame on these tights is that they're equipped with panels designed to be more durable up against trail running conditions.  The only panels of this type are at the calves, and sides.  The durable panels seemed like they wouldn't tear easily, although they did seem like they could still snag.  The front and back thighs are not protected and are just regular luxtreme.  My pair was not sheer.