Here's a few more try-ons of some recent lulu releases for your consideration!
Reviewed in this post:
Picnic play dress – heathered slate/tranquil blue
Superb bra – heathered medium grey/grapefruit
Inner essence long sleeve tee – black
Inner essence short sleeve tee – naval blue
What the sport shorts – ziggy snake cranberry
For reference, I am 5'3″ and typically wear a lululemon size 2 in both tops and bottoms.
I was expecting the length to fall somewhere very awkward on me, but it actually wasn't too bad.  I was really uncomfortable in the built-in bra.  There weren't any cups in the dress I tried on, but I didn't notice whether there were slots for them or not.  The bra is very low support and I felt pretty naked.  The neckline was also a bit odd.  There was some gaping at the top that a slight scoop might've fixed.  The fabric in general was very comfortable, but also a bit revealing–I could see the lines from my underwear in the back.  In a darker color this probably would not be as noticeable.  I've seen some people look pretty smashing in this dress, but I didn't love the look for myself.
The smallest size available in the superb bra is a 4, so I had to go up a size to try this one on.  I usually don't even bother with a size up in bras since I need such a small band, but curiosity got the best of me.  On the hanger, it actually looked pretty comparable to a size 2, but the cotton stretched quite a lot when I put it on.  The coverage was ok, though obviously pretty low cut.  Something about the cups felt like they were a bit off on me, but I'm not sure how.  I think it may have been because the fabric has so much give to it that my boobs basically pushed the bra out instead of vice versa.  I also noticed that there was a bit of a gape at the back of the band right at my spine.  I'm not sure if this would've been fixed by wearing my normal size.  Despite the strappiness of this bra, the part that goes over your shoulder is flat, which makes it quite comfortable.
Overall, this bra nails it on comfort and style, but as I originally thought, sooo not functional for me.  Sadness.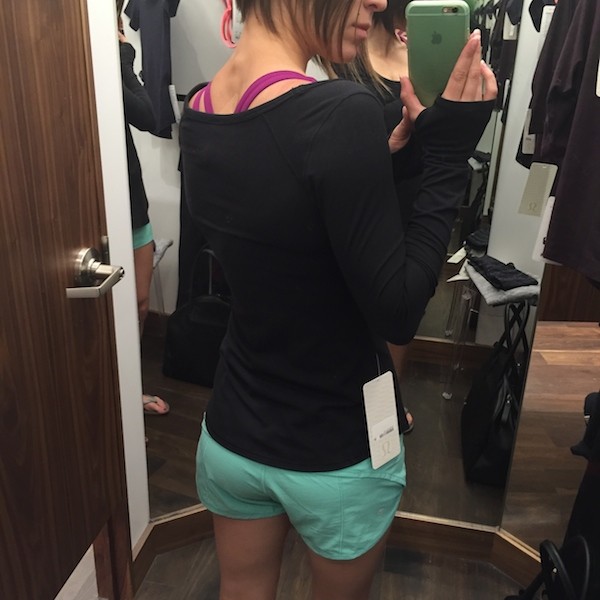 The inner essence LS tee was so cute online, plus I could use some basic long sleeve tees, so I gave this one a shot.  Holy scoop neck, Batman!  The neckline is so wide and low that I don't think it would stay on my shoulders well.  Also, the fact that it's both deep and wide makes me feel like this is a little more revealing than I'd like for a casual shirt.
Note from the side view that the contoured hem makes this longer in the front than in the back.
Also, I didn't realize at first that the fabric on the inner essence tees is not your regular vitasea.  As you can see in this closeup, it's a mesh weave.  It wasn't see through in the darker colors I tried on.
Since I was already trying on the LS, and I wouldn't mind some short sleeves too, this one came along for the ride.  The SS is made from the same mesh-ish fabric as the LS.  Also like the LS, the tee was pretty fitted in my normal size.  I know it's a little hard to see in these pics, but the bottom part of the shirt actually flared out a little compared to the rest.  You can notice this same thing in some of the online pics if you're looking for it.  Overall, I thought the fit looked really odd.
I've tried on what the sport shorts once before, but decided to give them another shot.  I like that the shorts are a nice middle length that's cute and sassy without being bootylicious.  Although I don't generally wear a lot of red, I thought that the cranberry ziggy snake was just the right amount of print and color.  The pattern also helps the contrast waistband not look as out of place as it does on some other colors.  These were not sheer in a deep squat.
Just like the pair I tried on before (which I talked about it in this post), these pinched my thighs uncomfortably.  This is really odd to me since leg openings are usually too large on me, not too small.  I asked the educator about this, and she said there's a redesign of the what the sport shorts in the works that should address this problem.  I suppose whatever new release will be too late for warm weather, but definitely good to know.
In this post