It's time for another installment of try-on reviews!  I had been looking forward to go to a store since so much new had come out, but I was actually pretty underwhelmed by the selection.  On the one hand, kind of disappointing, but on the other hand, it's nice not to have to even try to resist temptation.  And just as well, since I was supposed to be shopping for "real" clothes instead–not that I'm any good at that.  Anyway.
Reviewed in this post:
Wunder under crops – pretty plume angel wing
High times pants – cyber stripe naval blue
Devout short sleeve – heathered black
Pedal to the medal 7/8 tight – ace spot grain
Wunder under pants *dance – black
For reference, I am 5'3″ and typically wear a lululemon size 2 in both tops and bottoms.
Some have said these fit snug, but I didn't notice.  They felt pretty normal in my true size.  The fabric is all poly/spandex, no nylon.  I haven't minded poly as much lately in other brands since I've gotten some good ones, but lulu's polyester bottoms are pretty much always sheer on me.  These were no exception.  I'm sure it didn't help that the placement on the pairs I tried were both pretty white in the butt.  Also, the poly blend wasn't super-slick like luxtreme, it still has a slightly fuzzy feel like nylon luon.  And as a slight aside, I'd heard these crops had a black gusset, but that didn't turn out to be the case for me.  The gusset was printed like the rest of the crops.
Also, on the plus side: these and several other bottoms lately have been made in Canada.  Lulu seems to have heard the cries of those upset that they basically shut down Canada manufacturing in favor of Asia and have started things up again.  That said, I would be shocked if they moved all or even most of their manufacturing back to North America.  I suspect they'll do it with some things just to appease people, but keep as much overseas as possible to keep costs down.
I tried two different pairs of these (above is the second pair), but the placement was almost exactly the same on both, so I couldn't test to see if there was less sheerness on a pair with more grey on the bum.  Both pairs I tried were sheer.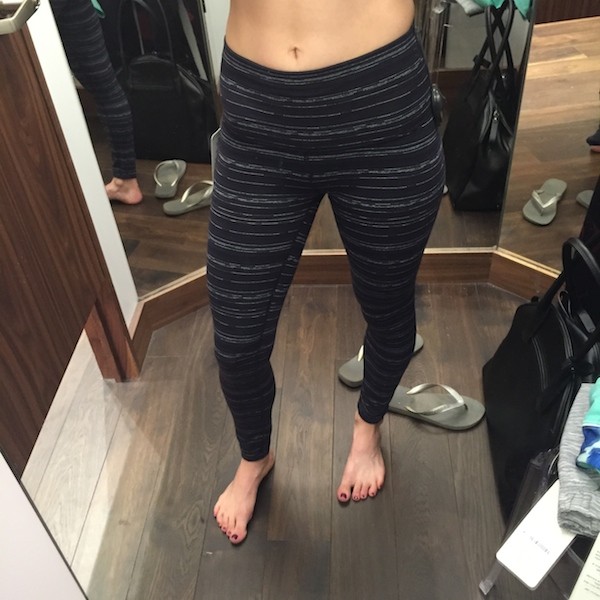 In my normal size, these were fairly snug, especially through the waist.  Once I got them on, they felt fine, but they were noticeably smaller when I was pulling them on.  I didn't try my size up, but if you're between sizes, you might want to take the larger of your 2 sizes.  The fabric feels nice and fairly thick, with some texture from the stripes.  The stripes lined up pretty well on my pair, as you can see in the pics.  Unfortunately, in spite of the fabric feeling nice to the touch, these weren't quite opaque on me in a squat/bend.  The sheerness was pretty subtle though, so once you take out the rip tag (which always shows through worst of all) and put on some inconspicuous underwear, these would be decent enough to wear.
The devout short sleeve only came in 3 sizes (S, M, L), but since it was a loose fit, I decided to grab one and throw it on anyway.  As I suspected, it was pretty generous on me.  But despite the oversized fit, there was something about this top I actually kinda liked.  The fabric was incredibly soft and it draped and flowed surprisingly well.  It was so soft and airy–it feels great to have on.  It didn't gape out like a tent in the front or the back, which is a common problem I have with looser silhouettes.  I think I would've especially liked this had an XS been made, although the other issue being I really don't know where I would wear it, other than lounging around the house.
I've been liking the 7/8 length lately, since it's pretty much the perfect full-length inseam on me without really any bunching.  Lulu was kind of brilliant to make this length a thing, since it appeals to tall girls who find crops too short, and appeals to short girls who find pants too long.
The pedal to the medal tight kind of has a lot going on, especially in ace spot (which was my only option to try on).  The contoured seaming up the back is reminiscent of inspires and does a nice job of breaking up the back panel.  The sizing felt the same as inspires I've tried on.  The fabric was not sheer on me.  I didn't really like the mesh chunk on the back.  Also, the biggest issue here is that the seams run across the front of the leg.  This ended up being a bit uncomfortable on me since the upper seam ran pretty much across my knee, which isn't comfortable.  You'd have to be a bit taller or shorter than me for the seams not to get in your way.
I felt like these dance edition wunder unders were kind of crazy online, but in real life, they were cuter than I expected.  The leg hole worked decently well on me, and wasn't in an awkward position nor did it require any adjusting.  The inseam is an inch or two above the ankle on me, even though my legs are shorts.  So, these are only just barely "pants".  The position that felt most natural to roll these down to was about the same rise as other wunder unders, maybe a smidge higher.
When I rolled them down all the way to expose the elastic waistband, it ended up being very low.  The skirt was also kind of restricting at this point (I didn't experiment with bunching it up), so all in all, rolling it down all the way didn't feel like it worked very well.  Also, after I put the pants on I had to reach in and fuss with the elastic waistband because it had folded itself under, which was a bit of a hassle.
Without the rolldown cover, these were a bit sheer in a bend, but if you wear them rolled down over the butt, that won't be an issue.
Also, unlike the lady in last week's store photos, I couldn't quite wear this as a one piece. :P
In this post