It's review week on the blog!  I was in Las Vegas this weekend, anytime I'm in any sort of major city it means major (window?) shopping time.  So, I spent a fair amount of my time in lulu being one of those obnoxious people who hauls like half of the store into the fitting room.  All for a good cause, i.e., you. ;) Here's the first batch of try-ons for your consideration.
Reviewed in this post:
True self crops – bleacher stripe black/white
True self bra – grapefruit
Go om short sleeve – alberta lake
Yoga flow long sleeve – black cherry
Liberty shorts – bleacher stripe white iris flower
Dancing warrior tank – bleacher stripe white iris flower
For reference, I am 5'3″ and typically wear a lulu size 2.
Oof, these were…a real problem.  I actually could see the color of my underwear through the front of the pants as well as the sides.  YIKES.  This of course required no bending, it was just that sheer standing normally. (You can see the line of my undies running in the opposite diagonal from the pattern in the third pic.) It does blend in a bit with the pattern, but still not something you want to be worried about.  I've seen several other people report and post pics of this exact same issue.  I didn't really pay close attention to the opacity in the back, but it definitely wasn't as bad as the front.  In terms of fit, these felt true to size and were nicely comfortable.  Putting them on, I didn't catch my toes in the detailing at all, which was also a plus.  I did notice the hem didn't quite sit flush and flared out a bit on me.  Overall, these might've been cute if not for the embarrassingly obvious sheerness.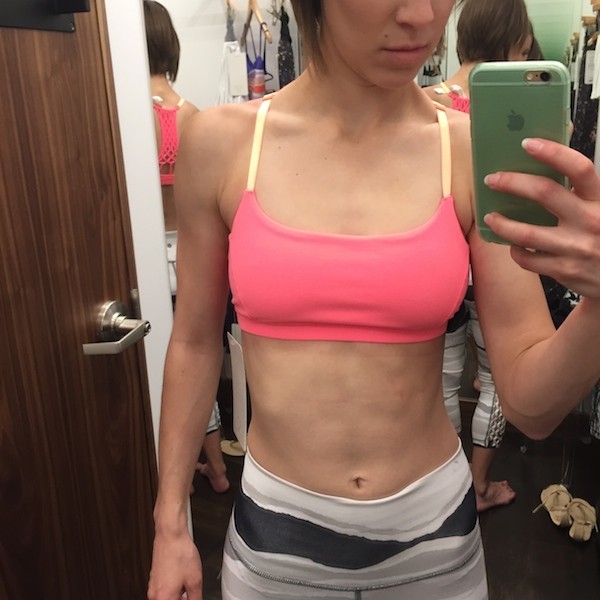 The smallest size they had in stores was a 4, so this is a size up for me.  It's pretty comfortable, and I didn't find that the straps cut in like other skinny straps can.  That said, it definitely felt a bit loose through the bust, so I would've needed my true size.  It didn't feel like it would be all that supportive if the sizing was right (not that it's supposed to be), though the coverage seemed better than other yoga options like the FTB/FTBW or flow y.  Overall, a cute yoga bra, though it didn't work for me.  Also, I love grapefruit and am excited the cool racerback to come!
Go om short sleeve – alberta lake
The go om SS is an interesting piece for summer–it has half sleeves, and is shorter than most tops but not quite fully cropped.  I really like the burnout fabric.  It's airy, soft, and nice and thin for summer, but not so thin that I felt naked.  The fit is definitely loose, which is made even more obvious by the dolman sleeves.  I think this would've looked better in size down, though I don't think it looks sloppy in this size.  Overall, this seems like a really nice summer piece that would work for yoga, casual wear, or throwing on after a workout. (P.S. Not the best pics of them, but yesss I finally got my chevron speed shorts!!!!!)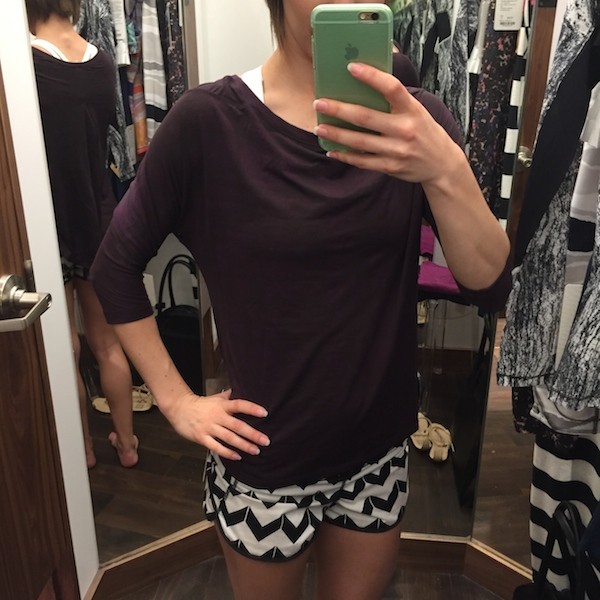 A similar style to the go om, but a bit longer both in length and in the sleeves.  I like this one a little better.  It's made of the same fabric, so it has all those same pluses.  It's loose and flowy, but I didn't feel like it totally swallowed me up.  You can see how loose it is from the side especially.  The back panel details help it drape a little better than some other loose styles I've tried.  The sleeves hit a nice length just below the elbow, a true 3/4 length on me.  As before, my TTS wasn't bad, but I think a size down might've looked better.
These were another problematic bleacher stripe bottom.  These were horribly sheer.  Standing normally, I could see the color of my underwear as well as the rip tag.  Also, separate from the sheerness issues, I don't really like how the front looks.  The high rise makes a sort of long crotch effect since the wide waistband is set pretty high.  They were very short on me, coming only barely over my bum.  These felt like they fit a little bit tighter than other bottoms, but probably not enough to go up a full size.  Overall, I didn't find these flattering.  I like the colors, but that's about it.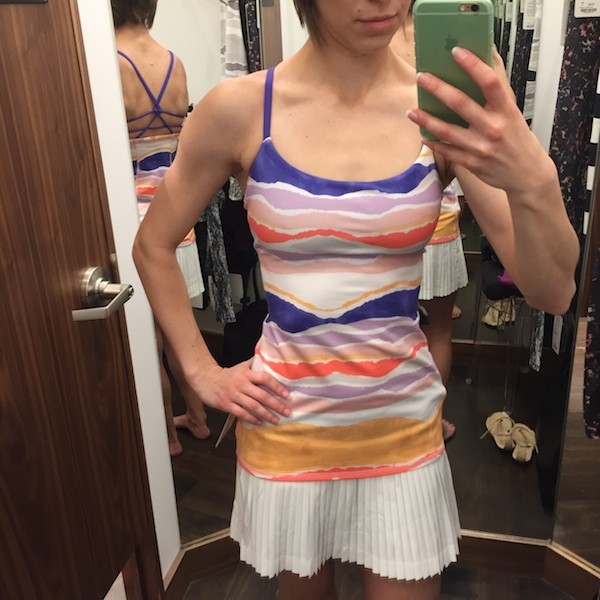 Ah, finally a bleacher stripe item that didn't have issues!  This tank is definitely lower support, though the coverage at the bust was enough that it didn't cut in or show cleavage from the side.  I felt like this ran just a hair larger than my power y tank in the same size.  The body wasn't super-tight on me, as you can see from the wrinkling, though it's definitely still fitted.  The straps are thin and could be prone to digging in a bit for ladies with a heavy-ish bust/bigger traps.  The straps in the back are cute, but still functional since they didn't seem to be in the way of shoulder mobility.  Overall, definitely a cute tank.
In this post