In this try-on review, all Lorna Jane:
– Aster core stability 7/8 tight in black
– Mix up run short in black/white
– Davina LS excel top in watermelon
– Candy puffa vest in ocean
– Some bra comments
I had never actually been to a Lorna Jane store in person, but there's one nearby the lululemon I went to, so I wanted to check it out.  I didn't go in with a particular plan, I just browsed and grabbed whatever I liked on the shelf.
One thing that appeals to me about LJ is that they offer some items in size XXS.  This is especially relevant for their bras–I wear a 28 band (which in practice usually turns into a 30, because let's be real).  The associate asked me my size, and when I told her, her eyes got all big and she said "28??? where do you find bras??"
…..EXACTLY.
Unfortunately, they only had ONE item in XXS, their classic pammy bra, in plain black and white.  So, right out of the gate, that was kind of a buzzkill, because I knew things weren't going to go super-well.
---
Bra notes:
(I didn't take pics of the bras I tried on, but I'll write my thoughts here.)
The pammy bra in XXS was a good fit in the band and general tightness, but it didn't offer enough coverage.  It cut into the top of my breast tissue and made a bit of quadraboob, much like what happens with lulu's free to be bras.
I also tried the animania bra in a size XS, which was adorable on the shelf but also cut in even in the XS.
Lastly, I tried on the dual support bra in XS, which was much more hefty in terms of both support and coverage.  This was the only one that worked for coverage.  It was tight enough through the bust, but I could very easily pull the band away from my ribcage and knew it wouldn't work long-term.
When I can get lulu's size 2 energy bra for only $48, it's a no-brainer to just stick with that compared to paying $55-$70 for LJ's bras that don't fit nearly as well.
So, kind of disappointed with the bra situation–I know many people LOVE LJ's bras, and many of them were pretty cute–but I didn't find any winners this time.
---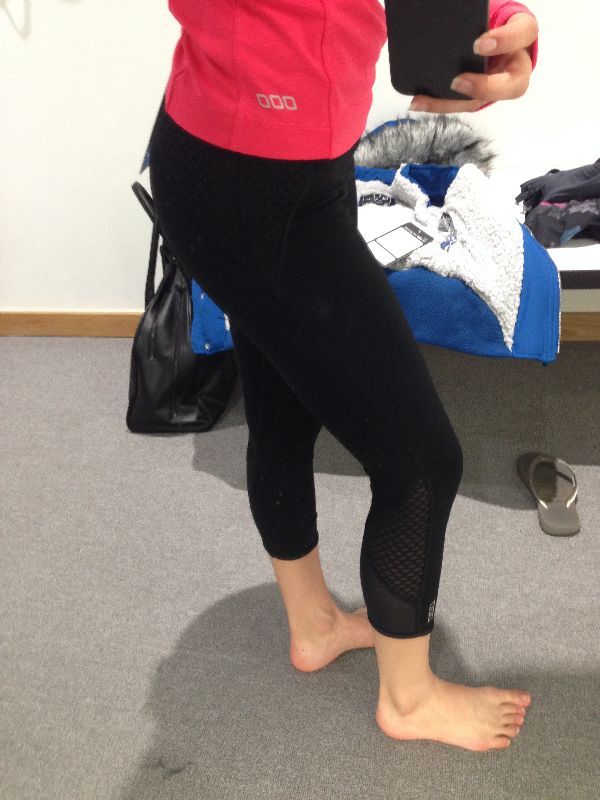 Item: aster core stability 7/8 tight
Color: black
Size: XS
Because of my crossfit booty, I generally have a better chance of fitting into XS tights versus tops.  The associate picked out their core stability line, which has better compression and therefore better chance of fitting.  This pair did fit pretty well, but didn't excite me too much otherwise.  The fabric was like luxtreme, which was nice, and the styling definitely followed along with the recent trend of mesh everywhere.  Mostly, these did not thrill me because I found them a bit sheer.
---
Item: davina long sleeve excel top
Color: watermelon
Size: XS
I didn't love the fit of this one.  It was a bit shorter than I'm used to with tops, and the loose fit through the waist didn't do much for my figure.  I noted it also had the same shoulder seaming as the think fast long sleeve.  This fabric was a bit thinner, a medium weight that isn't quite as thin or delicate as a swiftly.  Lots of mesh details on this one.
---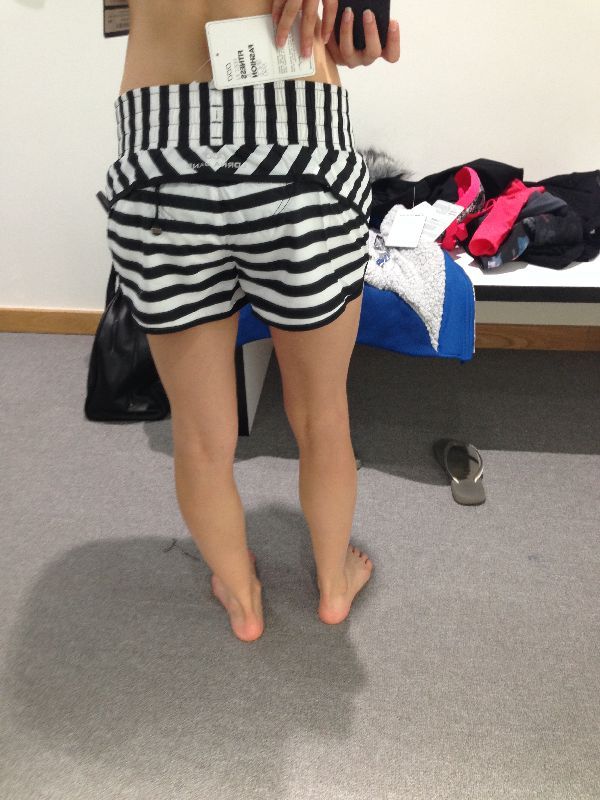 Item: mix up run shorts
Color: black/white stripe
Size: XS
Diaper butts.  Diaper butts everywhere.
These shorts were a disaster, fit-wise.  Way, way too big.  I've got 6-8 inches of extra room in the thighs, and I mean, I lift.  They did have a liner, which is always nice for shorter shorts.  The fabric is your typical running shorts fabric (the same you'd find from Nike or whoever), which I don't like as much as speeds fabric.  Probably the easiest pass of the day from LJ.
---
Item: candy puffa vest
Color: ocean
Size: XS
I saved the best for last… I am OBSESSED with this vest. (You can tell because I tried it on twice and took a ton of pics.) It's thick, warm, and the ocean color is gorgeous.  It seems to run a touch small because the XS felt snug (although obviously it has some volume so it doesn't end up looking skin-tight).  It's lined with fleece that's super-soft and adds warmth, plus it felt like the vest had insulation inside, although there was no description of this on the hang tag so I have no idea what it is.  The (removable) faux-fur lined hood is a nice touch, too.
This vest absolutely blew lulu's fluffed up vest out of the water.  Comparatively speaking, lulu's is flimsier and doesn't provide nearly as much warmth, not to mention it doesn't have the hood option.  LJ's version is $150, which seems like an extremely fair price considering lulu's is $138.  If you live near an LJ store and you're interested in a vest, I definitely recommend checking this one out.  The neon lemon sorbet color is available online, and the electric purple cindy fluffa vest is on sale online for $120–I can't see any difference between the cindy and candy vests, but the site doesn't say.  In the store, they had neon lemon, silver, and the ocean color here.
Despite singing its praises, I left this vest at the store because, apparently, I hate myself and don't like to have fun.
Update: just kidding, my bf decided to get the vest for me!  Also, +1 to LJ for doing the order from the store over the phone and shipping it for free!!