In this try-on review:
– Nightfall diamond jacquard space dye rolldown wunder under pants
– Prisma inkwell rolldown wunder under pants
– Deepest cranberry wunder under pants
– Deepest cranberry passion crops
Item: passion crops
Color: deepest cranberry
Sizing: wearing a 4, somewhere between TTS and size up for me
My store didn't have deepest cranberry in my regular size 2, so I grabbed a 4.  The butt and legs felt good, but the waist was a touch big.  I should've just grabbed the black in a 2, but I didn't think of that because I was hellbent on trying the red, what can I say.  You'll probably be fine in your TTS, but for some reason I find short run crops like this to be a little more compressive/tight-fitting than some of my other pairs.
For some reason, everytime I see the passion crops, I think of football pants.  I think it's because of the zipper in the front.  Anyway, the good news is that these were perfectly opaque and I think would function very well.  Note that the rise seemed a bit lower than other run bottoms–I like this, but might not be your cup of tea.  The back seaming is also pretty flattering on le booty.
Overall, a pretty solid pair of luxtreme crops, although nothing insane.
---
Item: wunder under pants
Color: deepest cranberry
Sizing: wearing a 2, TTS for me
Meanwhile, in deepest cranberry land, the WUP were less than impressive.  The fabric was not especially thick, and the color of my undies were very clearly visible in a bend test.  Pretty and festive color, at least.
---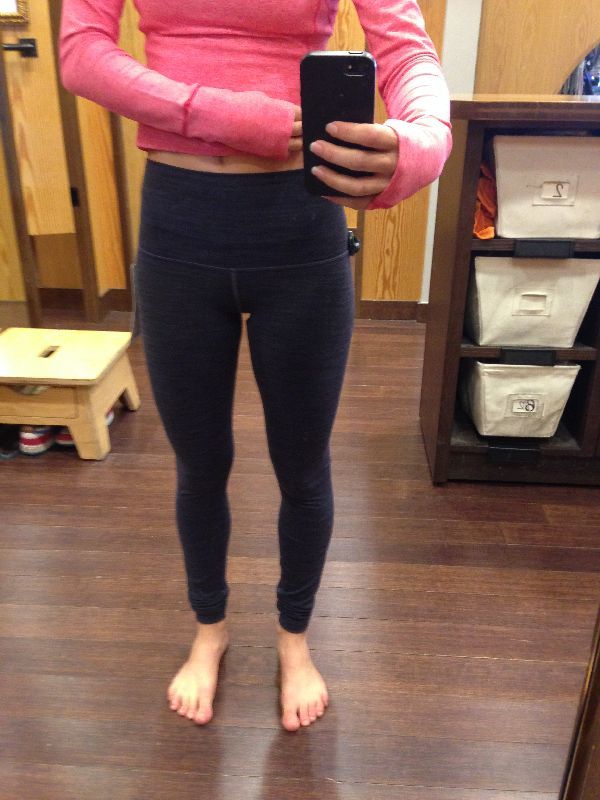 Item: rolldown wunder under pants
Color: nightfall diamond jacquard space dye
Sizing: wearing a 2, TTS for me
These pants.
THESE. PANTS.
Seriously amazing.  They are thick, soft, and warm, like my herringbone and coco pique textured WUP.  The fabric feels amazing and did not have the slightest hint of sheerness.  I had never actually tried on rolldowns because I thought the high waist would bother me, but it didn't at all, presumably because of the fabric.
The main reason I wasn't tempted to buy these is color.  I'd rather they were black grape or another more saturated jewel tone–the nightfall is a touch too muted for my taste.  But if you like the color, I definitely recommend pulling the trigger.  I will definitely be on the lookout for more DJSD texture colors.
---
Item: rolldown wunder under pants
Color: prisma inkwell
Sizing: wearing a 2, TTS for me
I put these on right after I tried the nightfall DJSD, and the difference was night and day.  It's crazy to me that these are marketed as basically the same pants, and that they're priced the same.  These felt HORRIBLE by comparison.  The fabric is a poly/spandex blend (no nylon), which meant it felt slick, almost more like luxtreme than luon.  Lulu's poly blend are also notorious for their sheeerness, and these were no exception–they did not pass the bend test.  Also, unlike the pair above, the high waist on these bothered me A LOT.  I could not get these off fast enough.
---
At the end of the day, I didn't actually end up buying anything I reviewed here.  Actually, I made a reverse purchase because I reluctantly decided to return my berry yum yum wheezy speed shorts for their iffy color-matching potential. (Side note: there are a TON of these both in stores and online, so maybe I'll pick them up again if they go on MD.)
I did, however, get my long sleeve swiftly replaced at the store–it was falling apart at one seam.  I swapped it for the space dye pigment beauty, which I thought I was going to have to get online, but I found it in stock at the 2nd store I went to.  Also, I recently caved and decided I needed black grape rebel runners.  After a few calls, I found them at my mom's store (the last pair was my size!), and had her pick them up and mail them to me.  Like a true addict.
So even though my haul ended up being sort of cobbled together in a slightly odd way, I think my new fall outfit is pretty sweet.