I took a trip recently, and of course one of the pluses was being able to go to a lululemon store and do about 34982 try-ons.  Here are my thoughts on some of the recent (or recent-ish) releases.  Stay tuned for 2 more posts coming with more try-on stuff.
What I reviewed in this post:
Yin to you sweater – heathered light grey
Mesh with me tank – inkwell
Breezy tank – parallel stripe heathered parfait pink
Tech mesh high times pants
Heathered speckled black cotton rolldown wunder under pants
Fatigue green chevron shuffle luxtreme wunder under crops
Just breathe pants – animal swirl deep coal
Hot hot shorts – animal swirl deep coal
For reference, I am 5'3″, and I typically wear a size 2 in lululemon tops and bottoms.  Unless otherwise noted, that's the size I'm wearing in these pics.

Blegh, this thing.  First of all, I didn't like the fabric.  It felt very heavy, by which I mean it literally felt like it weighed a lot.  That said, the knit appeared loose (you could see my skin color easily at the shoulder, for example), which made me think it might not be all that warm, since the heat would escape through the hundreds of tiny holes.  The loose fit wasn't appealing to me either, especially the loose, bulky sleeves.  I think slouchy fits look better when the fabric has a nice drape.  This had no drape, it was just sort of a heavy cotton knit box, and the neckline seemed to look bulky to me too.  The side slits weren't helpful to fit either, on top of just being straight up odd.
This tank was so close to being nice.  The styling in the back is neat, and the silhouette was flattering.  But the front is kind of a disaster.  The mesh portion of the neckline comes up very high (just a tad too high IMO), and the solid part is definitely cut too low, which I feel like is pretty clear from these pics.  Not to mention, I felt like I was in danger of a nip slip, and no one wants to worry about that while working out.
This one was unexpected.  I actually loved this tank.  I thought it was cute and flattering, plus soft and lightweight.  Great spring/summer tank, especially for hot climates.  Online reviewers say they have had issues with the straps slipping off the shoulders, and I could see how they would say that.  During my brief store try-on, I didn't experience this myself, but if I was actually out and about, I'm not so sure.  Even though I liked this, I left it at the store, because $48 for a casual cotton tank isn't something I could justify right now.
Lots of people have loved these, but this was my first time trying them on.  They felt like a normal pair of tights, which was good, since a lot of leggings that have massive amounts of mesh like this can sometimes end up fitting funny or can be hard to get on and off.  The high rise on these didn't feel quite as comfortable as rolldown WUs to me, but still was fine.  The length of these was nice–there was a little bunch at the ankle, but not the usual piles upon piles of bunching I get with WUP.  This is especially good since hemming this style would be difficult.  The ankle was a little bit loose on these, but nothing super-noticeable.  All that said, the pair I picked up were sheer during the obligatory bend test.  If you can find an opaque pair, they're quite nice.
Heathered speckled black cotton rolldown wunder under pants
Oh sweet mercy, these pants are divine.  I hadn't ever tried on cotton wunder unders (shame on me), and they were every bit as glorious as people had told me.  These were incredibly soft and comfortable, and opaque to boot.  The color was nothing special, but perfectly good as a neutral.  These don't work for my workouts (except maybe very mellow yoga), which is the main reason I hadn't ever tried them, but I'll consider a pair like this for casual wear.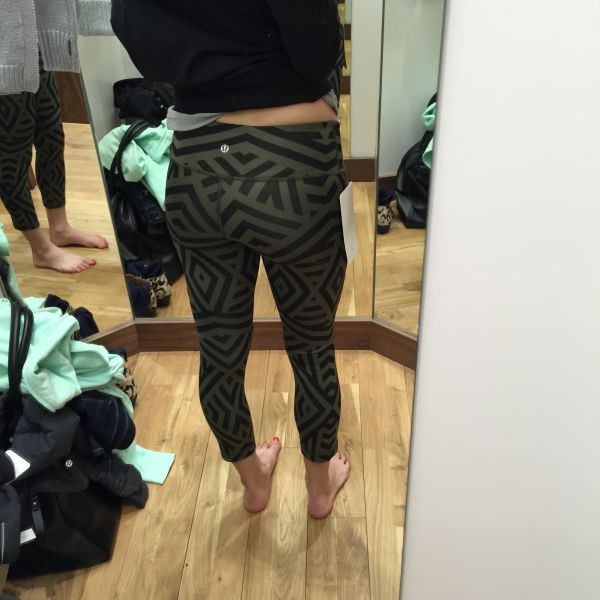 Fatigue green chevron shuffle wunder under pants
Like the other luxtreme WUs that have come out lately, it has that very slick finish that some people really dislike (doesn't bother me personally).  One issue I noticed is that the pattern placement made it such that there was a bit of distressing of the pattern right on both of my inner thighs.  Not really that noticeable, but potentially a little awkward.  These passed the bend test easily, no sheerness at all.  I think this pattern is pretty cute, but doesn't really fit in my wardrobe.  I would definitely like this pattern better if it featured different colors.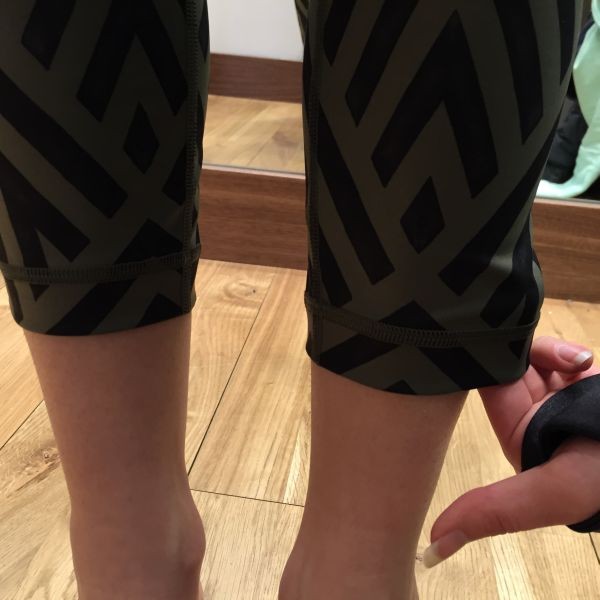 As a slight aside, I want to take a moment to be grumpy about the new WUC length.  The inseam was increased from 20″ to 21.5″ just a few short months ago, and while the old length was great for me, the longer length is not.  They flare out at the hem since it hits at a lower (i.e., narrower) part of my short legs than whoever this pattern is made for.  In my opinion, flarey hems on crops look sloppy and are a giant pet peeve of mine (incidentally, this is also the reason I don't own any inspire crops).  Meanwhile, my Splits59 crops are a similar length and fit great around the hem, so the length itself isn't necessarily the issue so much as how they're cut.
Unfortunately, I live 2.5 hours from a store, which means if I want to fix this on a pair of crops, I either have to pay for a local tailor who may or may not do a satisfactory job, or not be able to wear the crops for a couple of months until the next time I am near a store.  If lulu wants to brag about their free hemming and use that as justification for longer lengths, they need to work on better options for those of us who aren't able to just hand them off to a store for alterations.
Ok, taking off my complainy pants and moving on.
The just breathe pants have been really popular since their release a couple weeks ago.  Unfortunately, I just can't get on board with them.  First off, these were absurdly tiny on the hanger.  I'm a pretty little lady, but even to me they looked like children's pants.  But to my surprise, I was able to get them on just fine.  And even after shimmying into them, I found them to be opaque.
Unfortunately, I thought they were incredibly uncomfortable.  The whole waistband situation did not agree with me at all.  Frankly, I couldn't wait to get them off and the WUs I tried on afterward felt like heaven in comparison.  I also feel like the proportions of the mesh side panels didn't work.  Maybe this is a function of the smaller size (i.e. the width of the mesh panel not being scaled for each size), but I felt like the location of the seam where the mesh panel and the regular fabric met was just odd-looking.
Also odd-looking: there was a lot of "waviness" around the seams of the individual mesh seams as well as a big curve in the seams at my hips.  For the record, I tried a size up and the same thing happened.  Although I've seen others look great in these, I really, really did not like them.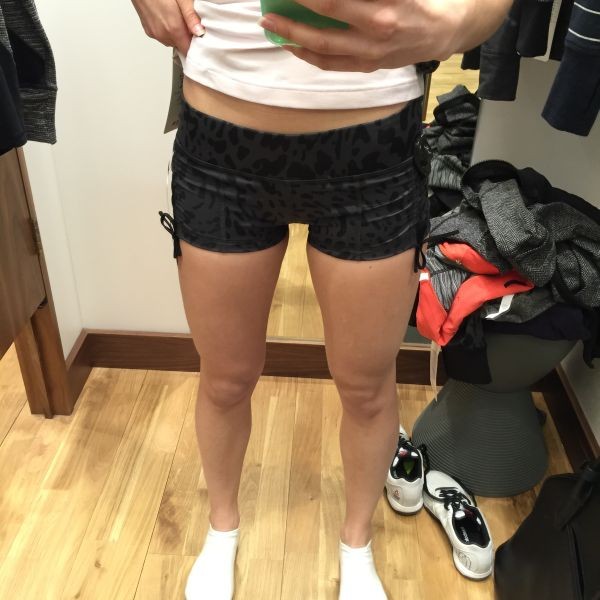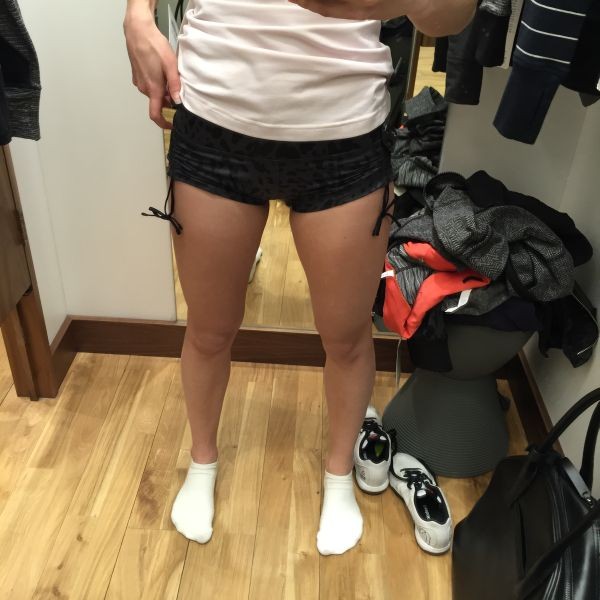 My normal size 2 was not available in these shorts, so I had to go up to a 4.  These shorts are really cute (albeit pretty skimpy), plus they were not sheer during a bend test.  Since I was wearing a size up, they felt like they shifted around a little as I bent over and moved around, which definitely would've made me uneasy during a workout, so I would suggest sticking with your regular size.  The luxtreme fabric and the drawstring details make these a cute alternative to boogie shorts.