Rich earth finally made it to upload via the cool racerback and the cotton rolldown wunder under pants.
US got the new power date dress.  Naturally, it only comes in 4-10.  It's a nice change from the recent onslaught of black midi dresses–at 33-35″, this one is solidly above the knee.  It's made of spacer fabric–I have no idea what that means.
Both sides got the new yogi crew sweater in a few colors.  Only Canada got the parfait pink.
New think fast LS color: tonka stripe heathered slate.
In case you haven't seen enough define jackets so far this week, those are online now.  US didn't get the black yet.
The luscious space dye diamond jacquard nightfall fabric is now available on skinny wills.
Wunder under pants with tonka striped inkwell insets.  No size 2 or 12.
New special edition ("cire wrap") wunder under pants with a stirrup and wrapped details around the leg.  The wrapped look has shown up a couple places, it seems to be trending right now.  This pairs reminds me of Michi's look.
New heathered slate/menthol parallel stripe vinyasa scarf in Canada.  Btw, wtf is going on with that top?  Looks like she ripped it straight off of a gigantic doll.  Presumably we're going to be graced with this monstrosity at some point.
Both sides also got the mini check pique heathered black/white vinyasa.
Only the US got the new giant houndstooth pigment blue/black grape weekend warrior.
How adorable is this metallic neutral blush mantra tote?  US only.
The reverse side of both the black and neutral blush mantra totes look like they might be new prints.  The black one does NOT look like inky floral to me.  If you look at more pics, the flowers are spaced differently and also look different in general.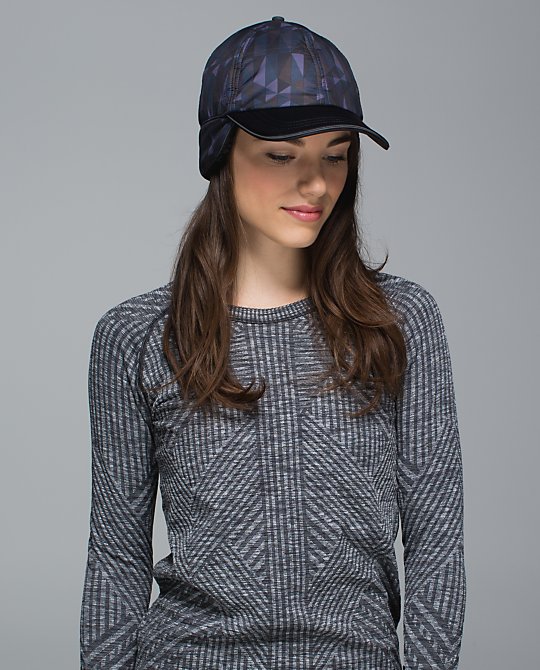 The fluffed up hat has a preview of a new LS coming.  I believe (hope?) this will be a rulu layer–this is the same one that's on the very beginning of the winter sneak peek video, and the woman in the video is running in it.  This could be promising–no silly shoulder seams, and I like the print.
Other upload notes:
– Upload, in general, continues to be kind of a mess as far as color stories, etc.
– Speaking of a mess, the heathered black herringbone think fast 1/2 zip that uploaded to the US is pictured as mini check pique, like the Canadians got a couple weeks ago.  You'd think they would've fixed this–which one is it?
– US got a new tri geo silver spoon scuba.  Still not fond of that print.
– Both sides got the new majestic rolldown cotton WUC.  There's no 2 or 12 in these, which blows.
– Neither side got the new majestic denim scuba, though.
– Both sides got the inkwell rundays and black grape in the flow crops.  And there was much rejoicing.
– Seamless stuff uploaded: seamlessly plunge bra colors, seamlessly covered tank, and ebb to street pants (Canada only).  Notably, Canada got brisk lime and plum peach in the bra, not sure if that means we'll see more of those colors.
– US got stained glass love neutral blush speed shorts.
– The double trouble stripe black grape/ultra violet cool racerback also made it to the US.
– More colors of the urban sanctuary bag showed up–nothing new, just colors that weren't online already.
– US got the giant herringbone inspire crops.
– No signs of the exquisite capsule, which has now been seen in every other region except North America.  Britt commented in heylululemon that NA *will* be getting it, just hasn't happened yet.