Last week, I guessed that we might get a run-themed upload, following along with Australia's run drop the week prior.  Turns out, this week was indoor cycling-themed with a re-run of the clip in line.  I guess we'll have to wait one more week for some of that run stuff.  Maybe a run-themed upload will mean the US will finally get those speeds I will not shut up about.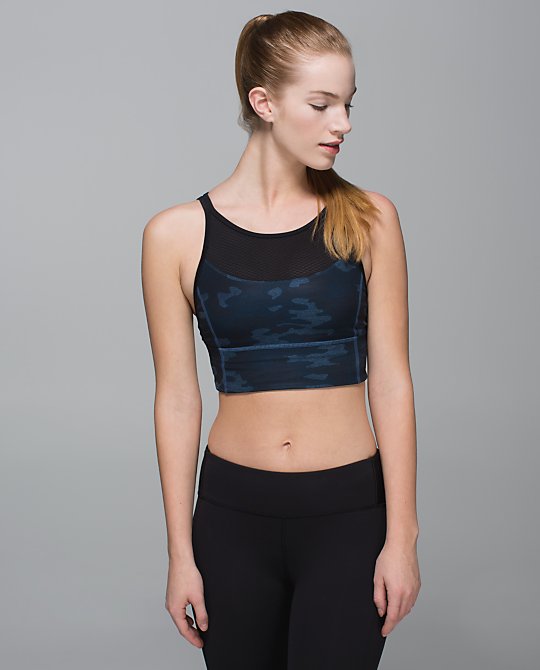 Clip in bra, tank, long sleeve, shorts, and crops dropped in various bits of oil slick camo, fatigue chevron shuffle, black grape, black, and grey.  The tanks are a repeat of the last release so far.
The yin to you sweater uploaded in 4 colors in all of its side-slitted majesty.
Canada got a new between the lines long sleeve.  Not really interesting to me, but this desert snake print is new.
What.
What.
WHAT the fack even is this?!?
The 2nd place award for awkward item of the night goes to the speckle dot parfait pink namaskar crops.  This print on its own isn't bad, but these pants are cringe-worthy.
If you liked the stirrups on the cire wrap but not the wrappy bits, now you can just get plain black stirrup-ed wunder under pants.
For Canada: pebble print inspire tights.  Lulu is definitely all about the pebble print right now.
Another one for Canada: wren in the flow crops.  Other dark bottoms to show up are fatigue DSP (Can only), deep camo cotton rolldown WUC (US and Can), and dark wren skinny wills (US and Can).
More upload notes:
– All sizes of tech mesh high times pants for Americans.  This is at least the third release of some variety of tech mesh, and these still seem to be going strong.
– Some random dhyana short sleeves (this style was out last year) showed up in spring/summer colors for Americans.  These will probably look rather out of place if they get to stores…
– There were hints of more menthol tonight in the form of a power y tank and the studio racerback.  I'm hoping the fact that menthol isn't dead yet means CRB and speeds will trickle in soon…
– The cute new hit your stride run skirt is in the US.
– The flash yachtie stripe cool racerback uploaded to the US (first seen in Aus weeks ago).
– Speaking of that CRB, photo blunder of the week: the rear pic is a bit…cheeky… For the sake of all involved, this really ought to be updated.  On the other hand, I guess the photo reaffirms that lulu does not do much (if anything) to retouch their photos since a retoucher surely would have attended to this little detail.