Today's upload was run-focused, with the light speed items taking the spotlight alongside the misc pace pusher items, new swiftlies, etc.  Desert snake and seaside silver fox seem to be everywhere right now, up there with mystic jungle.
The new light speed vest in seaside silver fox (along with other colors).  Canada also got the light speed jacket.
Also, new light speed long sleeve in Canada.
Fatigue fo drizzle in Canada.  The lining on this one is nice.
New deep navy cool racerback in Canada only.  Since inkwell CRBs are pretty hard to come by, this is an ok substitute, although it looks quite a bit lighter than inkwell (kind of ironic, considering its name).
Quite a few colors of the what the sport singlet, including black cherry (pictured), but only in the US.
Seaside silver fox speed shorts.  I'm safe from these, for once in my life.  Still no vintage pink in the US, and I'm starting to lose hope about the menthol/pow pink stained glass love. :'(
Cyber stripe silver fox/sea mist free to be wild bra.  Poor Canada just got prism petal.
Random blue tropics reappearance?  New herringbone swiftly racerback in Canada.
The on the daily hoodie everyone seems to be excited about uploaded to Canada in 2 colors.  Honestly, I don't get the excitement.
Related: new solid white scuba hoodie aka stain magnet.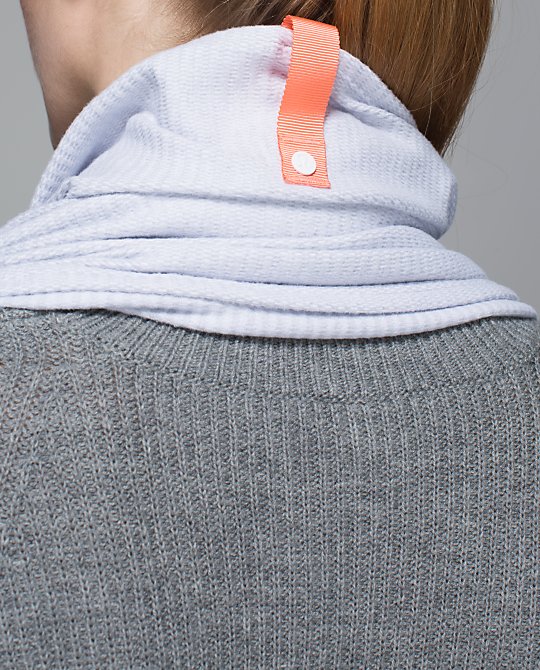 Silver fox pique vinyasa scarf with a little contrast tab.  The ribbon is not this color, though, fortunately.  US only.
Also, Canada got a mystic jungle fatigue vinyasa made of cotton terry.  Like the inky floral one from a few months ago, the print is only on one side.  Unlike its inky counterpart, this one is the normal $48.
New sweat & go bag in Canada.  I think this is the one from the bags banner.  The colorblocking on this silver fox/slate version is ugly.  The black is decent, albeit plain.  I wish the external pocket didn't stick out, I think it looks kinda funny.
Other upload notes:
– Mesh with me tank and mesh with me crops in new colors.
– The cyber stripe inspires are in the US now.
– The mystic jungle hawk blue WUP are back on the US site after disappearing (selling out?) last week.
– Moody mirage rolldown WUC are in the US too.  These did not come in a 2 or 12, and I've heard people say they have had trouble finding those sizes in stores also.
– The new groove pants with an updated higher rise are in Canada.
– Since there's a deep navy/sea mist pique run with me toque, I'm guessing the vinyasa (from the Australia post yesterday) will be making its way to North America shortly.
– Canada got hawk blue and black cherry 105F singlets.