This week's barrage of new stuff has been killing me.  Since it's the first week of the spring season, I was expecting a deluge, but I was pleasantly surprised to like so much of it.  So far, I'm optimistic that things are picking up for spring.  Lulu is actually making some nice colors, and most of the prints are creative and different.  Of course, not everything has been a win, but that's always true to a certain extent.  I'm just glad that right now, I can scroll through the new stuff and actually be excited and intrigued again, instead of just one continuous stream of cringes.
As for tonight's upload, a lot of that exciting stuff of course still hasn't made it online, but I'm ok with that.  I'd rather the goodies be spaced out anyway. :)
Be still my heart.  I am in love with these harbor blue speed shorts.  I ordered these SO HARD.  This is my first upload purchase in quite some time.  Raspberry glo was also uploaded to US.
Canada also got mystic jungle speed shorts, also 4-way stretch.  I don't like these.  I'll take my fatigue camo any day of the week.  Canada also got the new vintage pink.  There are also some mystic jungle trackers in Canada.
New print: mystic jungle hawk blue harbor blue.  This is the studio racerback.  I like this much better than fatigue mystic jungle, but am not sure I'm sold on it.
Canada got all 3 rise and shine jacket colors.
Much like the harbor blue herringbone swiftly spotted overseas earlier today, here is a vintage pink herringbone swiftly racerback, new in Canada.  Canada also got scream green.
These new harbor blue inspire crops (Canada only) remind me sooo much of my Alala captain crops in cobalt.
I like the new pace pusher crops in brush strokes harbor blue menthol from the front, but the back just looks off somehow.  Maybe this print will come in some other nice crops.  Canada only.
New crops in Canada: top speed crops in mystic jungle.  There's also black.
The new nightsky harbor blue print on rolldown wunder under pants for Canada. (So much for Canada only today.)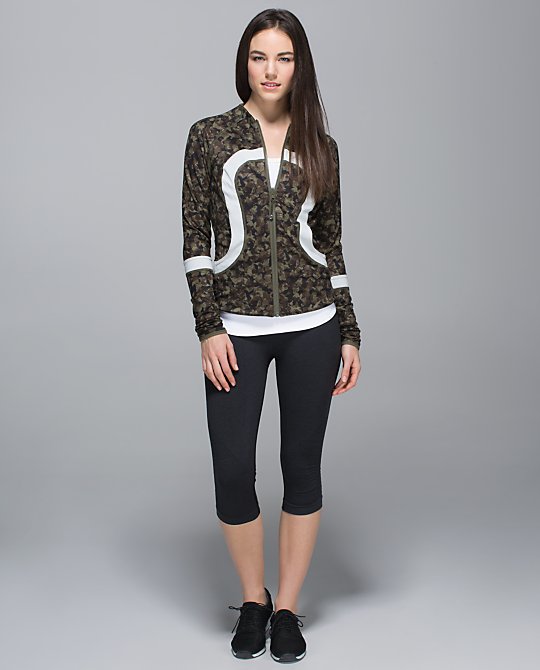 Idk what is going on in this new find your bliss jacket (Canada only), but I really don't like it.
Other upload notes:
– Fo drizzle jackets uploaded, of course.  Black and deep navy on both sides.
– The US got the seaside silver fox miss misty jacket, which is apparently redesigned and different from the atomic red and animal swirl miss misty's that were just released.
– There's a new heathered neon pink swiftly short sleeve, but I'm still so confused why the color looks so different from the space dye neon pink a few months ago.  Maybe in real life they're more similar, I don't know.
– Speaking of swiftlies: US got plum peach and scream green long sleeve, and Canada got neon pink long sleeve.  US got the scream green short sleeve also.
– The new rainforest menthol scuba is in the US, along with a new parfait pink.
– No new CRBs tonight.
– There's a vintage pink 105F singlet, even though I swear there was one just a few months ago.
– Blushed illusion run times are up.
– Lastly, here is one more product banner preview for spring:
This is a moody mirage bark berry deep navy energy bra and I want it. (The rest of the banner previews are here.)
…Actually, just kidding, THIS is the last one:
I don't believe this is the yogi crew sweater.  If you look closely, it looks like a textured loose knit.  Maybe this is a lightweight boolux spring sweater to come?