The sea-me run collection was the big focus for the US upload this week.  Canada's upload didn't have much of a theme, just a little of this and that.  The colors in the US were mostly focused on clear mint, blue tropics, prickly pear print, and various star crushed prints, but Canada has a little but of just about everything.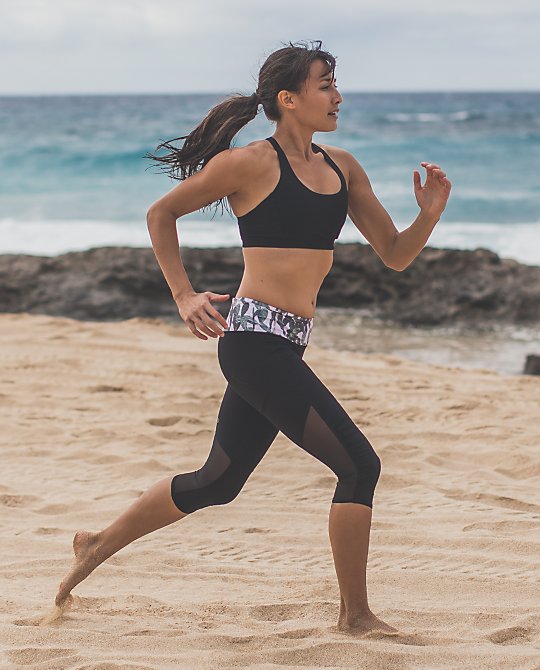 As I said, lots of sea-me run stuff today: crops, singlet, tight shorts, shorts, and long sleeve.  Katelin mentioned last week on the "What We Love" thread that she's not sure if/when this capsule will be in Canada.
Lots of free to be wild bras: black cherry in the US and electric coral plus new vintage green/minty grey in Canada.
More new vintage green: scuba hoodie in Canada.
The top speed bra is back, and look, a rare smiling model sighting! ;)
Cute new weekend short sleeve in white parallel stripe.  There's also a black parallel stripe version.
Cyber stripe silver fox showed up on the new city kick it pants in Canada.  Since the UK got the high times in this print, maybe these two things mean North America will see the Aussie cyber stripe high times soon.
Canada got the new heathered bordeaux drama vinyasa spotted in Australia this week.
Other upload notes:
– I really like the blue tropics energy bra from the front, but the striped straps are a little busy, so I'm skipping this one for now.
– Deep navy and sugar crush CRBs are in the US.  Canada got clear mint and moody mirage.
– It looks like tall length skirts aren't getting shafted: the star crushed multi pace rival is now available in tall.
– Speaking of taller lengths, the heathered blue tropics run times shorts are in the US.
– US also got the new nimbus puff speed shorts.  These were already in Canada.  No size 2!
– Yes, more moody mirage: the bark berry WUP are in the US now.
– Bag drop for the US: star crushed traveling yogini rucksack, hip to be free bags, and runaway retreat duffels.
– As promised last week, Canada got the bordeaux drama on the daily hoodie.
– Cashew fo drizzle jacket is now in Canada.
– The cut above dress from Canada stores is also now online in Canada.
– The black cherry high times with the mesh accent on the side uploaded to Canada.