After so many teasers in the Asian and European uploads today, I was expecting the North American uploads to come in with a bit more of a boom tonight, but actually, things were pretty tame.  Not too many amazing pieces, and no swim, unlike what I predicted.  Perhaps next week?  Instead, the focus seemed to be on the new updated groove pants.
Big colorways tonight are definitely black cherry, blue tropics, and lots of star crushed variations.  There's also still a lot of moody mirage floating around, plus clear mint and sugar crush are on the rise.  Earth tones are almost out of the mix, but there are still a few stragglers floating around.
Star crushed black cherry speed shorts are up in the US only.  Thankfully, these *did* upload in a size 2.  I ordered them because I'm a speeds whore but what else is new.  The heathered blue tropics speeds did not upload, neither did the nimbus puff from the UK earlier today.  Canada got nada for speeds.

Moody mirage bark berry free to be wild bra.  US only, but it did upload in a full size run, 2-12.
Canada did get a new wild tank instead, though: deep navy/star crushed.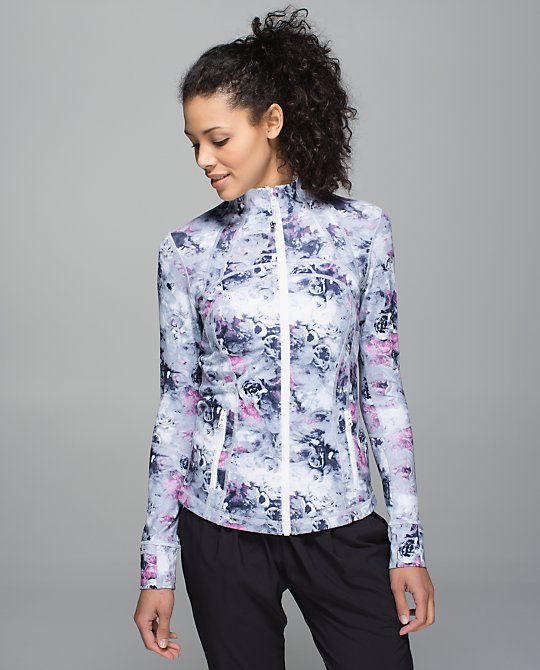 White moody mirage define jacket, US only.
New variation of high times tech mesh pants: these have a shine finish and a dot pattern on the mesh.  Canada only.
Canada got both inspire tights (shown) and inspire crops in the pretty coal black star crushed print.
Both US and Canada got the black cherry star crushed inspire tights.
Yes, that's right, more star crushed run bottoms: black cherry and black coal top speed crops in the US.
Oh and don't forget the black cherry star crushed pace pushers!  I don't like these as much as the top speed crops.
The deep navy/sea mist pique vinyasa uploaded.  This was first seen in Australia a couple weeks ago and I wasn't sure it would make it here since we're moving away from textures, but here it is.
Star crushed pack to reality backpack.  The new run backpack from the UK earlier today didn't upload on either side.
Also, the sweat to street hobo uploaded, first seen internationally a couple weeks ago.
Yet MORE bags: the runaway retreat duffel (the new stripe is called "dobby stripe") and the hip to be free bag are in Canada.  The rejuvenate yoga tote also popped up in another color in Canada.
Other upload notes:
– Of course, the groove pants are up in regular and tall, including solid black cherry, black, and naval blue.  The heathered black are only in regular length, and not in 2 or 12.
– Fatigue fo drizzle landed in the US and Canada.
– There appears to be another liiiittle preview of the pigment wave print on the waistband of new inspire crops in Canada.  The inspires are labeled as "black/mini blushed illusion white multi" but it doesn't look like blushed illusion, it *definitely* looks like pigment wave.
– This heathered blue tropics adjustable all sport bra is quite pretty.  The heathered blue tropics what the sport shorts are also cute, although I have to wonder whether they're sheer.  The shorts are only in Canada.
– The find your om scarves uploaded to Canada, minus the black/white stripe.
– The only things to appear from the retreat line tonight are the bra and shorts, and both are in Canada only.  I'm guessing there will be a bigger drop of these with a whole upload devoted to highlighting that line in coming weeks.
– New solid black cherry run times shorts in the US only.  Canada got naval blue/clear mint hyperstripe instead.
– Naval blue and black cherry wunder under crops for the US.
– Pretty space dye black cherry swiftly SS in Canada.  Canada also got the new herringbone black cherry swiftly racerback.
– The clear mint/black reversible wunder under crops are in the US.  No size 2 or 12.  In the stock pics, the black seems to show through and make the clear mint side much less vibrant.
– Moody mirage bark berry wunder under crops in Canada.
– New fatigue green wunder under pants on both sides.
– The yogini trouser pants are back, although they appear to be late since they uploaded in colors from winter.
– The heinous tranquility pants are up.  Now don't you all go and order at once…