This week, we were promised a "big" upload with lots of prints.  And indeed, a ton of the pigment wave stuff and the like that we've been waiting on seemed to get dumped tonight.  It's the last official upload of spring this week, so lulu is probably trying to push out as much as possible so they can start fresh.  Next week will be May, which is the start of the summer season for lulu.  The first week of the season is always full of tons of sneak peeks and new colors/prints.  Brace yourselves!
Anyway, the main focus of today was the various tencel items that overall strike me as somewhere between yogawear and pajamas/loungewear.  This includes the wake and flow items, easy breezy pants, and various lighter weight pullovers.
Pigment wave speed shorts are here!  Size 6-10 were sold out within minutes of upload on Canada side, unless they weren't there to start with, and the 2s and 4s disappeared shortly after.  Wow.  I bet a lot of these will come back online from returns, though, due to ordering multiples.  All sizes are still available on the US side, and I can't help but wonder if there was significantly more stock on our side to start.
Stuff your bras!  I know lots of people have been eagerly anticipating these.  4 colors so far.  All but black is available in a size 2 on the US side (oddly, the reverse is true in Canada: only black in a size 2, none of the other colors), unlike what I initially thought due to the lack of 2s in Australia.  Ahhhh, so tempted!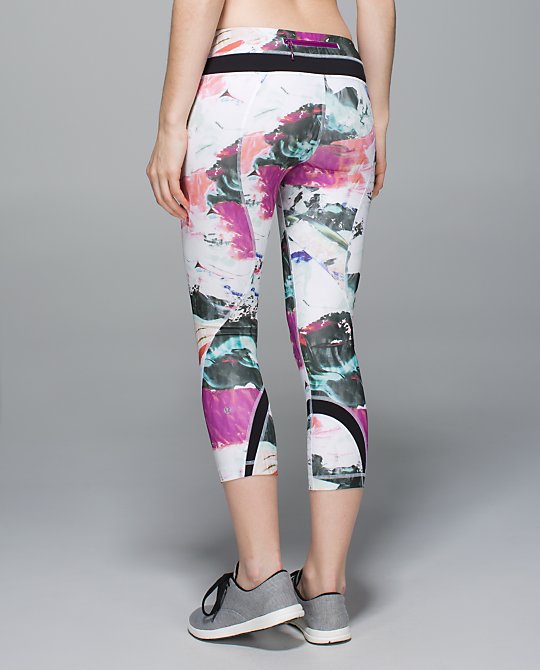 Lots more pigment wave bottoms for the US: inspire crops, inspire tights, what the sport shorts, and speed tights.  Surprisingly, I've heard so far the the inspire crops actually don't seem to be sheer.
Canada got the oh-so-adorable pigment wave black/white hit your stride skirt, but the US only got breezie regal plum.  Size 12 in these skirts is only available in Canada for whatever reason.
And of course, the infamous pigment wave tech high times pants are now in Canada.  Unless I just missed them, these didn't go up in a 2.
Canada got some funky new weekend long sleeves, like this heathered medium grey one with robot foil sleeves.
The addition of the straight up bra (US only) included a couple colors that weren't overseas (to my memory), like this narrow bold stripe white/naked.
Anyone want cactus pants?  Hehehe.  These and other colors of the jet crop slim trousers are finally online in the US.
The minty grey pique vinyasa was added to both sides.  Lulu apparently can't quit with the pique vinyasas this year.
Other upload notes:
– The heat wave/regal plum FTBW uploaded to the US.
– Heat wave regular rise WUC are in Canada.  No 12 in these.
– More heat wave: the cool racerback is in the US.  Still no regal plum CRBs…
– I'm just now seeing that the wake and flow camisole is $58.  For a simple cami with hardly any substance…yikes.
– The black/almost blue plaid run all day backpack made it to the US, but still no sign of electric coral/regal plum.
– A couple new colors of the pace rival skirt appeared in both regular and tall, including good vibes deep navy.
– Printed miss mistys are in the US, namely iridescent and pigment wave black/white.
– There was also a surprise addition of a vintage green rain on jacket to the US, although it's pretty late in the season for such a heavy rain jacket.
– Those high times pants with the mesh accents down the sides were uploaded to the US.  No 2 or 12 in black cherry, and no 12 in black.