Upload tonight was pretty low-key for a me.  A couple cute items, but either not in my region or just not things I cared about.  Minimal will power required for me.  Most of the things uploaded have already been spotted overseas, though there's a handful of things that are truly new.
Canada got the new grapefruit speed shorts.  One problem: what's in this pic isn't speed shorts.  These are very clearly run times shorts.  These uploaded internationally a couple weeks ago and I don't get why they *still* haven't fixed the photos to speeds!  For one thing, I feel like people are gonna be peeved when they order these and get something different from what's pictured.  For another thing, I just want to see the actual speeds!  There's only one pic of the speeds that has surfaced so far, and it looks like they do not have contrast trim like the run times here.
Pleat to street skirts!  Iris flower for US, floral backdrop for Canada.
Several new cool racerbacks tonight, including gator green and bleacher stripe.  Gator green has been seen in Canada stores.
Fugly fail of the day: roll up crop top.  They "made too much" already.  Yikes.
New pace rival crops in floral backdrop blue denim and iris flower.  Canada only.  Pace rivals have yet to show up at all in the US.
New itty bitty halter in the US that kind of looks like it went part of the way through a paper shredder.
Canada got the new split second shorts in a couple of colors.
The US got this new perforated out and about tote.  Apparently, it has a removable clutch.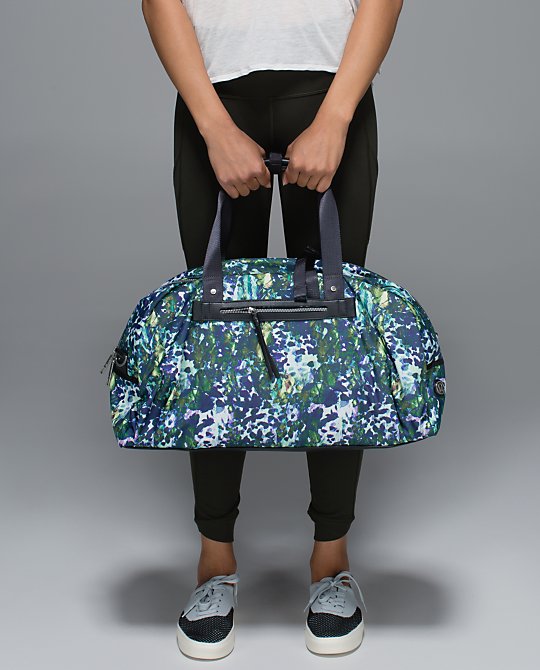 Canada did get the floral backdrop all you need duffel and the run all day backpack.
Other upload notes:
– Canada got more stuff your bras.
– Time warp tights reappeared in the US in blue denim and black.
– New poseidon shorts in the US: run times and hotty hots.
– The US got the new space dye twist iris flower inspire tights. (Canada already as them.) Canada got diamond palm embossed.
– New dottie dash slate rolldown WUP in Canada.
– Oki print silver spoon scuba hoodie for the US.