Today is the first upload of June, and that means new colors and prints are coming out in full force.  So far, the main players for June look like floral sport, iris flower, pistachio/dragonfly, blush quartz, and floral backdrop.  There was also yet another swim drop with fresh colors and prints.  Upload seemed to be a couple minutes late, and I had a hard time getting it to show up on my browser, and apparently I wasn't the only one.  The app is pretty reliable for showing upload on time, though, since it doesn't have the browser caching issues.
I like the combo of sketch palm and toothpaste on the latest bikinis.  The toothpaste side is actually slightly see-through on the model pics, but I don't think that's necessarily a bad thing, since a little bit of the print showing through gives it some subtle texture.
A couple new surf short colors.  Grapefruit is pretty cute, but I can't dig floral sport.
New layer up dress.  This is a big fail for me. (US only)
New swiftlies in the short sleeve scoop version (iris flower here).  US only, though Canada got quite a few new swiftlies of their own.
New free to be wild bras: grapefruit/gator green, floral sport/pistachio, and jazzy white gator green.  These are also in Canada stores this week.  US also got the pretty purple/gingham FTBW, though that was in Canada a couple weeks ago.
I was surprised to see a new speed tight color, floral backdrop blue denim, in June.  Something about this print on these tights reminds me of a sea creature.  US only.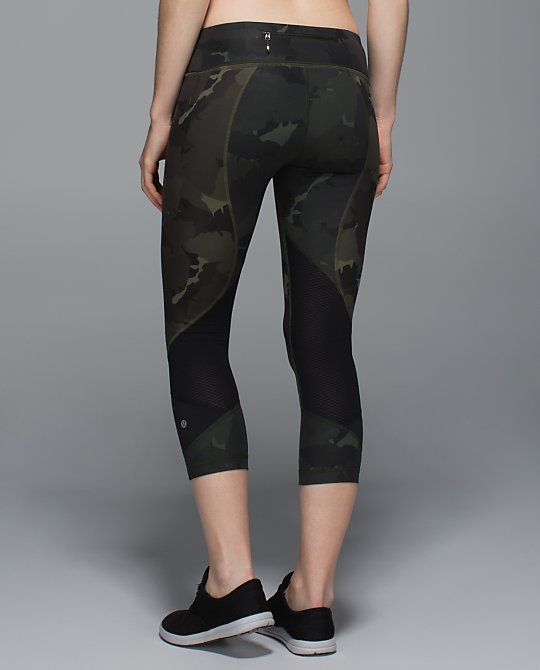 The pace rival crops made their debut in North America on the Canada side. (Palm party gator green here.)
Canada got this new party om bag in blue denim.
Other upload notes:
– Heathered poseidon cool racerback made it to the US!
– As we were promised, the silver spoon WAFS define jacket uploaded.
– This silver stripe iris flower what the sport singlet is the first striped one I've seen.
– New diamond camo silver spoon tracker shorts in the US.  These were uploaded a few weeks ago overseas and I've been wondering why they hadn't showed up.
– The strappy special edition all sport bra is now in the US.
– Some new headwear for Canada, including a mesh version of the race to win run hat in grapefruit and pistachio.
– The kickin' it backpack and om for all bag are both now available in white diamond palm in the US.  Apparently they're cotton.
– The all tied up tank is back in tencel.  This was on some international upload weeks (months?) ago so I had actually forgotten about it for a while there.  US only.
– Hotty hot shorts are up in white dottie dash.  US only.
– No new speed shorts in US or Canada today!