This week's upload highlight is the new running in the city capsule.  Like many things lately, it features large swaths of mesh, with the idea that the mesh is both stylish and functional for summer.  Along similar lines, the training tough tank and crops popped up in the US.  Both of these capsules had been overseas for a while.  Although none of that rings my bell, this was a pretty eventful (read: expensive) night for me, surprisingly.  I bought THREE things!  Sweet lord.  That might not sound like much to some of you, but I can't remember the last time I bought that much.  Between that and some recent in-store purchases, my lulu dry spell seems to be very much broken.
Of note, lulu is transitioning to a different style of photography for their stock photos (shown here: new on the daily hoodies in lullaby from Canada and grapefruit from the US, plus the tranquil blue swiftly LS in the US).  The background has a brighter, warmer light versus the previously used grey background.  The photos look much more crisp to me and make the details of the clothes easier to see.  And judging from the new pics that are up so far, the modeling style also seems to be shifting slightly too.  The models are a little bit more posed and seem to be in motion instead of just standing stiffly.
I have mixed feelings about this.  On the one hand, they're less mannequin-y and seem a little more organic and dynamic, but on the other hand, many of them don't show the product as clearly (the new OTD hoodies are good examples of this), or the poses just look strange.  Overall though, I think the pluses of the new stock photos win out.  I can dig it.
As we were promised by Katelin last week, the grapefruit cool racerback has arrived.  The US actually got a whole heap of newbies, including pistachio, crosscourt petal, net pop, and narrow bold stripe.  I scooped grapefruit up to try, but am not sure how the color will look on my skin.  I skipped out on pistachio since I don't think it will match enough of my wardrobe (and cause I bought enough tonight, sheesh).  I prefer more jewel-toned or teal-toned greens myself.  Much like what happened in Canada, pistachio sold through SUPER fast.  Did they only make like 100 of these or something?  Weird.
Surprise!  New stuff your bras in the US, including this one in classic stripe/flash light.  HELLO, I LOVE YOU.  It reminds me a little of older lulu and it will look KILLER SWEET with my flash jacquard speed shorts.  I'm weirdly excited for this bra, probably more excited than any other lulu item in ages for some weird reason.  Anyway, there are a couple other new colors too, and Canada got some (not classic stripe, sorry northern neighbors), which I'm sure is exciting for quite a few of you guys, too.
New space dye twist grapefruit free to be bra in the US.  I don't like this version as much as space dye twist iris flower.
The bali breeze free to be wild bra from in stores is now online in the US.  Canada kinda got the shaft with quite a few items this week.
New speed shorts this week: blush quartz sunset stripe in Canada and heathered textured printed greyt/black for the US.  The greyt is in US stores as well.  I bought greyt to try!  Neutral + contrast trim = super useful.  That said, they have lots of fun details.  There's a little sliver of tranquil blue at the waistband that's super cute too, plus flash light(?) stitching and classic stripe inside the waistband.  I'll have to see whether the contrast stitching is too obnoxious in real life.  I don't like that so many speeds have had contrast stitching lately.  Because of the greyt speeds and stuff your bra above, I wonder if we'll be seeing more flash light and classic stripe going into July?  I for one would not complain. (More evidence: classic stripe iris flower speed shorts seen overseas.)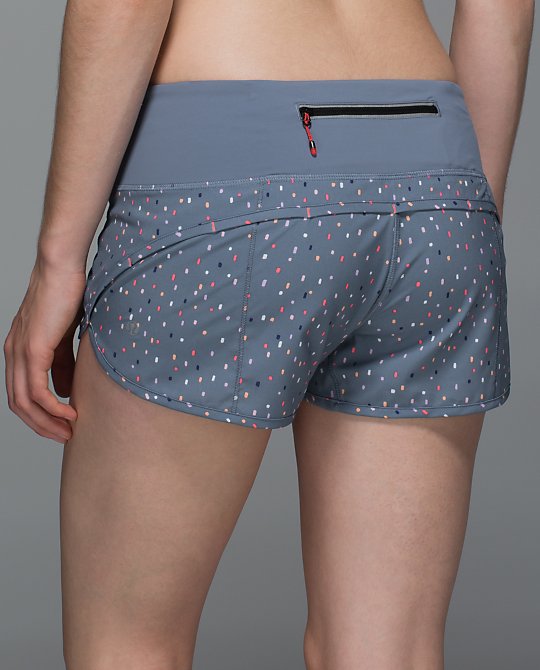 The US also got the confetti cake/blue denim block-it pocket speed shorts.  No size 2.  Grapefruit speeds are in stores in the US but still not online.  I'm considering having them shipped to me from a store to hedge my bets in case they don't upload in a 2.
Canada got the new to and flow wrap.  It's made of french terry.
New shady palms high times on both sides.
Other upload notes:
– Pistachio hotty hots are in the US.
– The new hot times skirt in the US looks way cuter and shorter in the pics of the white version than it does in the net pop photos.
– The US got the iris flower energy bra (already in Canada).
– Space dye twist iris flower inspire CROPS are in the US now, not to be confused with their longer inspire tight cousins.  No 2 or 12 in the crops, sorry fringe size friends. :(
– Canada was late to the party getting the iris flower superb LS uploaded, but it's here now.
– Canada also got some new scubas, including space dye twist iris flower.
– First descent (aka floral sport??) miss misty jacket landed in Canada.
– The first taste of pace rival crops are in the US, but only in black right now.