Upload was weirdly early tonight, by like half an hour!  Fortunately there didn't appear to be any sell-outs in the interim time, otherwise I'm pretty sure some heads would've rolled.  Wanderlust isn't selling out ultra-fast (though the solid highest times are going surprisingly quickly), so they seem to have made plenty.  That, or the demand has died down.
The Wanderlust stuff was the main schtick for tonight, including the popular tech mesh highest times pants, and the diversity bag shown here.  There's also the shala bra, casbah kimono, nook tank, and the towel.  There was some concern the diversity bag was going to be priced at $128, but thankfully its $98, the same price it was sold in stores and at festivals before today.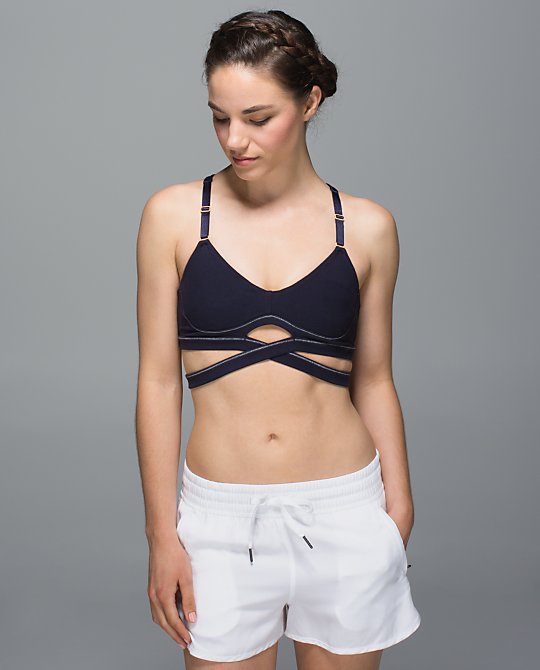 I was surprised to see this new rue boheme bra pop up.  You can see it has a Wanderlust logo, but I don't remember seeing it anywhere else.  It's only on the US side.
This tank showed up in a few stock pics before this and lots of people seemed to want to know what it was.  It's the inner essence tank.  Only in the US for now.
Canada got these new pretty plume wunder under crops.  Take note that based on store pics today, these *do* vary in pattern placement, so you may need to go to a store or order several pairs if you're picky.
The new pretty plume high times are also up but have basically sold out on both sides.  In North America they're calling them wrap mesh, but overseas they called them dance to yoga.  They sold through faster in Canada than the special edition WAFS WUC, which kind of surprises me given how much of a frenzy there was for those in the US.
I was surprised to see there are no pretty plume WUP to be found tonight.  I was suspecting they'd upload tonight since it fits well with the theme and color scheme of the dance to yoga line, but it looks like we'll have to wait.
New dance to yoga edition wunder under pants.  There are several weird things about this.  First, random calf ventilation?  Don't love these cut-outs.  Second, they're like rolldowns on crack.  The waist goes literally over your boobs if it's not folded down, and can be basically a skirt if it's folded fully.  Also, even though they're listed as pants, they're only a 23″ inseam, which is just 1.5″ longer than WUC.
Pretty much all of the rest of the dance to yoga line (leotard shown above) uploaded as well, though the dance to yoga pants are only in Canada.
I'm digging this new bali breeze/silver spoon energy bra in Canada.  The multi-colored straps on last year's edition didn't do much for me.
Other upload notes
– I noticed this week that the what's new page on the US side is now in the same format as when you're browsing a specific category and includes the navigation side bar, rather than going across the entire screen.  Canada still has it the old way.  New change, or website snafu?
– Canada got the special edition silver spoon WAFS wunder under crops!  These are selling out surprisingly slowly after all the hype from when they dropped in the US.
– New vitasea striped vinyasas in the US.
– Alarming and dottie dash grain speed shorts are both in the US, though these were part of the sneaky/accidental Sunday upload, so that's not super-new news.  No size 2's.
– The back spin stroke peacock blue inspire tights (also part of Sunday's random upload) have been growing on me.  Also US only.
– New mini pop stripe CRB in the US.