The cool to street capsule is here, headlining tonight's yoga-themed upload. (Crops and tank shown here.)
Two new free to be wild bras in the US: alarming and dottie dash grain.  FTBWs are definitely losing their momentum.  As of tonight, there are 18(!!!) colors in stock on the US side, which would've been unheard of a year ago.  They've also likely ramped up the quantities they've been producing, so the lingering stock is probably being bolstered from both supply and demand sides.
New floral sport and dashing purple/alarming/tranquil blue speed shorts.  I'm a bit disappointed by floral sport, since I was hoping for the purple-toned floral sport like on the run times shorts.  The dashing purple are pretty cute and remind me a bit of older speeds.  I don't feel the need to buy either, though, which is fortunate since neither were uploaded in a 2.  Insert my usual complaining here about 2's being shafted for no rhyme or reason.  These colors are  US only right now.
They finally fixed the grapefruit speeds pics!  Now they actually show speeds instead of run times.  These finally uploaded to the US, and unlike the other 2 pairs, these *did* go up in a 2.  Canada also got the blue denim confetti cake speeds.
Tranquil blue is really growing on me–new scuba hoodie tonight.  I don't usually go for lighter or pastel colors, but this one is nice.
Lots of wunder unders tonight, but mostly just for the US.  Canada only got reversible grapefruit crops.  US got reversible bali breeze crops (no 2), reversible grapefruit pants (no 12), gingham crops, narrow bold stripe pants, teeny dot pants, and shady palms pants (no 2 or 12).  Whew.  I thought the narrow bold stripe were classic stripe from the store pics, but apparently not!  I think classic stripe is slightly narrower than narrow bold stripe.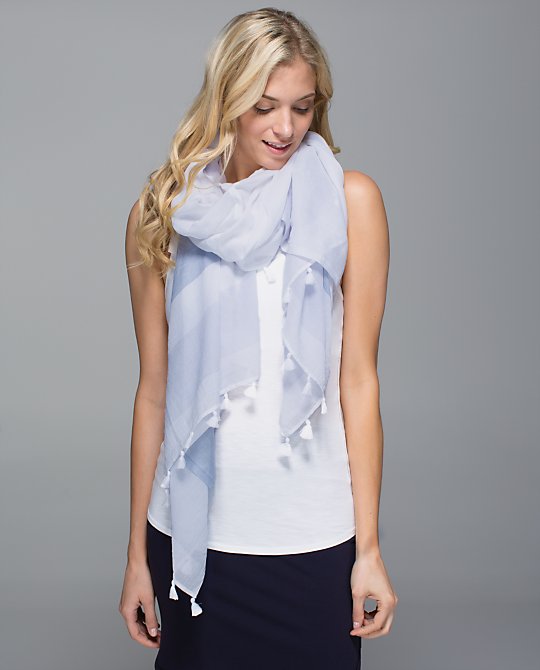 New super-lightweight sun to moon scarf.
Canada got two new printed gym to win duffels: floral backdrop (seen in Aus several weeks ago) and sketchy palms.  Both of these are pretty cute.
Canada also got this pretty purple/stony grape vitasea vinyasa.
Other upload notes
– Two new special edition strappy all sport bras in Canada, both in stripes.
– The cool to street edition high times pants are now in the US in 2 colors.
– New sketchy palm party om bag for Canada.
– Both countries got the new sketchy palms race to win run hat.  I'm planning to get one of these to give my floral backdrop hat the occasional break.
– New daya knit tank made of boolux.  All I can think of is that character from OITNB. (I still need to watch season 3…)
– The funky black mesh-side rolldown luxtreme WUP are now up in the US.  No size 12.
– Gator green define jacket on both sides.
– The city summer dress is up in the US in both colors.
– New grapefruit swiftlies in short sleeve and long sleeve in the US.