Ok you guys.  First I need to start with this vinyasa scarf (Canada only).  A herringbone vinyasa!  I mean, omg.  OMG.  That is all.
All 3 new speeds colors were uploaded to the US side.  Canada got inky floral and bumble berry but no diamond dot rugged blue.  I successfully nabbed my inky floral.  Sacrifice a proverbial lamb to the pattern placement gods for me.  I won't get them til Monday–stupid new upload day. :(
Also, it's a good thing I only wanted inky floral and neither of the other 2 colors, because neither bumble berry nor rugged blue were uploaded in a size 2.  WTF, lulu, when is this spotty size 2 business going to get sorted out?
US got luxtreme bordeaux drama wunder under crops (this is the WUC II, i.e. the longer ones).  These are still reeeeally tempting for me, but I have to stick to my limits.  Maybe later on I'll have the money to get these on the aftermarket. (Isn't that the lovely thing about lulu?  You can usually find something later even if you miss out the first time.)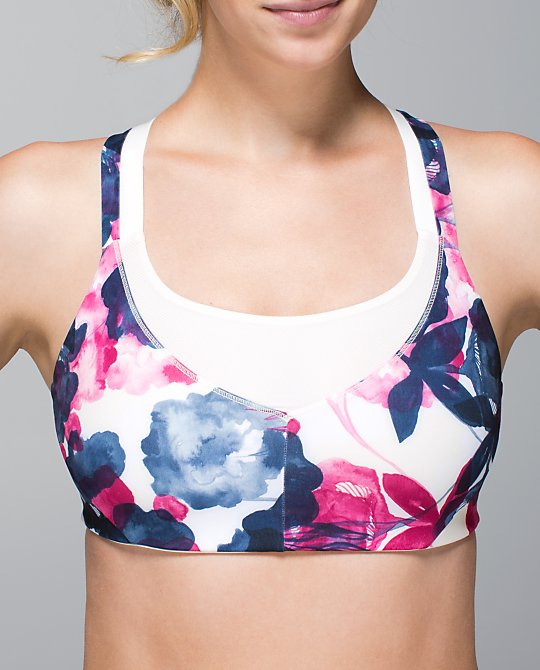 Yesterday I noted this new bra was uploaded to the Australian site.  Oddly, in Australia it's called the on the run bra.  In North America, it's the on your way bra.  Go figure.  It was uploaded in both inkwell west2east stripe and inky floral.  And again, for some reason the stripes come in a 2 and inky floral doesn't.
New heathered blue calm cool racerback (US only).  No size 2 or 12 in this one.
US finally got the post practice cardigan, shown in ghost/black (my personal favorite).  I'm tempted to try this, especially after a commenter mentioned my TTS might work, but again, I can't justify $138 right now.  I has a sad.
Free fall crops (US only), in typical lulu drop crotch style.  Not much to say about these except that they're cotton sweatpants.
I just don't even know where to start with these yogini trousers. (Canada only)
Gym to win duffel in bordeaux drama sashico star: Canada got it, US didn't.  US only got black.  Cue disappointed Americans.  At least it's in stores.
Lulu yoga mats usually aren't particularly noteworthy, but this inkwell/blue calm 3mm pure mat is really very pretty.
New quilt inkwell/rugged blue bang buster.  I wonder if every headband as different quilt placement?  I would imagine so.
An observation: it seems like there were a lot of items this week (and in previous weeks) where a seasonal item isn't uploaded in all the colors, but instead released piecemeal.  For example, Canada only getting one of the pleat to street colors, and many others I mention below (even though US got all 4).  It's normal to see US and Canada get different things, obviously, but it's weird for some colors to be released all at once in one country, but one at a time in the other.   This doesn't seem like it would be intentional, so I have to wonder if there are logistical issues going on causing things to be on a less-than-ideal schedule.
Honorable mentions: miss misty pullover (Canada did not get solid black), run for gold 1/2 zip (US did not get bumble berry), run for gold LS (Canada did not get bumble berry), pleat to street skirt (Canada only got blossom stripe, US got 4 colors), inky floral pace setter skirts, bumble berry run times shorts, what the sport short, pace tight (only black so far), rolldown rugged blue sashico cross WUC (US only), wrapper's delight tank, on the run singlet.