I GOT MY HERRINGBONE VINYASA.
I FEEL ALMOST MANIACAL.
Ok, actually, full disclosure:
There were TWO herringbone vinyasas.  This black herringbone was a surprise.
………I got both.
I couldn't pick!
NOT EVEN SORRY.
The white herringbone was sold out within 15 minutes of upload.  I actually didn't notice the black at first–I saw a black swatch and assumed it was solid black and was on a BEELINE for checkout after hearing horror stories from Canadians of the white herringbone being snatched up in the middle of checkout last week.  The black took a little longer to sell out at something under 25 minutes–I wonder if people were so focused on the white that they didn't notice the white (like me), or if the white is just the crowd favorite?  Canada didn't get the black herringbone this week.  Since they got white a week earlier than us, now we're even.
Heathered bordeaux drama scuba.  I would wear the crap out of this.  OOPS, spent all my money on vinyasas.
Black camo forme on US side because camo JUST.WON'T.DIE.
Pine stripe forme (denim textured, looks like rose gold hardware.
Speaking of denim!  Canada only got this inkwell denim forme.  They call it "*sashiko" but it only has a little block of sashico patterning on the sides so let's call a spade a spade here.  It's a denim forme to me.
Someone made the astute observation that this great granite blazer vest totally looks like a hunting vest.  Yikes.
New heathered deep coal cool racerback.
What, what, what.  This is the comme to cozy sack dress.  It's made of french terry, which is presumably how it got it's name.  Only Canada got the apex jailbird stripe.  Nope nope nope.
Find your centre wrap, Canada only, shown in heathered speckled black.  Another hot mess, yours for only $138!
(*Super important question*: will it be the find your centER wrap in the US?…)
Solid bumble berry energy bra, Canada only.
Rugged blue ebb to street pants, Canada only.  Bordeaux drama is there, too–I'm pretty sure that's new.
Fuel green rolldown shine tights, Canada only.  More fuel green please.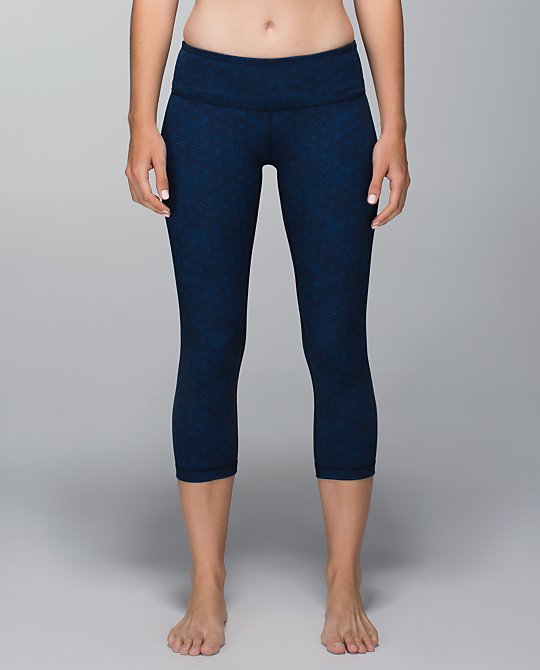 Sashico star wunder under crops in luon, because apparently lulu wants to make every possible variation of sashico WUC.  So far we're up to: – Sashico cross WUC, rolldown – Sashico star WUC, luxtreme – Sashico star WUC, luon – Sashico quilt WUC
Plus the WUPs.  SO MUCH SASHICO.
Bordeaux drama inspire crops with some funky waistband quilt action.  US only, no size 2 or 12.
US finally got bumble berry wunder under crops.  No size 12 was uploaded.  A commenter mentioned these were sheer–proceed with caution.
Back to class backpack in pacific check inkwell/ghost.  This print is a bit more masculine than lulu's usual fare for women, but cute.
Honorable mentions: bordeaux drama hyperstripe vinyasa (Canada only), lab city pullover, bordeaux the sweater life, more run for gold LS and 1/2 zip colors, bordeaux swiftly SS (Canada only), illumina crops in multiple colors (US only), cotton rolldown WUC (Canada only), cotton rolldown WUP, angel blue swiftly SS, refresh racer colors (of course), jet crops, sashiko quilt WUs, sashico cross pace setter (Canada only), inkwell denim rolldown WUP.
Edited to add:
From the pics of the quilted fly away tamer: a sneak peek of the rebel runner vest in white.  The vest is still only in Australia.