Welp… The US kind of got the shaft on a bunch of stuff this week–Canada seemed to get the lion's share of the new stuff we've been seeing.  For example, the US did not get the sweater life but Canada did.  Lots of new colors are cropping up everywhere, though!  Like, even more than what we've already seen today.
Right as rain jacket: both US and Canada got it, in black and bordeaux.
New scubas: the top is "flat inky floral heathered inkwell", and the second one is mojave tan and inkwell, the stripes are called maple stripe/vine stripe.  Kinda looks like classic stripe if you ask me.
New stride color (and by color I mean yet another neutral): heathered black. (US only)
Canada got he ebb to street tank in this color, bumble berry, black, and parfait pink.  Turns out, this isn't forest green.  It's called fuel green.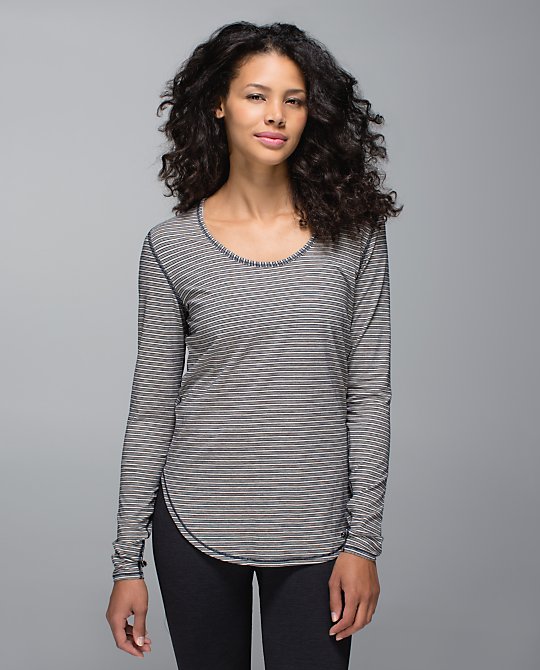 The 5 year yogini long sleeve is in both US and Canada.  This mystery stripe is called pine stripe, and it's inkwell and mojave tan.
Canada got a short sleeve version of the 5 year yogini.  This is another new color: mauvelous.  There are 4 other colors of this tee, too.
Another new purple: purple fog. (Canada only)


Exhalation pullover II showed up in a color we haven't seen yet: marled mojave magenta. (Plus two other variations of black/grey)


Groove wunder under pants are back.  This is a misc patterned rugged blue.  Only the US got this one.  Canada got diamond dot groove WUP.
A black version of inky floral on the energy bra.  The patterned rugged blue also appeared.
Blossom stripe 50 rep bra.  The rugged blue pattern (seen overseas) turned up, too.  US only.
Honorable mentions (not comprehensive but close): bumble berry WUC ii (Canada only), quilted rugged blue vinyasa, happy yin year sweatpants, bordeaux and rugged blue in the flow crops (US only), bumble berry free to be bra, inky floral free to be bra (Canada only), the sweater life (Canada only but no bordeaux yet!!), west2east stripe CRB, h'om run jacket, black savasana wrap (Canada only–US got it last week), diamond dot bordeaux WUP (Canada only), heathered slate WUP (US only), two times a yogi bag, and bumble berry boogie shorts.