1) I was really surprised by upload tonight.  The store pics that were coming up yesterday and today were really unimpressive and there really wasn't a whole lot to see.  There ended up being a TON online that wasn't in stores, including some interesting surprises.
2) US got the shaft this week.  There are 41 women's items on the "what's new" section on the US side.  Canada, meanwhile, has 61. (Methodology note: I just counted the pics, not each individual colorway that's new.)
3) I'm getting awfully jaded with lulu's constant insistence on innuendos in their marketing.  The front page today advertising this week's upload is "practice safe sweat".  A few weeks ago, the slogan was "we like it on top".  I feel like I am constantly seeing little quips like this.  I'm not one to be uptight–I frequently laugh at and make inappropriate jokes, and Cards Against Humanity is probably one of my favorite games ever–but I find their suggestive taglines to be immature and kind of tacky.  I mean, they're supposed to be a yoga company (in large part), and they make sex jokes?  Who writes these things, a 16 yr old boy?  I'm over it.
First and foremost: this stride jacket, while marred by heinous colorblocking (patternblocking?), features one of my favorite colorways evereverEVER, coco pique.  I go at least as crazy about coco pique as I do herringbone.  Besides the stride jacket, one of the 2 colorways of the cocoon car coat (also otherwise heinous) features coco pique.  LET THERE BE LOTS OF COCO PIQUE THIS SEASON PLEASE AND THANK YOU.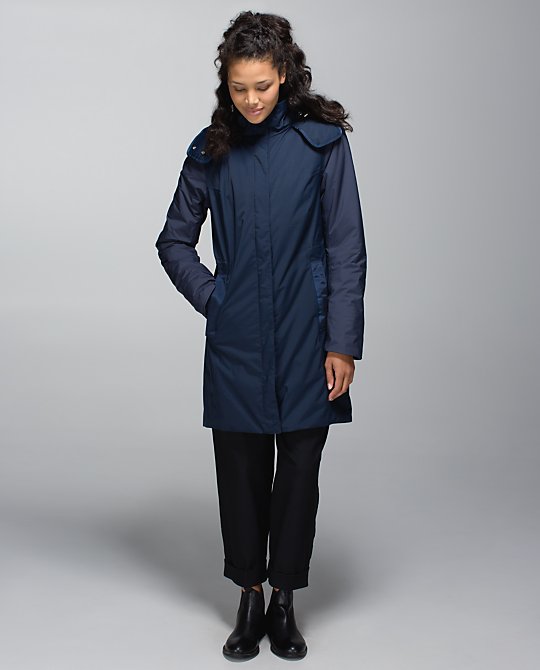 New polar parka.  Blah blah blah whatever, looks boxy.  $298–zing!
New brisky biker jacket made of softshell fabric.  I don't like the different material on the body and arms, it looks mismatched.  Another expensive item at a cool $228.  Canada only.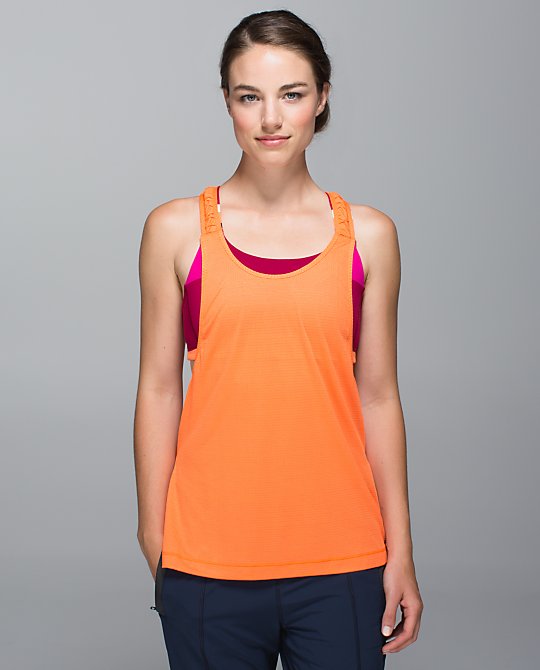 Pizazz might be coming back?  This stash it tank has a pizazz body with a bumble berry blossom stripe bra.  I'm solidly "meh" about pizazz in general.  US only.
The new vita racer tank is like a longer version of the vita loca tank.  Well, the front is longer, the back crosses over just above your WU waist.  I like this a lot better than the vita loca tank.  US only.
Flip your dogs are back in the US in grey and cozy stripe toothpaste.
New layered long sleeve tee–Canada only–has what looks like a tee overlaid on a button-up.  I guess the right person could pull this off, but not something I would ever pick up.

The new tank I noted in today's earlier post is actually a leotard, the citta leotard to be exact.  Totally looks like a swimsuit but I guess most leotards kinda do.


Cotton rolldown wunder under pants in a new colorway: bark chocolate.  Lulu doesn't do a lot of browns so this is an interesting addition.  Canada only.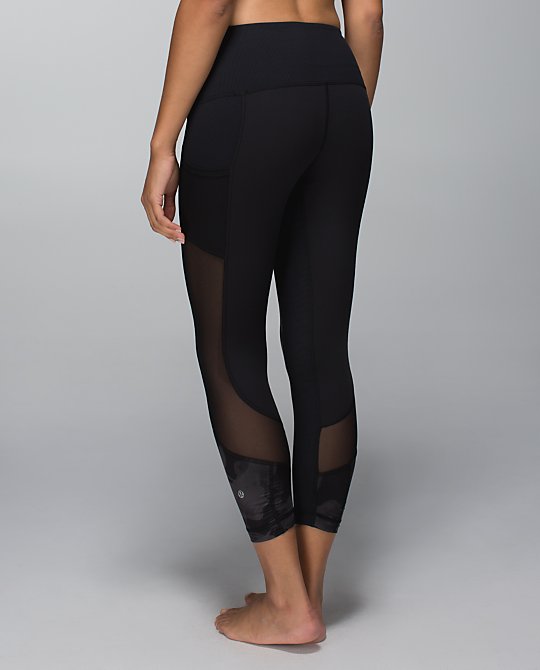 New seek the heat crops.  They are luxtreme in the front and fullux/iplux in the back.  They come in inkwell and black/soot inky floral, although the print is only on the front half.  Canada only.
I'm a Virginia native, and when I saw these new rust berry trackers, they're almost a dead ringer for Virginia Tech's colors, except that flaming tomato is a little more red and not so orange.  Whatevz, close enough.  Canada only.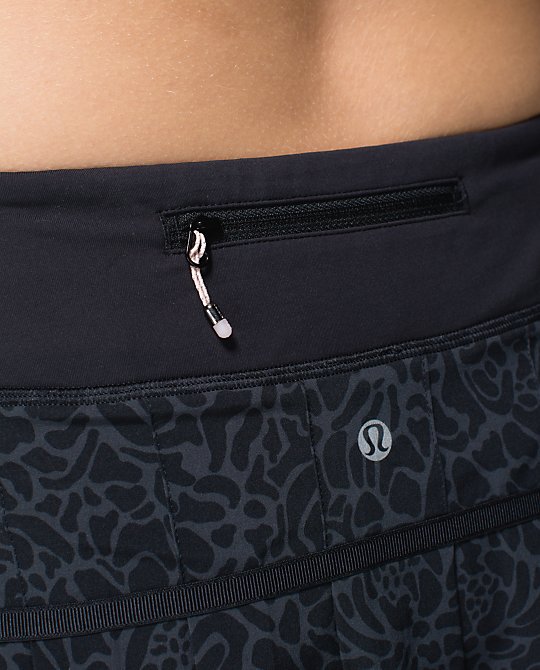 A pace setter skirt was released in black/deep coal petal camo, which means speed shorts are very likely in this colorway and so I should probably start thinking about whether I will be needing them.  The skirt is 4-way and in Canada only.
Lulu usually includes a liner bag in their full-size bags, but now you can get a set of 3 matching liners by themselves ("sweat happens liner bags"), to the tune of $42.  The two colorways they've put out so far look really great together–this was a clever move on their part because the margins on these have got to be sky high but the finished product is undeniably adorable.  This one's Canada only too.
Honorable mentions:
– Black inky floral speeds were uploaded to the US
– Canada finally got the black herringbone vinyasa.  Surprisingly, it took it between 10 and 15 minutes to sell out.
– The cocoon car coat, which was uploaded to both sides, is sized XS, S, and M.  Huh?
– The underwire bra that uploaded to Australia yesterday was uploaded, and as I suspected, it goes by the name "boob wired bra" in North America, versus the "wired for bounce bra" down under.
– In case you're not over sashico, there's a black/white/grey version of the sashico wunder under crops now, too, on the US side.
– The US side is still waiting on the rebel runner jacket and vest.
– New formes: flaming tomato (both sides) and heathered deep coal (US only).
– Canada got another color of the right as rain jacket: stormy grey, which is kind of a dingy looking colora little more grey than dune.
– The US got new fuel green (solid) skinny wills.