There was no real cohesion behind tonight's upload–mostly a bunch of random products in random colors.  Some surprises, some really weird stuff, and some interesting new stuff:
This inky floral french terry vinyasa was a surprise.  I'm in love with the inky floral print, and this is so gorgeous and I'm having to talk myself out of ordering it.  The reality is that I think it would be difficult to match and I wouldn't get a lot of wear out of it.  Note that the french terry vinyasas are $10 more than the regular ones–$58 instead of $48.
Weird side note: I had a dream about vinyasas.  For real.  I dreamed I was looking at upload and there was a blue/grey chevron vinyasa and a black/white houndstooth vinyasa.  Wtf, brain?  At least that's a more pleasant dream than, like, running from a dude with a knife or being shot at or something, amirite?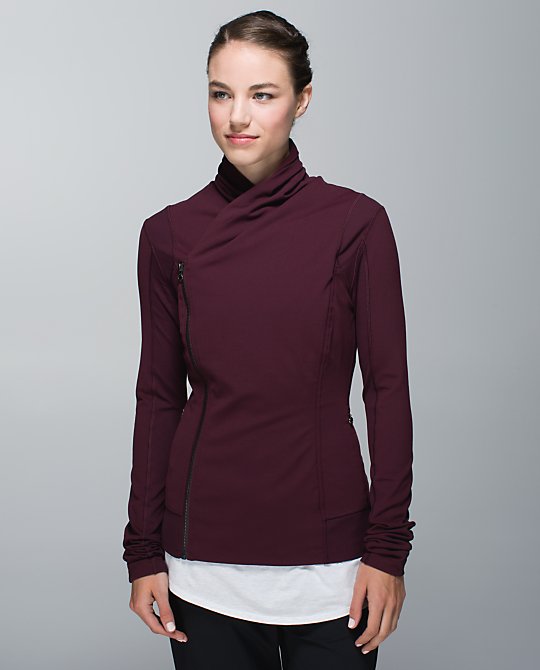 The bhakti yoga jacket, which was very popular in January, reappeared in bordeaux and black.  Canada got zonked out of this one this week–US only.
Fluffin' awesome vest in fuel green, black, and bordeaux gin gingham were uploaded.  Canada also got the fluffin' awesome jacket in black gin gingham, solid black, and bordeaux.  Both of these are online only.
Herringbone pants!  US and Canada both got these.  Oh herringbone. <3
This oh hey pullover (in Canada only) is a steaming pile of "WTF no thanks".
Speaking of WTF????  This is called a dickie.  Is this a thing?  It's like a down bib.  Dude, why not just get a vest.  This weirdness is only available in the US right now.
Real teal swiftly LS.  It's just heathered, no tonka stripes. <3 this color.  I SO wish this was a scoopneck.
Another new color is almost pear.  I really don't like this color–it looks dingy and vaguely like baby food or some unfortunate bodily fluid.  This energy bra and a power y in the same color appeared in Canada only.
This tank is the one on the current product banner for the tanks section (it's the refresh racer).  The stripes color is toothpaste.  The color was out a while ago, perhaps it's making a comeback alongside real teal, purple fog, and mauvelous.
Speaking of purple fog, this is the heart opener scarf in purple fog/heathered dark grey.  I think this is the same scarf from the "headwear and scarves" product banner:
Here's another thing I have to say about that product banner:

I think this water bottle is the same red color as that hat.  The color is called flaming tomato.  I'd be wondering if a true red like currant was coming back, so it looks like this might be our answer.


I'm usually a big fan of leg warmers, but these endless summer ankle warmers (merino wool) are a no-go for me.  They look like very awkward socks.


The two times a yogi bag mentioned in Britt's picks is probably this one: it's black, but it's made of a wool blend exterior.
Also on upload: bumble berry CRB (US), hyperstripe mauvelous CRB, mini camp check scuba hoodie, om and roam untight tight, purple fog swiftly racerback, a few new WUP colorways and variations that I don't have the patience to painstakingly type out, illumina crops (Canada), bumble berry pace tights (Canada), sashico star run times shorts, heathered slate speed shorts (US), traveling yogini rucksack in all 3 colors (US), purple fog dance studio jacket.
Edited to add:
Looks like some kind of new jacket-sweater situation going on in these pics.