Although usually the biggest upload of the month is during the first week, that seems to have been postponed this month, because this week and this upload are thick with new stuff.  I'm assuming last week was wonky because of the holiday.
The miss misty pullover was added in 2 more colors: rust  berry and purple fog.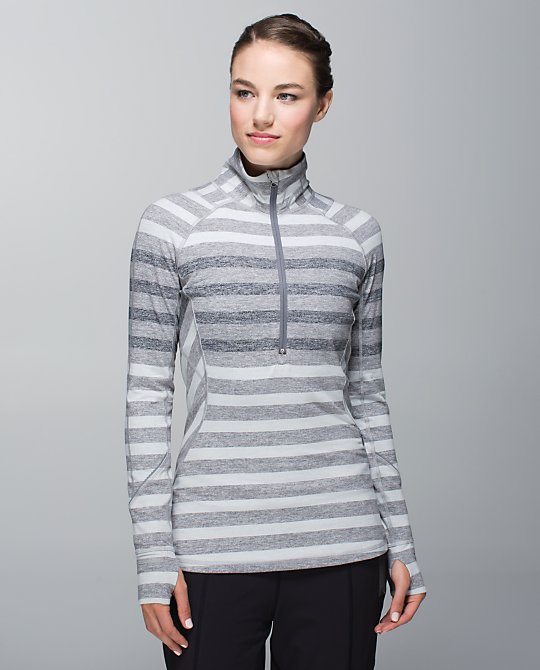 Marshmallow stripe race your pace 1/2 zip.  I kind of like the marshmallow stripe name, it evokes thoughts of delicious fluffiness, but that's probably just because for some reason I really love marshmallows.  The US only got this colorway, while Canada got 4.
The race your pace long sleeve in a third color: hyperstripe heathered angel wing.
The stride jacket popped up in shine dot bordeaux drama and denim inkwell.
Canada got this studio softshell, shown in plum.
Canada also got the rebel runner vest in bordeaux petal camo, black petal camo, and ghost.  I had seen the other two colors before in Australia, but not bordeaux.  Surprisingly, the bordeaux my *least* favorite of the 3.
Speed tights are back, including bordeaux drama…
…And of course, the petal camo embossed speed tights.  There are petal camo inspires, too! (Inspires only in Canada right now.) Both the petal camo speed tights and inspires will cost you an extra $10 versus their non-printed counterparts.
New wunder under pants in conductor stripe print, aka pinstripe.
Run times shorts in bordeaux drama with bumble berry trim.
Reversible go the distance shorts.  I stand by my previous assessment that these are really not good.  They look like cheap pj shorts or something.
Biggy dot speed shorts, which look remarkably like the chevron dot speeds from last winter.  Also, the sashiko speeds were uploaded.  They are $4 more than the other speeds.  I'm not sure why, since plenty of other speeds have prints and aren't marked up, and the sashiko run times shorts are the regular price.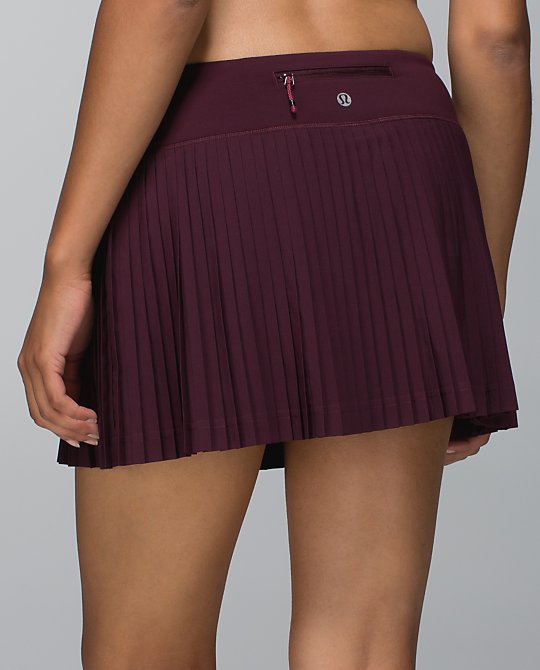 Bordeaux drama pleat to street skirt–this looks really nice.  There's also a dottie mum version that's new too, but that one is a hot mess if you ask me.
Also on upload (not exhaustive):
– Bumble berry DSJ
– Specialized cycling kit
– Bordeaux drama inky floral rebel runner crops, only in sizes 6-12 (I would like to think that sizes 2 and/or 4 will follow at some point and that they weren't omitted intentionally–in other colorways, a full size run is available)
– Dottie mum speed shorts
– Rebel runner jacket (Canada only)
– First base tank (Canada only)
– Spring fling puffy vest in sashico and black camo (US only)
– Bordeaux drama groove WUP (Canada only)
– Track to reality pants
– Power up tank
– Run away tee
– New bra colors in the energy, all sport, free to be, 50 rep, and flow y