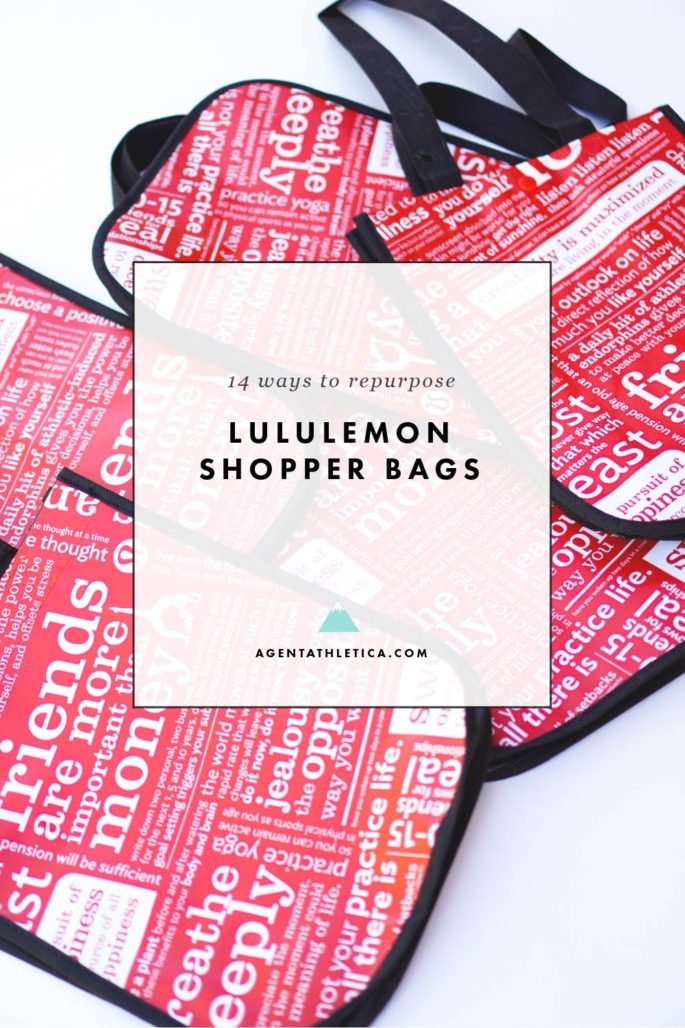 If you have a lululemon shopping habit, some part of your house is probably overrun with lulu's red manifesto totes.  Sure, having a couple around can come in handy, but what do you do when you've got 15 or 30 or 50 bags?  I don't know about you, but I feel bad just throwing them away, so I'm always keeping my eye out for ways they can be repurposed.  Here are some ideas to get the gears turning.
Get crafty
1 | Makeup bag/pencil case.  I've seen a bunch of creative people come up with ways to sew a lululemon bag into a small bag with a zipper, useful for cosmetics or pencils.  This blog has a tutorial with one way to do it.  Here's another design idea for a small, flat pouch.  If you have a bunch of the large-sized totes, you could come up with a plan to make an even larger design.  And if you're really creative, you could even design a small wallet, passport holder, coupon organizer, etc.
2 | Coasters.  For a quick and easy DIY project, you can make a lulu-themed coaster out of a shopper and some small tiles.  I wrote a tutorial of exactly how to do it here.
3 | Bulletin board.  On a similar note, you can cut out the large panel from a shopper and use decoupage to cover a cork board or magnetic board.  The result: a cute little bulletin board.  If you go the magnetic route, you could even decoupage the scraps on little magnets for a matching set.
4 | Shower curtain.  Yes, a whole shower curtain made of lululemon bags!  Here's proof it can be done.  You'll have to flex your creative muscles to get this job done, though, because there isn't a tutorial for this design.
Repurpose
5 | Lunch bag.  The small totes are the perfect size for your lunch, and easier to carry around than juggling 3 containers of food and a water bottle.
6 | Grocery bags.  If you have the large sized totes floating around, bring them with you to the grocery store instead of using bags the store gives to you.
7 | Everything else errand bags.  Sensing a theme?  Use your bags when you go to the library, when you drop off alterations at the tailor, when you drop off items to donate at the thrift store, when you take a trip to the farmer's market, and so on.  I like to keep a couple of bags in the car in case I need them for a Target run, or if I forget a bag for my wet clothes after going for a swim, or whatever else might come up.
8 | Storage.  Bags can serve a variety of storage purposes around the house.  Use them to corral dirty laundry, odds and ends in your closet, supplies for your pets, etc.  If the shape isn't convenient, cut them in half or cut the straps off so they're more of a basket and less of a bag.
9 | Moving.  I've used my lulu bags during both of my last 2 moves.  Instead of packing my delicate sweaters and things straight into a cardboard box, I put them in lulu totes and then put them in boxes.  It made me feel better about keeping my clothes clean and undamaged during the moving process.  The totes can also be handy for keeping lots of small items in one place when packed, instead of a bunch of little things floating around in a large box.
Rehome
10 | Bring them back to the store.  If you have a bunch of red manifesto bags that look just like new, you can ask your local lululemon if they will reuse them for other customers.  Not all stores will accept them, but it's worth asking.
11 | Sell them.  I know this one might seem a little strange, but it's an option.  I sold some of my bags in sets of 5 for $5 each on Poshmark.  They sold surprisingly easily.  After fees, I only made about $2.50 from each set, which is barely enough to be worth my time.  If you have special edition bags (i.e., not just the manifesto bags), selling is especially effective, since some people like to collect hard-to-find special edition designs.  You're not exactly going to get rich off of selling your shoppers, but I think of it as a way to get the bags into the hands of someone who will appreciate them more than I will.
12 | Mailers.  Instead of buying mailing envelopes, you can repurpose a lululemon bag into one.  They're quite sturdy and are hard to tear, not to mention lightweight, which makes them great for shipping small items.  I filmed a video tutorial here.
13 | Gift bags.  Grab some tissue paper and use lulu totes as goodie bags!  If you're hosting a party, pack door prizes in your lulu bags.
14 | Donate them.  You might be able to find a local charity or business that can use the bags.  Keep your eyes peeled and just ask!  Your local thrift store or library is a good place to start.
What would you add to the list?  Tell us in the comments!