I first started seeing velvet activewear popping up last fall/winter, but I figured it would fade away quickly.  As it turns out, it's back and even bigger this year.
So: velvet in your workout wear?  Chic and festive or garish and impractical?
Photo: Alo Yoga layer long sleeve via Carbon38
What I love about velvet is, of course, the texture.  It looks luxe, it feels soft, and it adds a totally different look.  Not to mention, it's festive around the holiday season.
There are 3 major ways I see the velvet trend playing out in the active and athleisure zone, and I'll highlight each of the 3 below.
By the way: what's the difference between velvet and velour, you ask?  Velvet is woven while velour is knitted.  Velour tends to be stretchy while velvet is not.  For the purposes of this post, I'm using the term "velvet" as a catch-all term, even though some items may technically use velour.
Option 1: go big or go home
Beyond Yoga velvet sets exclusive for Bandier
[ezcol_1half]
[/ezcol_1half] [ezcol_1half_end]
[/ezcol_1half_end]
Sweaty Betty velvet fashion leggings / Sweaty Betty velvet bodysuit
Purusha People misty crushed velvet bell bottoms
Ultracor knockout velvet leggings via Revolve
Not for the faint of heart.  If you want major velvet, then by golly, you can get it.
When I was a tween, I was mildly obsessed with velour.  My absolute favorite pair of pants was a pair of black stretch velour flare pants.  They looked and felt like a million bucks as far as 12-year-old Suzanne was concerned. (Perhaps surprisingly, I never ended up being the owner of a Juicy Couture velour tracksuit later on.)
Unfortunately, through that experience, I learned the downfall of velour and velvet: wear.  I wasn't working out in those fancy velour flare pants, but over time, they developed two awkward-looking splotches on each side of my bum where the velour had worn down simply from sitting on normal surfaces.  They didn't last long before the worn splotches rendered them unwearable.  Granted, they were probably $10 from JC Penney, but even so, the sad experience of my favorite pants rendered useless has stuck with me for years.
With that in mind, bear in mind that these styles may show abrasions and wear quickly, depending on the type of activity you're wearing them for.  These styles are best for either casual, comfy wear, or low-impact, abrasive-surface-free workouts like barre.
Besides longevity, another issue with these styles is, of course, functionality.  I struggle to imagine these all-velvet pieces would maintain the same sweat-wicking technical properties of their more traditional peers.  The fit also may not have as much of the sculpting look or flawless fit we love about more technical fabrics.
Personally, I've thought about trying out velvet fabric for aerial silks class, since I think the texture of the velvet might provide some nice grip on the silks and ward off slipping while doing certain skills–a huge plus!
Option 2: velvet layers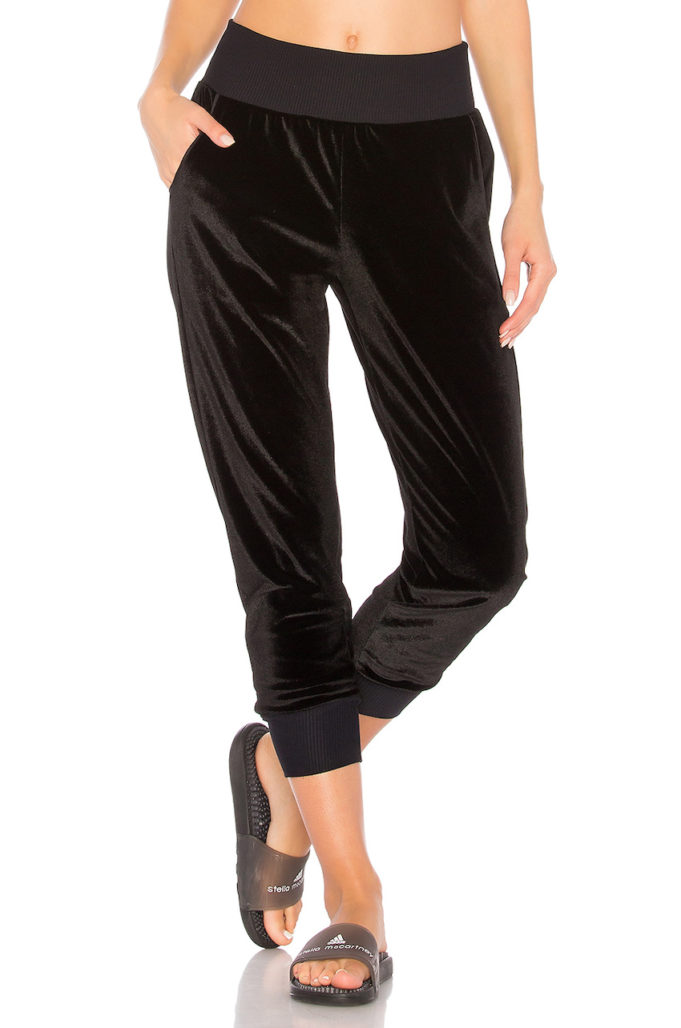 Maaji hazy joggers via Revolve
Alala velvet bomber jacket via Carbon38
Carbon38 velvet off-the-shoulder sweatshirt
Think of this as a much more updated and refined version of the 00's era Juicy tracksuit.  If you don't want to wear velvet for your workouts but want it for warmups or a to-and-from athleisure look, these layers are what you need.  Feel fancy but stay comfy.
Option 3: velvet accents
If technical performance and longevity are key, velvet accents are the way to go.  It's pretty much the only way to pull off the trend without majorly compromising on something else.  Obviously, you lose the in-your-face aspect of all-over velvet, but you gain actual wearability.  Velvet accents are the most common way I see the trend play out in workout clothes, which makes sense given its practicality.
Velvet accents can still be prone to damage and abrasion, so care is still needed if you want the velvet to stay looking its best, but being careful is much easier when the areas are much smaller.
[ezcol_1half]
[/ezcol_1half] [ezcol_1half_end]
[/ezcol_1half_end]
Lululemon special edition flocked wunder under tights / Lululemon special edition flocked define jacket
Ultracor high rise gradient velvet knockout leggings via Bandier
[ezcol_1half]
[/ezcol_1half] [ezcol_1half_end]
[/ezcol_1half_end]
Alala vamp tights / Alala race turtleneck
Body Language Meena leggings via Bandier
Ultracor altitude swarovski tuxedo crop top via Carbon38
Have you tried any velvet workout wear? What did you think?  Is velvet a no under all circumstances?