Although I'm always up for adventure and outdoor time, there's something about camping that has always scared me off.  The combination of sleeping outside on top of the logistical challenges of backpacking has always been enough to scare me off.
But when I first learned that glamping (aka glamorous camping) was a thing, I was totally on board.
While I was looking for unique lodging for our trip to New Zealand, I went hunting for for glamping sites.  I found Explore Life glamping in Wanaka, which was perfect since we had Wanaka on our itinerary anyway.  The owners manage two glamping sites, one for small families/groups and one for couples.  We chose Mt. Gold, the one for couples, and booked it for two nights.
The Mt. Gold campsite is quite secluded.  After driving a ways down a dirt road, the camp site is situated high up on a hill overlooking Lake Wanaka in one direction, farm land in the other directions, and mountains all around.  Trees shroud the tent to keep the site discreet.  Besides some very distant livestock, there wasn't a soul in sight!  I don't like the idea of camping surrounded by strangers, so I liked that the site was very private.
At the top of the hill, the campsite you find takes camping to a totally new level.
The main feature of our campsite was this large tent that vaguely resembles an onion.  Inside, I'm pretty sure the tent was at least as big as my entire bedroom when I was an undergraduate. (No joke.) The tent is tall enough that most people can comfortably walk around the whole tent.  It's fully furnished with a table, dishes, cooking tools, a real bed(!!), drinking water, mobile chargers for electronics, and guidebooks for the area.  And of course, there were cozy decorations and details throughout, like fairy lights and LED candles.
Besides the giant onion, there's way more to the campsite.  We were well equipped with other conveniences set up and ready to go.  There is a shower tent with hot water (toward the right side of the photo) and another tent with a camp toilet that flushes via a foot pump. (And it's easily the best view I've had while using the toilet!) There's also a sink hooked up to a water tank, a grill, and a picnic area with a table, chairs, and beanbags for lounging.  They were even thoughtful enough to set up some solar powered lights for getting around the campsite after sundown.  Basically, you have everything you need all set up for you as soon as you walk up.
We purchased some meals as part of our booking so we didn't have to leave every time we needed food.  This ended up being a good call, since it took 20-30 minutes to drive to the Wanaka township from our campsite.  All our food was delicious, and so generously portioned that we ended up with more food than we needed (not a bad problem to have!).
From a service standpoint, the owners of the glamping site were some of the most helpful hosts I've ever had.  They had answers at the ready for every single question I had (and I had quite a few!).  They went out of their way and did everything they could to be sure we had a great stay.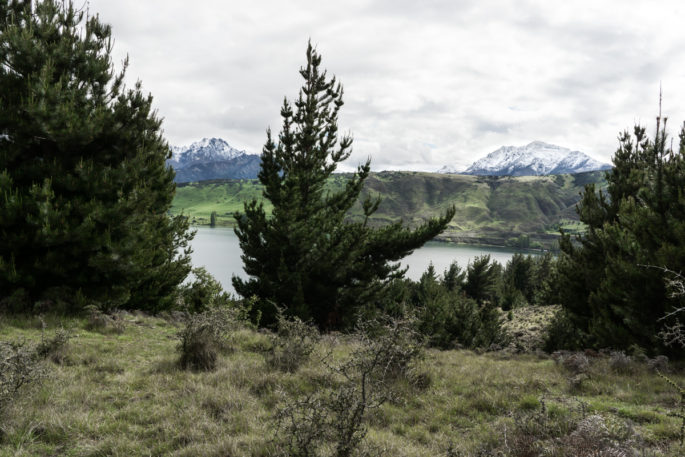 Our stay was very early in the season so we ended up getting unlucky with weather.  It was cold and intermittently rainy, but the tent is extremely sturdy and totally weather safe.  Although the tent isn't heated, it was noticeably warmer once you stepped inside.  The owners were thoughtful enough to outfit us with plenty of thick wool blankets and hot water bottles for the chilly night temps.  The sun didn't come out for us to lounge outside, but I can only imagine how delightful it would be to sip some wine outside while soaking up the views at sundown.  We had virtually no other bad weather on our trip, so on balance, I still count us lucky.
All the rain clouds ended up providing a stunning sunset on our first night, so there was a bright side!  This was the view just a couple of steps outside the tent entrance.
Quick tip for glamping/camping: if you're a light sleeper, bring some sort of ear plugs!  I'm a light sleeper already, plus I'm not used to sleeping outside.  In other words, my body was on high alert for every tiny sound.  The first night, I woke up tons from the sound of the wind or anything rustling outside.  For the second night, I wizened up and got some ear plugs from a local hardware store.  Much better!  A sleep mask is a good idea too, especially if the moon is very bright or if you plan to sleep past dawn.
Overall, glamping was the perfect alternative for someone like me who loves nature but is admittedly attached to the luxuries of home.  While most glamping sites won't always save you money compared to a traditional hotel, you'll get a unique and unforgettable experience.  I would definitely stay at this site again and I'll be looking for other unique glamping spots for future trips.
Explore Life accepts bookings from November to April; you can find out more here.
P.S. For more options outside Wanaka, this other New Zealand glamping site has lots of cool spots to choose from.  For destinations beyond NZ, Glamping Hub features listings of all kinds from all around the world.