I've been taking aerial silks (also called aerial fabrics) for over a year and a half now, and I've learned just how important clothing choice is for a good day at class.  For the most part, dressing for aerial class is much like dressing for yoga: you want to wear something comfortable and flexible.  That said, there are a few extra considerations to keep in mind.
(Take note that I currently only have experience in aerial silks.  If you're taking an aerial class on another apparatus such as lyra or trapeze, these tips might not apply.)
What to look for in a silks class outfit
Choose something fitted
You're going to be flipping upside-down and tying yourself up in the fabric.  Loose pants are difficult to work with, and billowy shirts will flip up over your head.  Form-fitting is best because it will stay out of your way.
Avoid zippers or anything else that will snag
The only embellishment on your clothes should be seams and prints.  Mesh is ok, too.  Avoid any kind of zipper or other decoration that could snag on the fabric.  Simple leggings are usually your best bet.
Something with sleeves
I've worn my fair share of tanks and sleeveless tops, but most of the time, covering my armpits is ideal.  Some tricks will get the fabric right under your arms, leading to some serious friction.  Fabric burns under your arms do not feel good, friends.  I prefer long sleeves when possible, but during the summer months, short sleeves do just fine, too.
As a bonus, covering your underarms also means you won't smear your deodorant or perspiration all over the fabric, which helps them stay cleaner for longer.  Your classmates will thank you for keeping the fabric fresh and stank-free.
Be cautious around slick fabrics
When you're first starting out, the fabric on your pants might not make a difference.  But once you start to do things like wraps and knee climbs, slippery fabrics will become your arch nemesis.  Instead, look for fabrics that have a more cottony feel that aren't too slick.  Once you get really good and your technique is locked down, this won't matter as much.  In the meantime, a little help from your pants can make all the difference in helping you get comfortable.
Beware of low rise bottoms
I've noticed that wrapping yourself up in fabric has a way of tugging on your pants.  This can lead to some awkward moments if your pants don't have a lot of coverage.  Anytime I've worn lower-rise bottoms, I've regretted it.  I recommend sticking with mid- or high-rise styles.
Go long
The best bottoms aren't just longer in rise, they're also longer in length.  I prefer 3/4, 7/8, or full length bottoms.  Basically, I want something that reaches past the widest part of my calf muscle.  Crops that just barely go past the knee usually don't work as well, and I never wear shorts.
Try a bodysuit
I admit I haven't tried one myself yet, but this is a popular choice I see around my studio.  Leotards or bodysuits layered under or over a pair of leggings provides extra coverage and won't move as much as a tee.  Something like this Zella bodysuit or this one from lululemon look promising.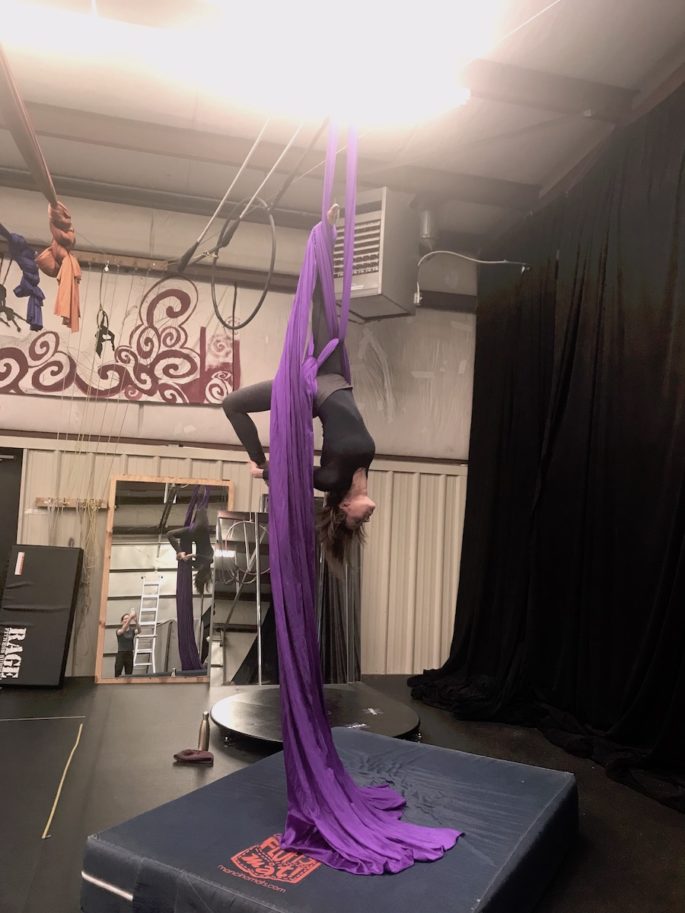 My favorite styles to wear to class
With all of the above in mind, here are the specific styles from my closet that I reach for the most when I'm getting ready for class.
Alo high waist moto leggings.  Since these are made of a cotton-like fabric, they grip very well.  The high rise version provides plenty of coverage, and the styling adds something interesting without zipper or other snag-prone elements.
Koral mystic capris.  These are one of my favorite all-purpose basics, and they work great for aerial.  When I can't figure out what to wear, I frequently reach for these.
Lululemon luon wunder unders.  Basic, but that's exactly why they work so well!
Lululemon aligns.  These are a godsend during summer.  They're long enough to cover everything that needs to be covered, light enough to keep me cool, and grippy enough so I don't slide right out of the silks.
Lululemon swiftly LS.  The great thing about these tops is that they're perfect for both running and silks–one of the few styles in my closet that works for both!  They're fitted and lightweight, but still cover everything I need.  I reach for one of my swiftlies almost every week.
Sweaty Betty glisten LS.  I love this top for similar reasons that I love lulu's swiftlies.  It's a little thicker and warmer, which is nice for colder days in the studio.  The fabric is very stretchy, which means I can push my sleeves back more easily when I need.  I find that this top holds onto my tights well, which means it moves around less and stays down more easily than a swiftly.  The only downside is that the fabric tends to show a bit of wash wear.
Any textured bottoms.  Jacquard knit prints are SUPER grippy.  Basically, if it has a textured, almost denim-like feel, it will grip a hundred times better than something that's so slick (like lululemon luxtreme) it doesn't feel like a knit at all.  I own the cropped version of these and they are some of my absolute best pants for silks class.