Werkshop is still a small activewear brand, but they've quickly gained popularity as a trusted brand for printed leggings.  Their most recent release is Under the Sea, a collection of quite a few different marine-themed prints ranging from mermaid scales to angler fish.  I love a lot of the collection, but for starters, I got two styles: sharks and tentacles.
Werkshop offers outstanding fit and fabric quality in the world of workout leggings.  The fabric is a lightweight, slick-faced fabric that in my experience performs extremely well.  It has plenty of stretch to allow you to comfortably move, but also plenty of support for high-intensity workouts.
Also, the print quality of the fabric is excellent.  Any time I get a new pair, I am always impressed by the vibrancy and clarity of the prints.  Unlike many printed leggings out there, Werkshop prints do not fade/white out across the bum or the knee when you bend.  Related to that, both sharks and tentacles are fully opaque for me.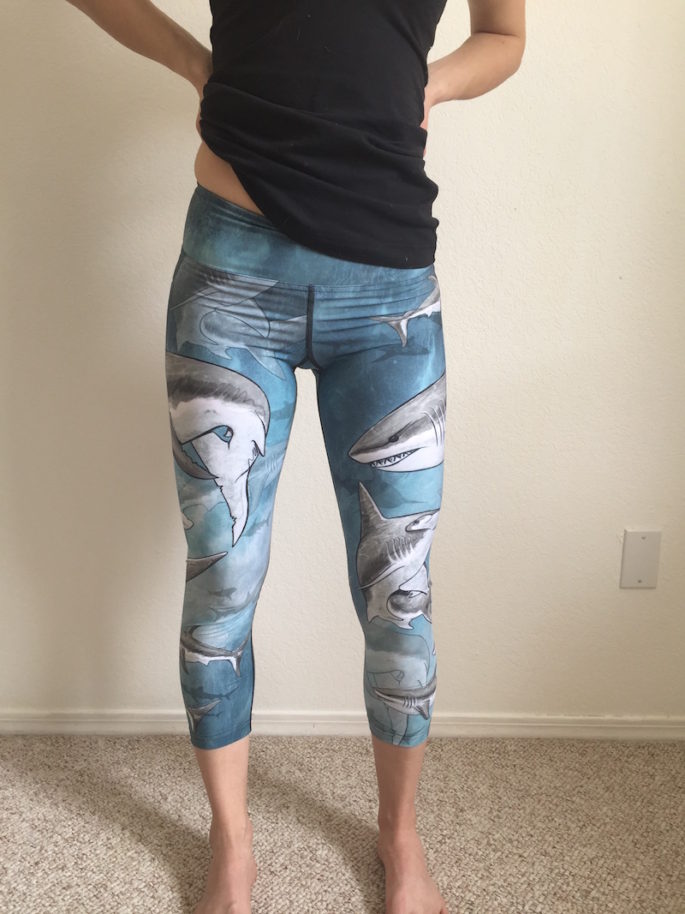 These two new pairs fit the same as my other Werkshops.  In general, Werkshop runs a bit small.  I'm normally a 2 in lululemon or an XXS/XS in other brands, and the XS in Werkshop is a great fit for me.  If you like a lot of compression and are ok with a tight fit, you can wiggle your way into your normal size.  If in between sizes, I suggest going up.
Fresh out of the package, Werkshops are very tight.  I generally have to shimmy into them the first couple of times I wear them.  In fact, you'll notice in some of my pics of these pairs, there's a bit of pulling on the front because I haven't quite broken these in just yet.  They relax just a little bit after the first few wears.  After that initial relaxation, in my experience they don't continue to loosen up.
I'm up to 6 Werkshops now and I don't have complaints about any of them.  To anyone who loves fun, interesting (crazy?) prints, Werkshop is still one of my top recommendations.
The next highest on my list from the Under the Sea collection is angler.  It was out of stock for a little while but was recently restocked.  But, is it too similar to tentacles?  Hmmm…
Shop this post
Sharks – crops | Sharks – full length
Tentacles – crops | Tentacles – full length