Werkshop recently redesigned their sports bras, and since they make such great bottoms, I definitely wanted to give their sports bra a try, too.  I decided to go all-in and buy the floral nights matching set.  After seeing a shot of the set in their Instagram stories, I was sold!  I love the leggings and bra together.
Before I dive in, keep in mind these comments only apply to the latest release, not the older versions that are currently on sale. (I didn't buy the original version because I was advised that it most likely wouldn't fit me.)
I purchased a size XS sports bra.  For reference, I wear a 28-30DD in regular bras.  Werkshop's bra fits very similar to a lululemon energy bra, but I would say the sizing of the XS is slightly larger than a lulu size 2, but slightly smaller than a 4.  If you are between sizes, I recommend sizing up, unless you want a super-strait-jacket fit.
The coverage on Werkshop's bra is slightly lower cut versus lulu's energy bra, but still more coverage than lulu's free to be/free to be wild bra.  It covers just enough for me to feel comfortable in it, but I certainly wouldn't call it high coverage by any means.  The bra also has slots for removable cups inside, but note that it does not come with cups.  They are sold separately on Werkshop's site, or you can use cups you already have.  In terms of support, expect light to medium support, depending on your cup size.  I went for a 3-mile run in it and it performed well.  To draw on the lulu comparison again, I would call it similarly supportive to the energy bra.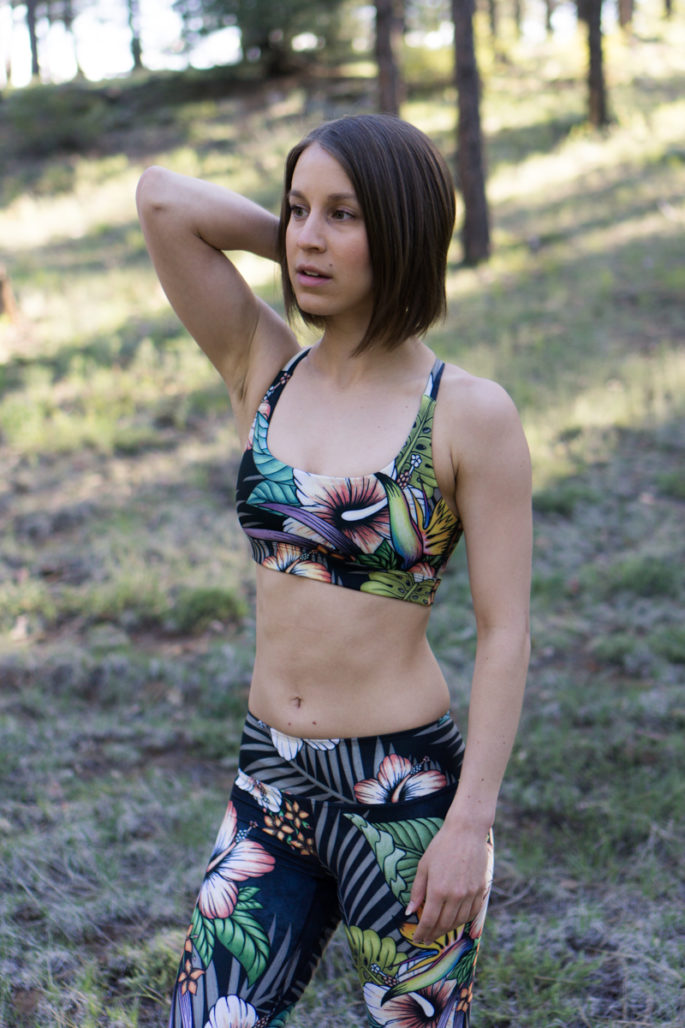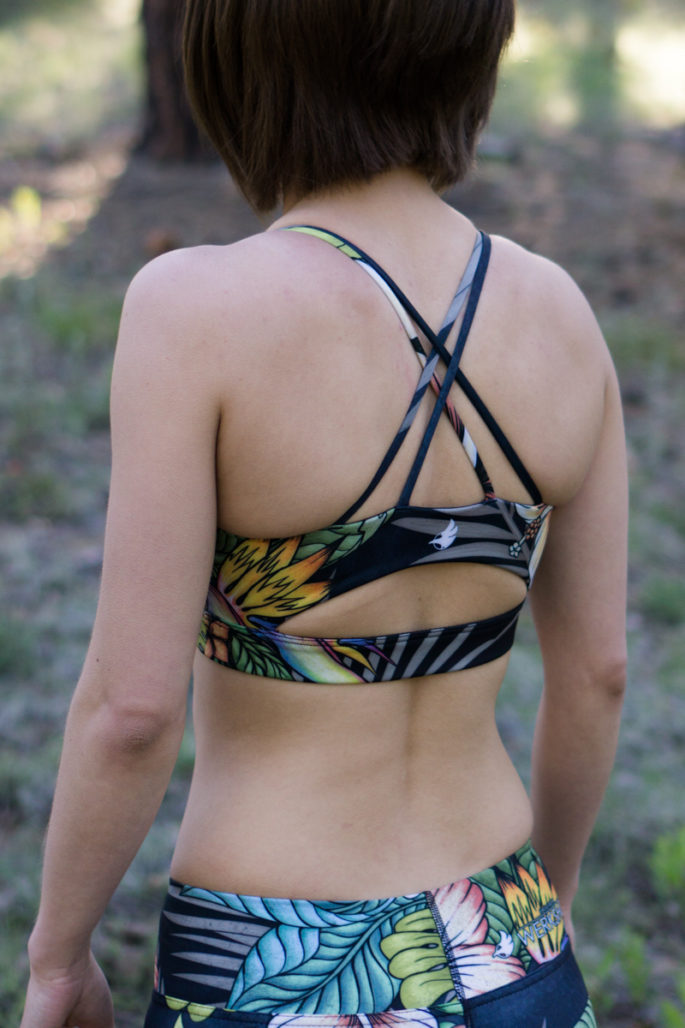 As for comfort, it definitely delivered there too, with no digging or pinching.  It's supportive and fits firmly without being constricting (which is also how I'd describe Werkshop's bottoms).  I can't feel the cutout back at all while wearing it.
The design leaves enough room for my shoulder blades to move freely and comfortably.  The slight squishy "shelf" of skin you see above the back strap is the point of my shoulder blade.  I also love that the back straps are round, which means they never flip over the wrong way like some of my other bra straps.
Overall, I'm really pleased with my new Werkshop bra.  It's one of the most comfortable sports bras I own, and delivers the excellent quality I've come to expect from Werkshop.
Leggings notes
Although I own tops of Werkshop crops, my floral nights leggings are my first full length purchase.  It fits just slightly looser compared to my crops, but still offers a firm, compressive fit.  If the crops are just a little too tight for you, I recommend giving the full length version a try in the same size.
As usual, Werkshop's patterns stay true even when stretched, and are not sheer at all.  And with Werkshop, what you see is what you get: my pattern placement is identical to the pair pictured on their website.  The full length version has a different gusset compared to the crops: it's longer and runs down the inner thigh.  I don't notice it at all when worn.
The length leaves a little bit of extra scrunch for me, but I was pleased to note that I don't have issues with baggy ankles with these, unlike many of my full length leggings.
Although I'm usually partial to cropped lengths for prints just as a personal preference, I really like this pair and definitely will consider both full length and crops for future Werkshop buys.
Outfit details
Werkshop floral nights sports bra
Werkshop floral nights full length leggings
Alala tranquility tunic