Winter hiking is incredibly underrated.  Most people are scared off by the chilly temps, but here's a little secret: you can have at least as much fun on the trail when it's chilly as when it's balmy.  Here are some tips to guarantee you'll have a great time on your next cold weather adventure.
A big thank you to lululemon for sponsoring this post.  As always, all opinions are my own.
[ezcol_1half]
[/ezcol_1half] [ezcol_1half_end]
[/ezcol_1half_end]
1 | Know what to expect
Preparation is the absolute most important part of any hike.  You should never hike unprepared, and winter hiking is no different.  Make sure you've done your research and you know what you expect in terms of weather and trail conditions.  Check the weather forecast or talk to knowledgable people from your area about what to expect.  Don't assume, do your research and know before you go!
If there's a chance of snow or ice where you're heading, make sure you have appropriate footwear for the conditions, whether that means full-on snowshoes, microspikes, or some simple hiking shoes.  If there's a chance you'll run across slushy, soggy areas from melted snow, be sure your shoes are waterproof.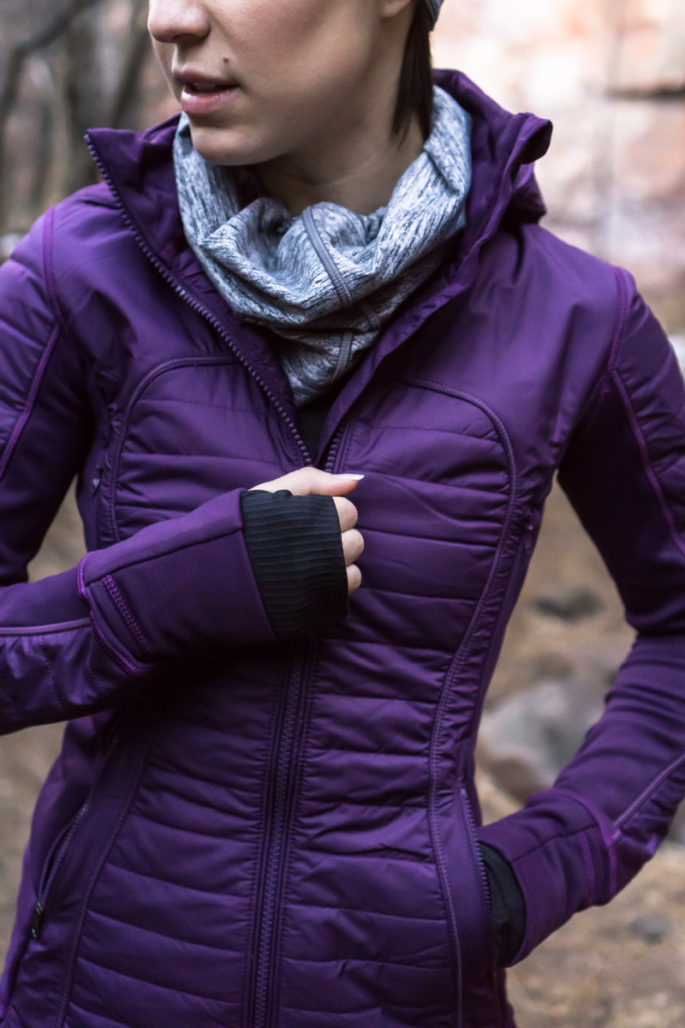 2 | Layer up
Cold weather layering is crucial for enjoying your outdoors adventures.  No one has a good time when their teeth are chattering!  The good news is that winter layering isn't too hard to master.  As an example, this outfit is ideal for me for a hike in temps around the 40s or 50s.
Lululemon's cold weather technical gear has always been my go-to for winter.  Last year, when I hiked through heavy snow in Rocky Mountain National Park, I wore my trusty lululemon puffer and tech fleece tights to stay warm in the frigid 20-degree weather.  This year, there are a few newbies that I'm adding to my winter-ready stash.
A rock-solid jacket is an indispensable hiking companion that comes in handy in all kinds of weather.  I prefer full-zip jackets rather than pullovers because I like the option of unzipping it all the way when I start getting warm.  One of my new favorites is the first mile jacket.  The fit is flawlessly flattering on me, which is so hard to find when it comes to jackets.  I got my usual lululemon size, but be aware that it fits tighter across the shoulders.  I have very narrow shoulders which makes it perfect for me, but I recommend sizing up if your shoulders are more broad.
The jacket is quilted and slick on the outside, but brushed and cozy on the inside.  The outer fabric is weather-resistant, so a little light rain or even snow won't leave you soaked.  It has fold-over cuffs, so you always have a pair of "gloves" at the ready.  I don't like to wear gloves since my hands are so clumsy in them, so I always make sure I'm wearing a top or jacket with fold-over cuffs if I anticipate some chill.
Overall, I'd rate this jacket as a good middle weight, comparable to a light puffer jacket.  The magenta color is so rich and deep in real life.  I'm considering going back for the beautifully crisp white, too.
Underneath, I layered a swiftly LS.  A skin-tight base layer like this is ideal for keeping warmth close to your core.  Since it's lightweight, it stays dry if I start getting sweaty.  You can really never go wrong with a swiftly.  For a colder hike, I'd keep the jacket, but swap the lightweight long sleeve for a tank layered under a thick thermal top, or go all-out and layer the thermal pullover over a long sleeve tee like this swiftly for some seriously toasty warmth.
On the bottom, I picked out these speed tights in variegated knit.  I have always loved lululemon's textures, so this pick was a no-brainer.  The pattern is part of the knit itself, not just a printed pattern.  The tiny herringbone pattern reminds me of a cozy sweater  The knit material is extra thick and supportive, making it a great cold weather layer.  I always appreciate a bit of compression for hiking, and these tights deliver.  They fit true to size.
I always choose the lightest layer for my legs when I'm hiking, since they're working hard and building up a lot of heat.  For extra-cold temps, I upgrade to thermal leggings, or I add a looser pair of pants on top of leggings for ultimate warmth.
To finish the outfit off, the extra accessories add a lot of warmth, but are small enough that they're easy to stash in a pocket if I start overheating.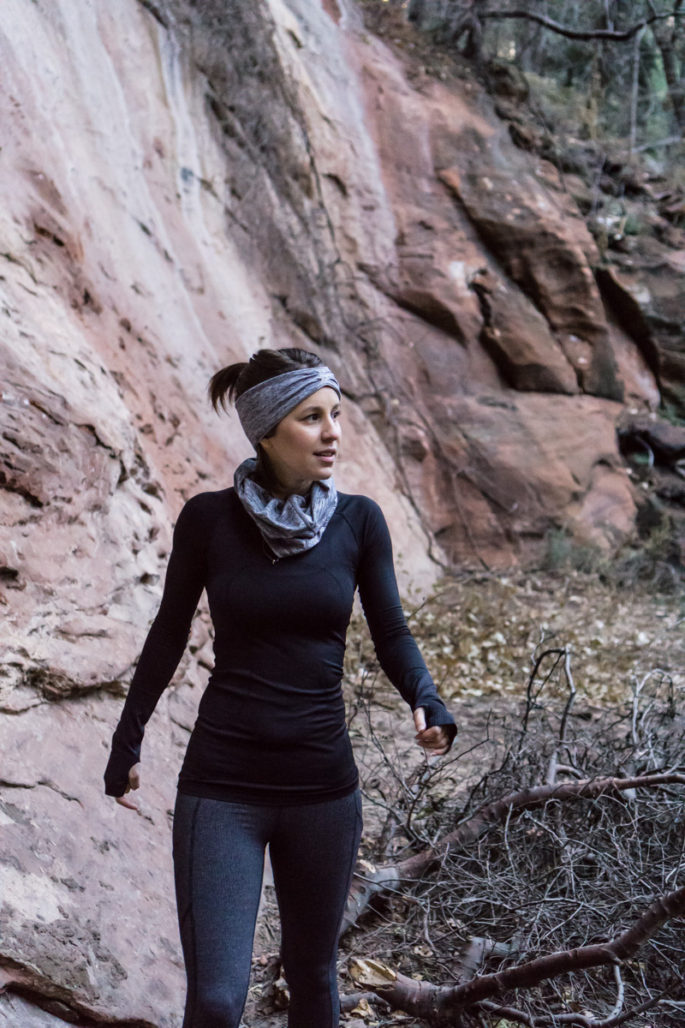 3 | Appreciate the scenery and the solitude
The trail you might think you know can take on a completely different appearance when the seasons turn.  Winter scenery isn't ugly or boring.  I love seeing how the change of seasons transforms the face of familiar vistas.  There's something striking about the stark scenery.  And when it snows?  That just takes things to a whole new level of surreal beauty.
Besides the natural beauty, the off-season means way, way less crowds.  Some of the most beautiful trails are frustratingly crowded during the summer months, especially in the tourist-heavy area where I live.  That makes winter the perfect time to linger.  For a little quiet time with just you and nature, there's no better season than winter.
Some of my most memorable, all-time favorite hikes happen in the off-season.
[ezcol_1half]
[/ezcol_1half] [ezcol_1half_end]
[/ezcol_1half_end]
4 | Drink plenty of water
A common misconception is that you don't need to pack or drink much water in the winter.  Most people think less sweat means less need for hydration.  To the contrary, the dry winter air will suck the moisture right out of your skin!
Be sure to pack as much water as you'd bring in more mild conditions.  Remind yourself to take regular sips, even if you don't feel thirsty.
If you're hiking in below freezing weather and you're using a hydration bladder, make sure you blow back into the straw after drinking.  The water will freeze if it stays in the straw!  If the water already froze, loop the straw underneath your jacket.  Keeping it close to your body will provide enough ambient heat to thaw the ice.
5 | Plan a relaxing post-hike ritual
After a chilly hike out in the elements, getting back to the warmth of your home is the best.  Plan a warm bath to soothe your sore muscles, and maybe grab a piping hot mug of cocoa to soothe your soul.  If your hike was especially challenging, be sure to add some epsom salt bath to help your muscles recover.  When the temperatures are low, these rituals are twice as relaxing as usual!
My hiking outfit
First mile jacket – darkest magenta
Swiftly tech long sleeve – black
Speed tights – power luxtreme variegated knit
Run fast neck warmer – space dye camo ice grey
Run with me ear warmer – space dye camo ice grey
Outfit courtesy of lululemon